Late one evening in a hotel room tucked into downtown Philadelphia, only two things were still awake: me and a growing desire to pull out a take-away tub of butterscotch pudding. Earlier that evening at Tallulah's Daily, a dear foodie friend and his wife recommended trying something that would be life-changing after our feast had ended. Fast forward: it's 2 a.m. and I am grinding the coal for that post-midnight oil to continue burning. I began toying with the idea of taking one drag of a spoonful through the thick, luscious pudding. We can guess how long that idea lasted as my love of puddings, custards, and such might be a tad legendary. He was right. My life was about to change. And, as you can imagine, I woke up with a sugar hangover. My normally spry self crawled out of bed unsure about tackling the day ahead that thankfully was devoid of any major events or needs to operate heavy machinery. I also began toying with another idea, one that had been planted at a book signing in Dallas earlier in May.
At a Steeped pop-up tea, one of the guests handed me her copy of Steeped and sucked on locally-brewed kombucha that I also enjoyed drinking. We talked about scobys and she spelled her name. Afterwards, she began talking to the other guests about how she was finishing up her second Whole30. I tend to be curious by nature and had heard this term only once before from a childhood friend. While it usually takes a person nine times to hear the same message before acting on it, according to the oracle known as Google, it only took me twice. I bought the book and relished the idea of a nutrition reset to try and right the wrongs of butterscotch pudding at 2 a.m. and the kinds of passes a person gives themselves when traveling for long stretches at a time. Past cleanses as prescribed by my previous naturopath helped provide context of what what Whole30 meals might look like in the focus of what foods to avoid.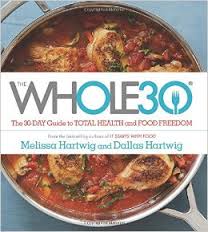 So, for this week's summer reading list title, I submit to you the Whole30 by Dallas and Melissa Hartwig. Let's dive into the meat of the book. Pardon the paleo pun. You can tell this book has gotten a lot of action over the years. Each page and section is so well thought out it's as if they are reading my mind and wondering what I might be positing as a question next. I like the testimonials that begin each chapter almost as much as the conversational tone that can become quite specific in doling out tough love, which is to say I never knew so many people liked and would miss pancakes. The e-reader copy has thoughtful hyperlinks that take the inquisitive reader to what the authors promise they will address later in the book, as if understanding that the question needs to be dealt with before the reader can turn their attention back to what the author next wants to disseminate. Equal parts cheerleader – drill instructor – and cooking mentor, this book must be a beast in real life because it does so much. I deeply appreciate that the focus on cooking for self is underscored as a decision for health and includes cooking basics with enticing imagery as well as meal plans, and deep sections of recipes. If the Whole30 had been written 15 years ago, it would not have had the groundswell that it is achieving today. The program laid out in the book is  deeply rooted in online community and support available in the forum, social media, and free bi-weekly newsletters.
What interested me about undertaking the Whole30 is that it brings vegetables, proteins, fruits, and healthy fats to the forefront and the reintroduction period afterward gauges in a thoughtful way each person's body's response to food groups they've been avoiding for 30 days. I like that it's not technically in my mind a diet (because let's face it, the very word makes me want to hide in my hovel) but more a culinary challenge and I am usually ready to suit up for culinary challenges. I'm keen on listening to how my body responds and the idea of curbing my ever-present adversary, refined sugar back down to "occasional" size. Also, summertime is such a wonderful time to gorge on the gorgeous produce available at farmer's markets.
So, I thought it would be fun to chronicle our weekly menus with the idea that they might give inspiration to others considering just such a reset. I am going to update this post throughout the month, so circle back if you are visiting after the first week. After conferring with my best friend who just finished her own Whole 30, she armed me with ideas for how to make meal planning manageable. I have also found my copy of my pal, Michelle Tam's award-winning cookbook Nom Nom Paleo invaluable (especially with her printable PDF of Whole 30 recipes in her book- it's genius). Hyperlinks and comments will abound though some things will be MacGyvered in my home kitchen and won't have links to other recipes as I tend to cook off-road most of the time based on what's in the cupboard and fridge (or what I'm particularly craving). I'm not a dietitian. I am not a nutritionist. I'm a curious home cook who is planning to mine the heck out of the spice cabinet (hello, tea spices!) and herb garden during the next month. I procure spices from local spicery Oaktown Spice Shop– most of their blends do not have sugar in them, but when in doubt, I ask. Let's get busy cooking, shall we?
WEEK 1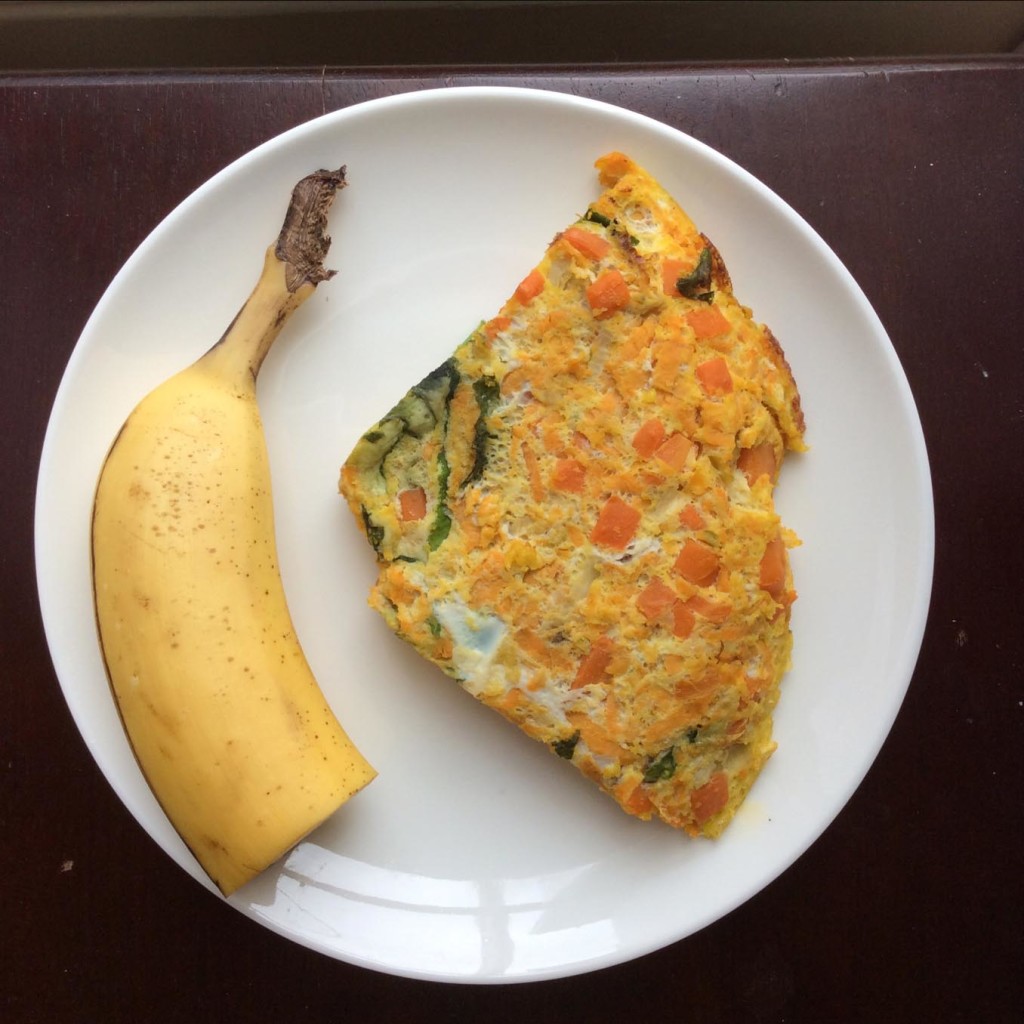 DAY 1
Breakfast
Stovetop Frittata with Banana
This is my favorite frittata and one I developed for my last Cooking Matters class for parents. It's chock full of veggies and flavor.
Lunch
Tuna spinach salad with homemade ras el hanout mayo
The ras el hanout spice blend bumps up the flavor of my homemade olive oil mayo.
Dinner
Nom Nom Paleo's Slow-Roasted Kailua Pork (p. 234, NNP Cookbook) Cabbage Cups, Roasted Carrots and Beets
This was a satisfying meal. The pork is a perfect foil for sauce. Next up, making salsa to drizzle over it. The cabbage worked well- they were sturdy and had lots of crunch. The beets are a show-stopper.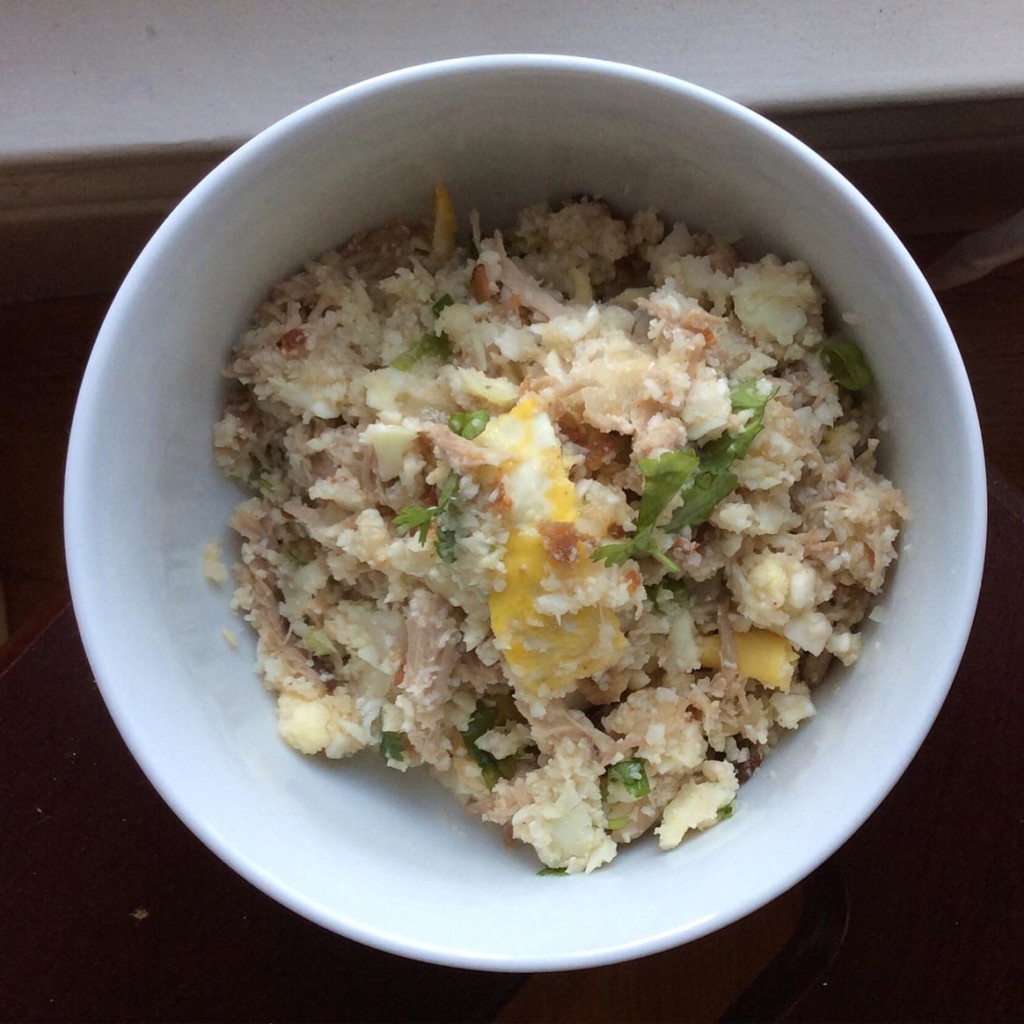 DAY 2

Breakfast
Scrambled Eggs with Avocado and Banana
I'm going to jazz up this combo in the future.

Lunch
Kalua Pork Cabbage Cups and Roasted Root Vegetables with Salsa
The salsa turned this into something we would easily eat again and all of the elements make this an easily transportable lunch.

Dinner
Nom Nom Paleo's Cauliflower "Fried Rice" with Pork (p. 159 NNP cookbook)
When Michelle says you might eat a second bowl of this delectable concoction, she's not kidding. I would agree that this version of fried "rice" is better than what you might find at a Chinese restaurant. We will be making this again. Also, don't substitute for the bacon, it adds a layer of flavor to the rice that would be missed.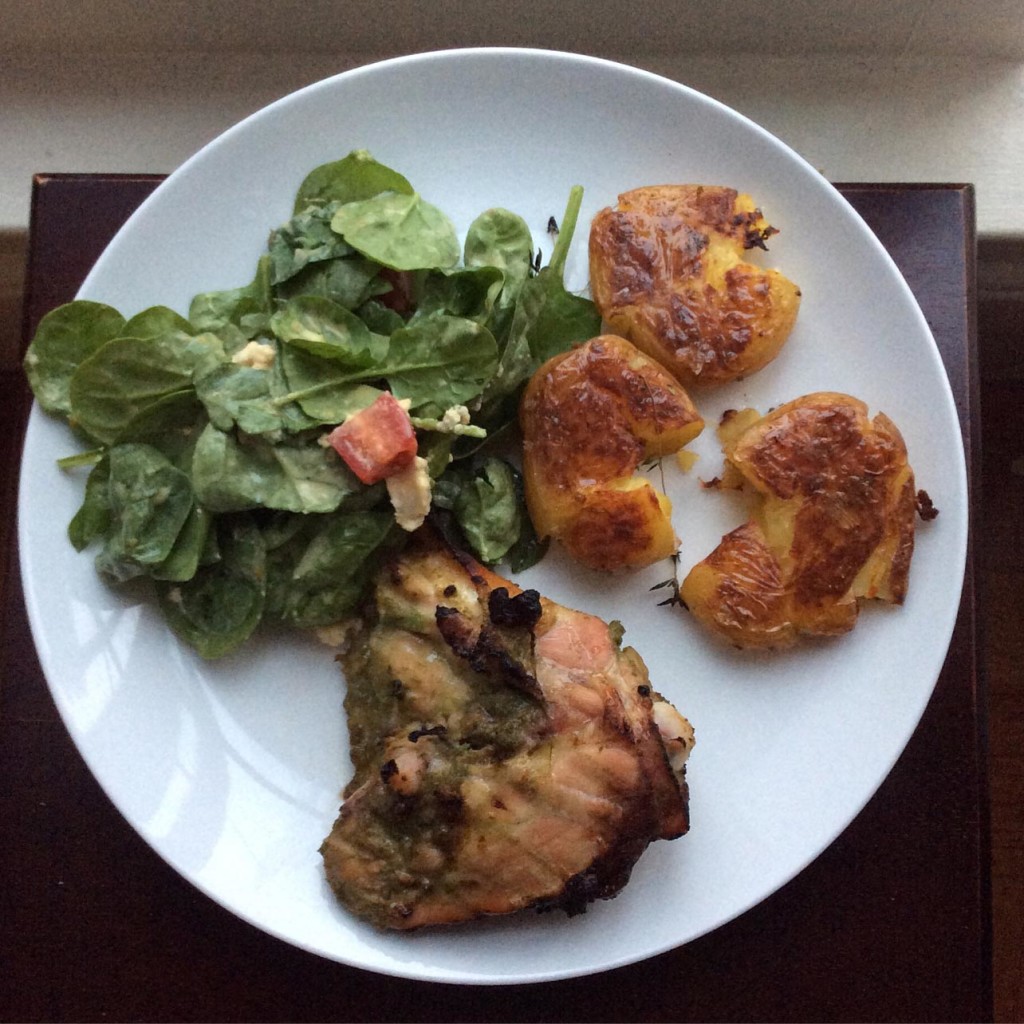 DAY 3

Breakfast
Stovetop Frittata with Banana
Lunch
Leftovers Salad – Pork simmered in salsa with root veggies and spinach
Dinner
Nom Nom Paleo's Fiona's Green Chicken, Smashed Potatoes with Thyme and Spinach Salad with Creamy Ras el Hanout Dressing
The marinade really makes the chicken. I've determined this might be the perfect protein for potlucks or grilling at parties. It's juicy and lively with flavors. Thanks to my friend Tara for the smashed potatoes recommendation, that duo worked well together. The leftover ras el hanout mayo (about 1 tablespoon) made it into a homemade salad dressing. I hate to waste food.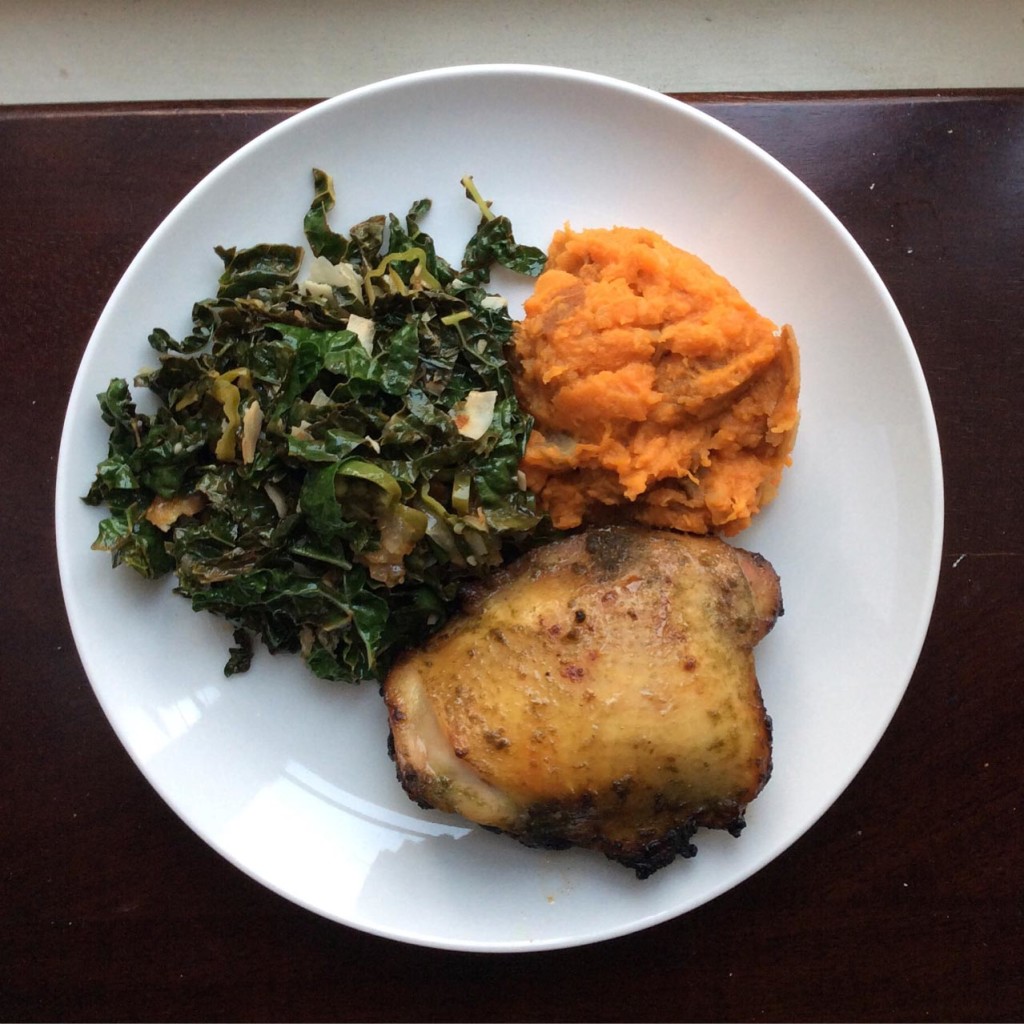 DAY 4

Breakfast
Stovetop Frittata with Watermelon
Lunch
Leftovers Salad- Pork Simmered in Salsa with Root Veggies and Avocado with a Peach
At this point, I had reached my limit of pork, so we froze the rest of the shredded pork, which will make an appearance later this month.
Dinner
Leftover Green Chicken with Mashed Sweet Potatoes, Stir-Fried Kale and Strawberries
I love kale- the key is to let its savory flavor really come through. Here I sauteed it with coconut oil, shallots, garlic, salt, white pepper and unsweetened coconut flakes. I finished it off with a squirt of lime on top.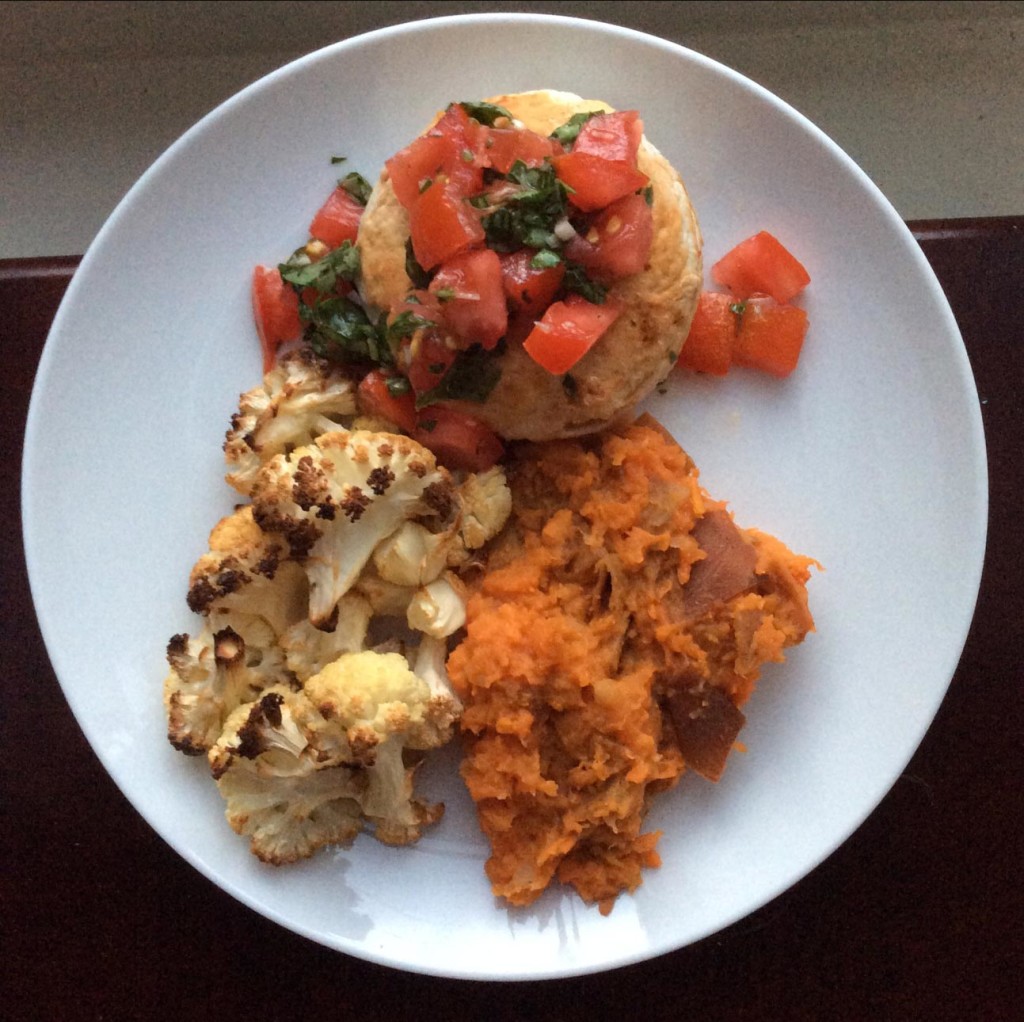 DAY 5
Breakfast
Kale, Onion Scramble with a Peach
I had saved half of the shallots and garlic already sauteed so I could include them at the end of the scramble. Coriander worked its magic with the kale here too.
Lunch
Leftover Fiona's Green Chicken with Smashed Potatoes & Greens
Dinner
Bruschetta Turkey Burger, Roasted Cauliflower and Mashed Sweet Potatoes
My craving for bruschetta led to this dish. The turkey meat was seasoned with salt and pepper, but other than that, no fancy tricks here.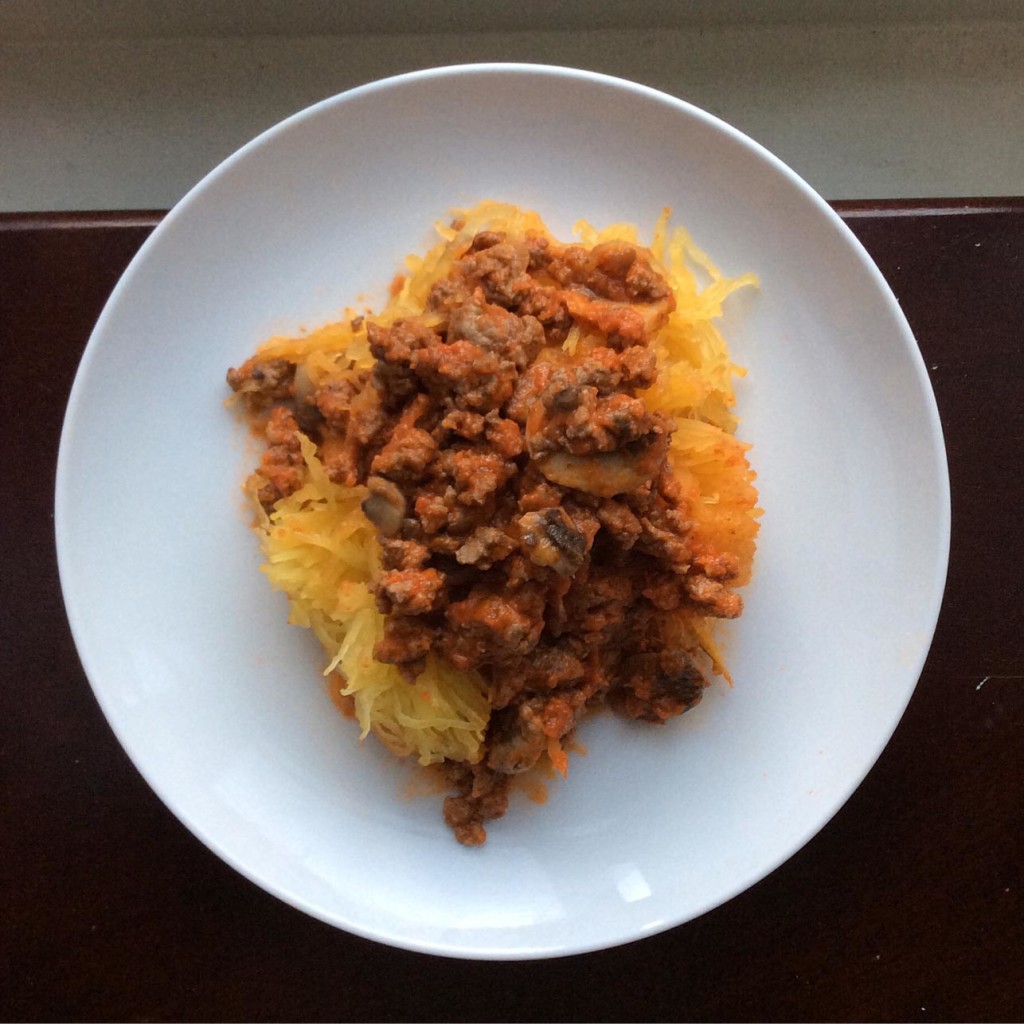 DAY 6

Breakfast
Kale, Onion Scramble with a Peach
Lunch
Green Salad and Lemon Wedges at a Sushi Restaurant, Bruschetta Turkey Burger at Home, Banana with Almond Butter en route to the sushi restaurant
Whoever said to eat well before going to a sushi restaurant (Nom Nom Paleo) was right on. After reviewing the menu online and trying to call ahead to see if I could get steamed vegetables and a simply prepared piece of salmon, I discovered it was their day off and I needed to make provisions. So, noshing on the banana and almond butter on the way and an emergency date, coconut bar in my bag helped me know that the tiny green salad was not all I had for help when hunger assailed. The banana and nut butter really helped and I could curb the tide until I got home.
Dinner
Lamb Bolognese with Spaghetti Squash and Watermelon
I make marinara from scratch often and had picked up ground lamb. My craving for mushrooms paired up nicely with the last stems of basil in the fridge so we went the Bolognese route for this dish. Usually I bastardize my Bolognese with carrots for sweetness and an earthy herb like thyme. Served over spaghetti squash, this has been one of my favorite meals thus far.

DAY 7

Breakfast
Kale, Onion Scramble with a Peach
Lunch
Leftover Spaghetti Squash with Lamb Bolognese
Dinner
Against All Grain's Crockpot Thai Beef Stew and Watermelon
We love Thai food. So, I looked for a recipe that could work while I worked. Enter this stew. You brown the meat and mix it with the sauce to simmer for 8 hours- perfect! I prepped all the veggies ahead of time and added them to the pot at the final hour of cooking. I got a big thumb's up for dinner.
WEEK 2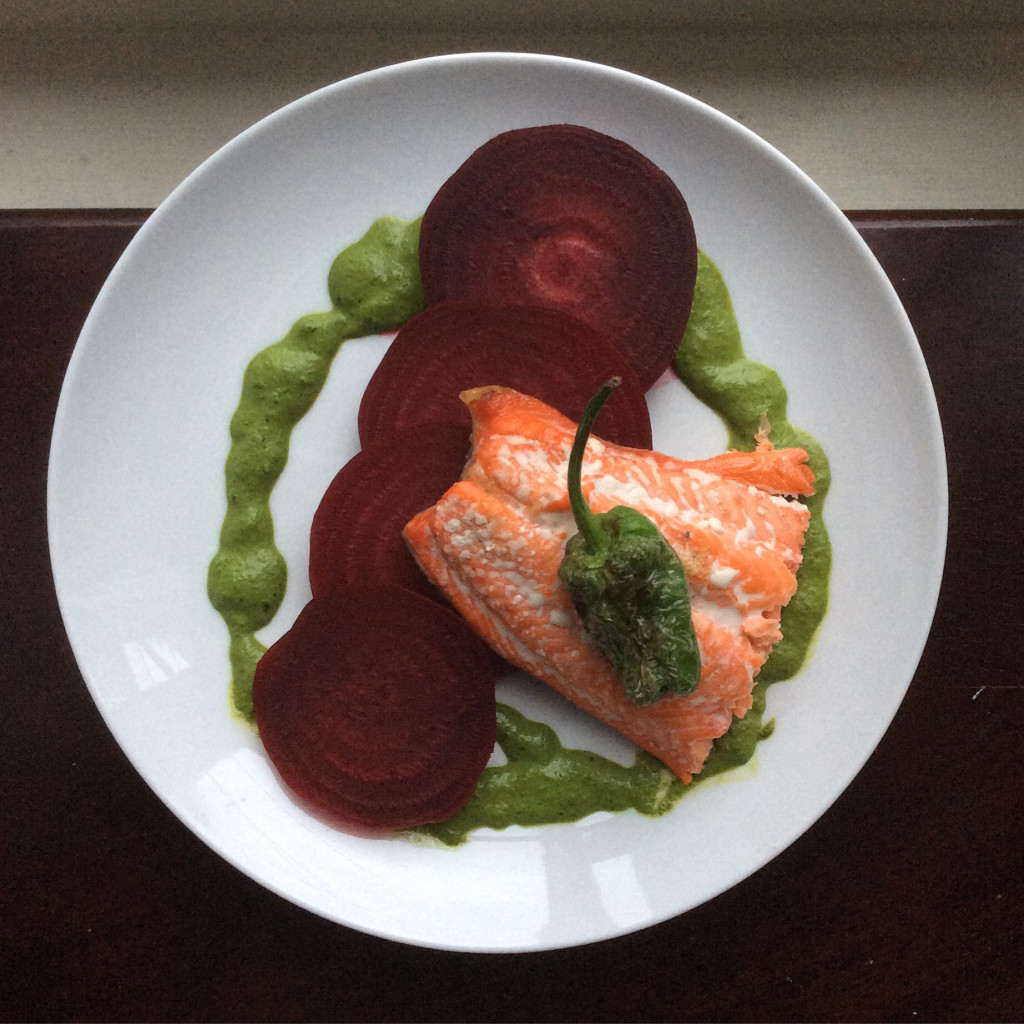 DAY 8
Breakfast
Scrambled Eggs (with a few of the curried veggies snuck in) and strawberries
Any leftover bits of vegetables make a great addition to scrambles and omelettes.
Lunch
Beef Burger Salad with Romesco at Mission Heirloom Café
This restaurant in Berkeley is paleo and offers several tasty options that are Whole 30 okay.
Dinner
Wild Sockeye Salmon with Pistou, Beets and Flash-Fried Padron Peppers
I decided to play around with the idea of food art. The axiom goes that we eat with our eyes so if the food is pretty then we will find extra delight in it.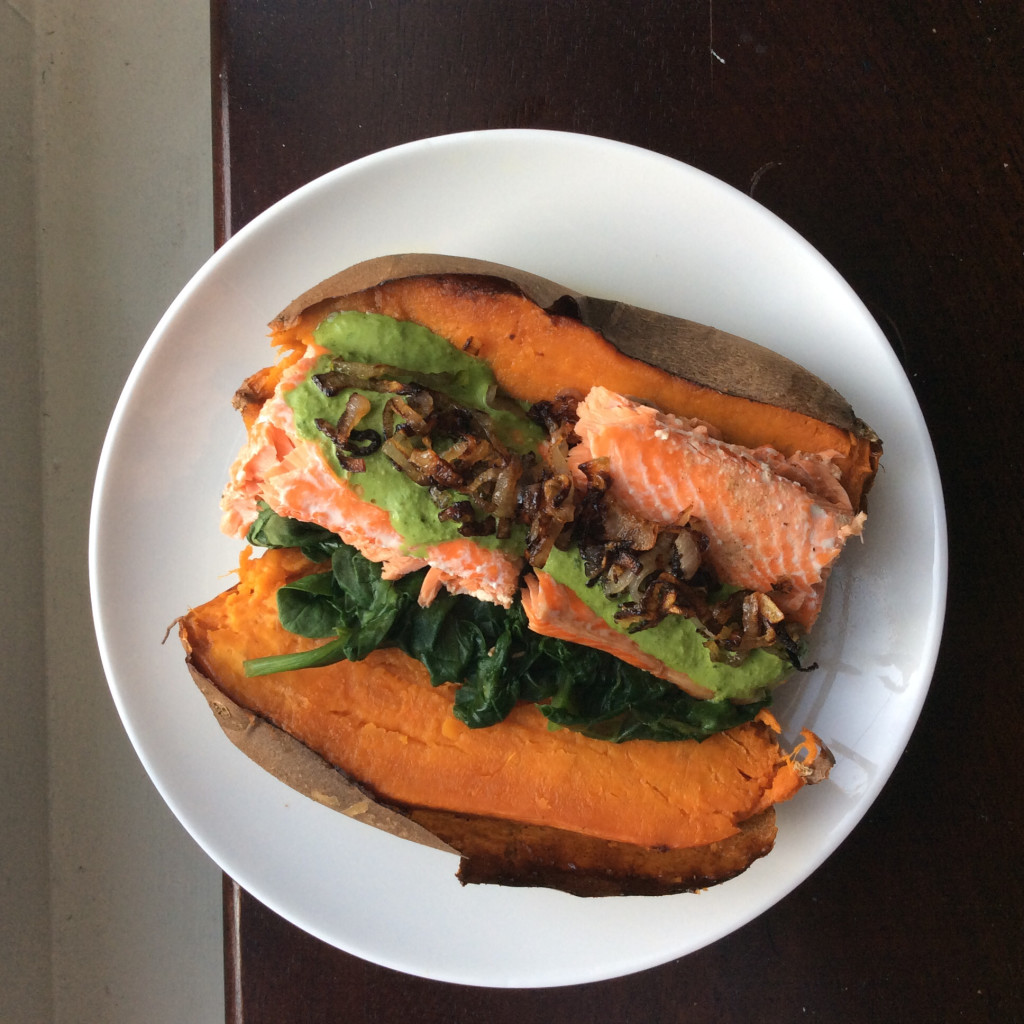 Day 9
Breakfast
Mushroom Thyme Scramble with Homemade Marinara and Peach Slices
Homemade marinara might be my new favorite way to sauce eggs apart from salsa Mexicana.
Lunch
Leftover Thai Beef Curry
Dinner
Sweet Potato with Wild Sockeye Salmon, Steamed Spinach, Pistou and Crispy Shallots
This was pretty easy to throw together and the texture and taste of the crispy shallots made the dish stand out.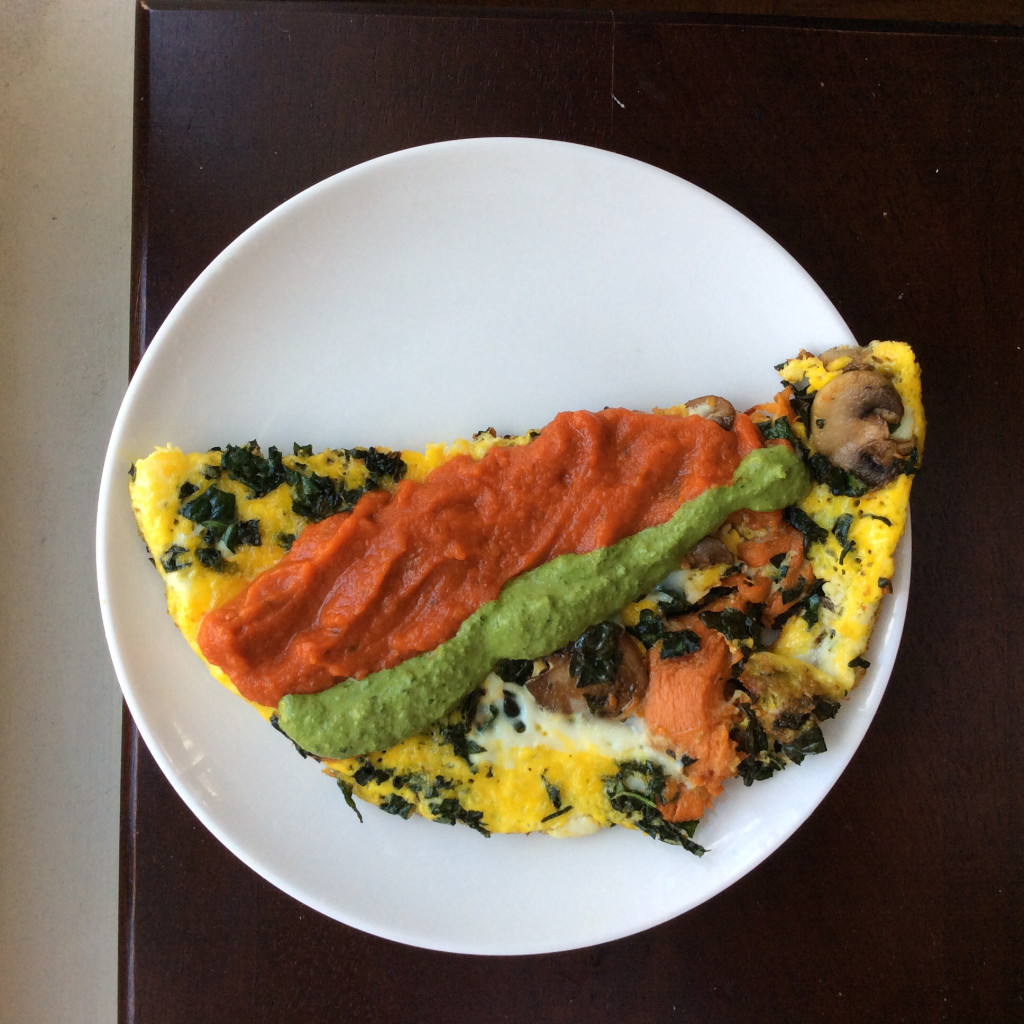 Day 10
Breakfast
Italian Flag Frittata (kale, mushroom frittata drizzled with marinara and pistou) and strawberries
Whoa. These two sauces side by side left quite an impressive punch of flavor.
Lunch
Leftover Thai Beef Curry
Dinner
Grilled Chicken, sautéed Swiss chard and grilled root vegetables
This dish was the outcome of my mother-in-law answering the question, "What can I make for my kids who are on the Whole 30. It was a good opportunity to talk about why we are setting aside 30 days to reset and listen to our bodies and the meal is something that can be a good stand-by if you're trying to suggest foods to eat for a potential party / to a host.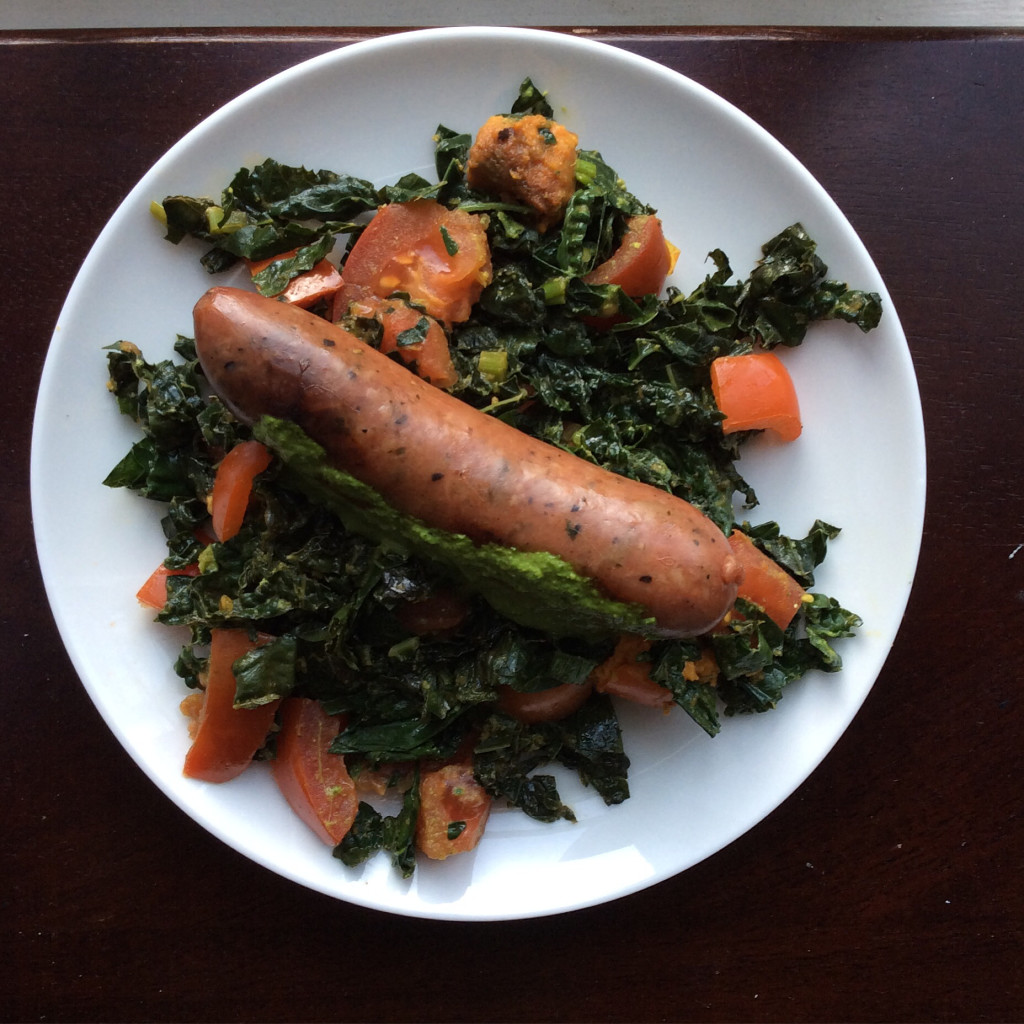 Day 11
Breakfast
Swiss chard scramble with berries and nectarine chunks
Lunch
Grilled chicken kebab with citrus-infused potatoes and cucumber, black olive, tomato salad
Dinner
Artichoke Garlic sausage with kale, sweet potato, tomato, red pepper sauté
This might be my new "fast food" go-to. It's a chop, saute, serve kind of situation that's mighty tasty. Check the labels on the sausages. We used Aidell's.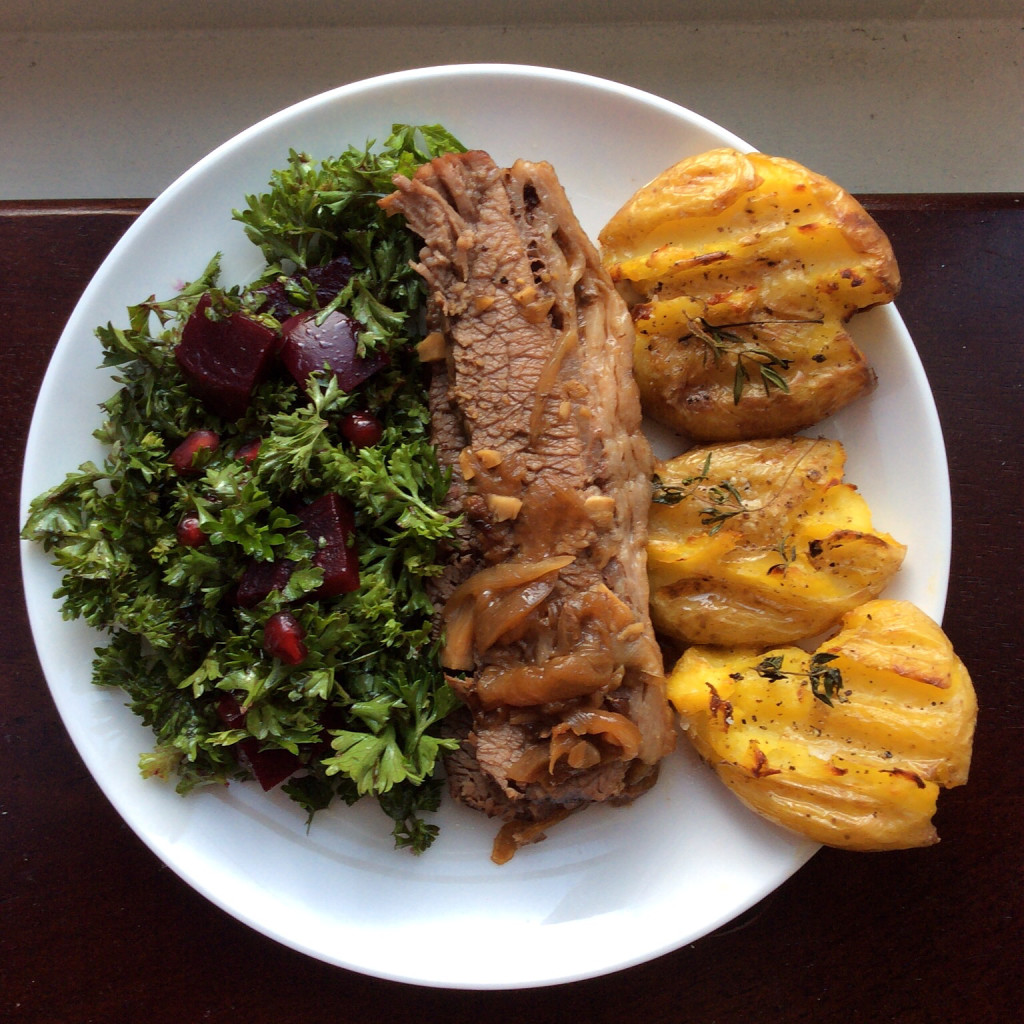 Day 12
Breakfast
Zucchini scramble with leftover marinara and a peach
I steamed the zucchini chunks the night before so I would have something to add to my morning eggs. Good decision!
Lunch
Shrimp salad doused in Crystal hot sauce with beets, lettuce, black olives and tomato slices.
I'm pretty convinced that Crystal hot sauce is a gift from above. It certainly made what would have been a boring Pier 39 salad into something with a bit more pizzazz.
Dinner
Juicy brisket with melted onions, smashed potatoes and parsley beet salad
This was a revelation. You can take the girl out of Texas but somewhere deep down I will always have a soft spot for brisket. Also, the jus was oh so nice drizzled on the crunchy bits of the smashed potatoes.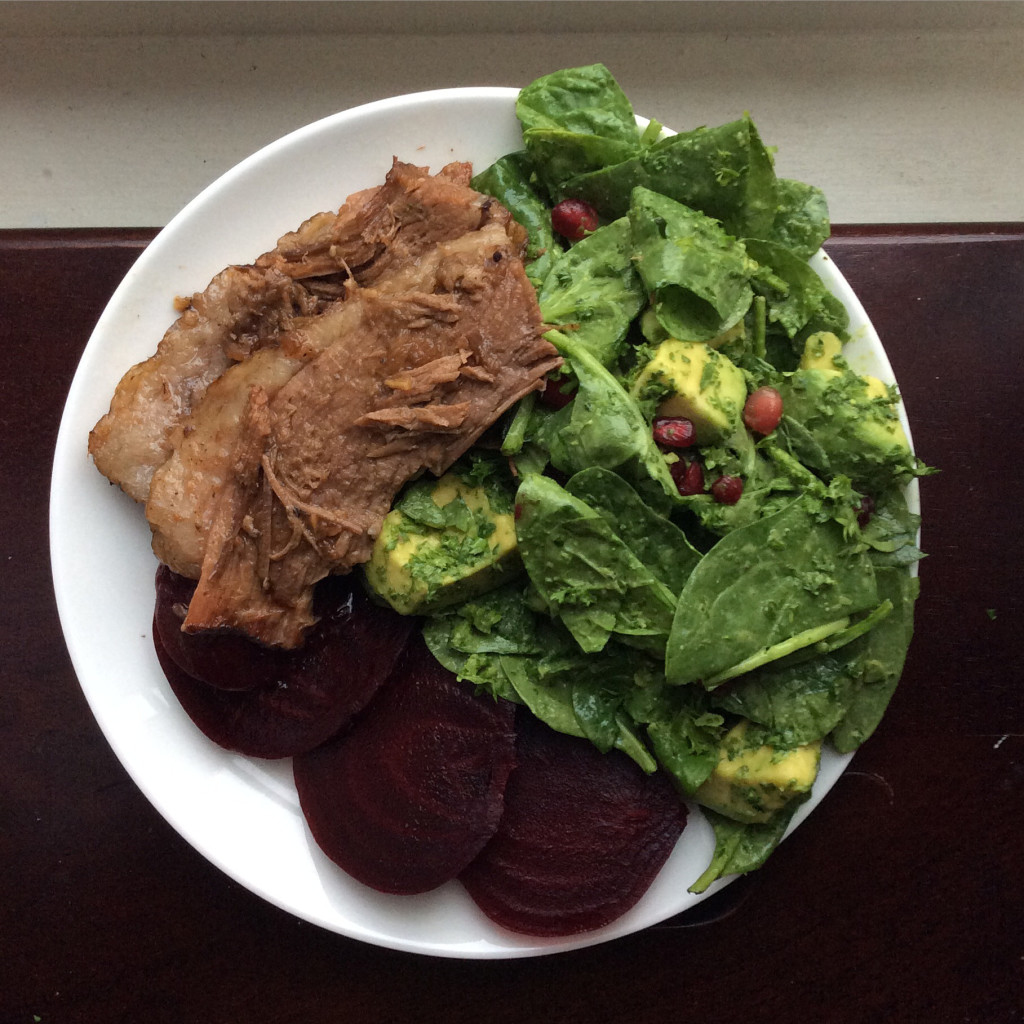 Day 13
Breakfast
Spinach omelette
Lunch
Sweet potato with chopped brisket and a bowl of blueberries in coconut milk
This was my first flub- and as I look at breakfast, it was too. Breakfast should have included more fat- 1/4 or 1/2 an avocado sliced. Lunch should have had vegetables and much more protein than the scraggles of brisket pieces. Plus the bowl of blueberries and coconut milk felt like my first cheat even though they were both "okay" on the W30 list. Live and learn, right? I was hangry and frustrated the entire afternoon. I took a walk. I phoned a friend. I moved on and will plan better.
Dinner
Leftover brisket with beets and spinach avocado salad dressed with leftover pistou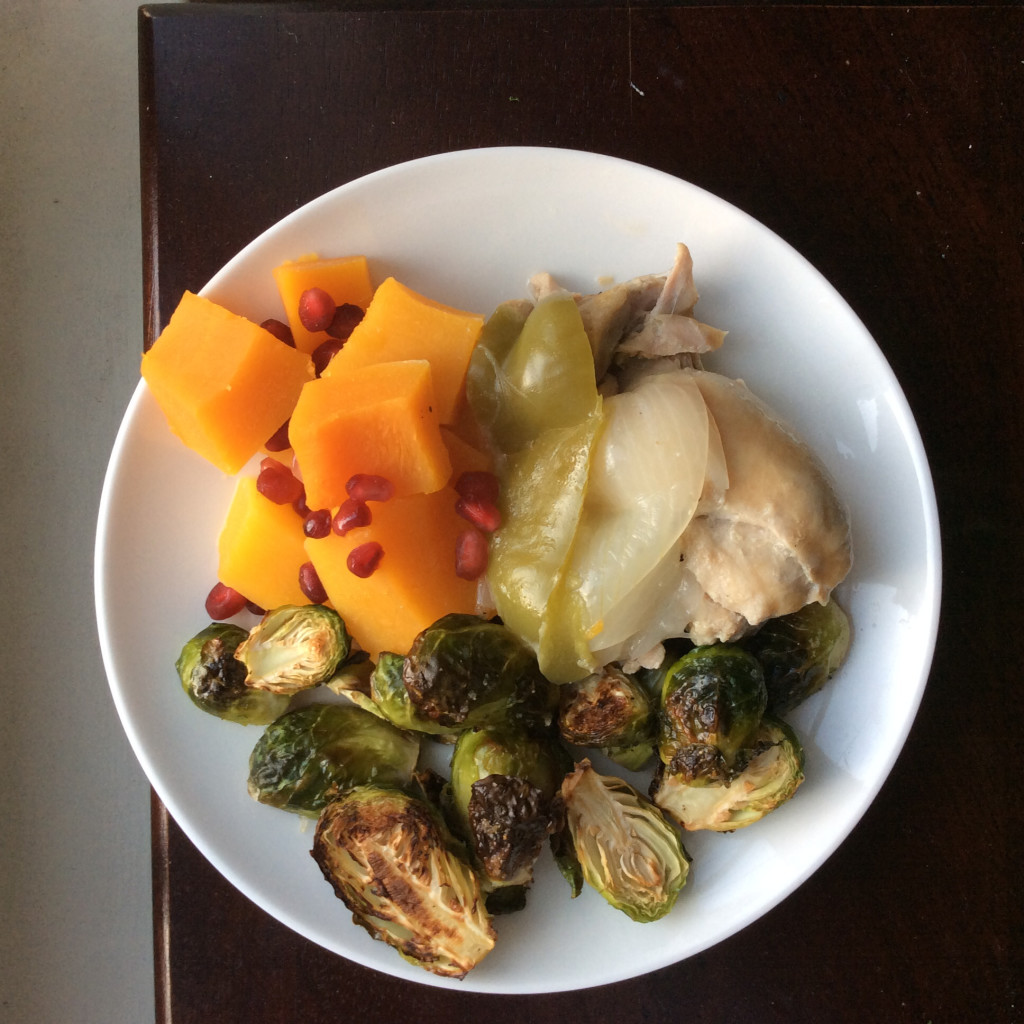 Day 14
Breakfast
Tomato omelette with avocado and blueberries
Lunch
Leftover brisket with steamed cauliflower and broccoli
Dinner
Chicken with melted onions and bell pepper atop steamed butternut squash and roasted Brussels sprouts
This chicken is something I have been making for a while. It is a kind of comfort food and thigh meat just has more flavor and juiciness. Also, I know butternut squash and Brussels sprouts are technically "not in season" but variety is the spice of life and I'm okay with painting outside the seasonal lines occasionally.
Week 3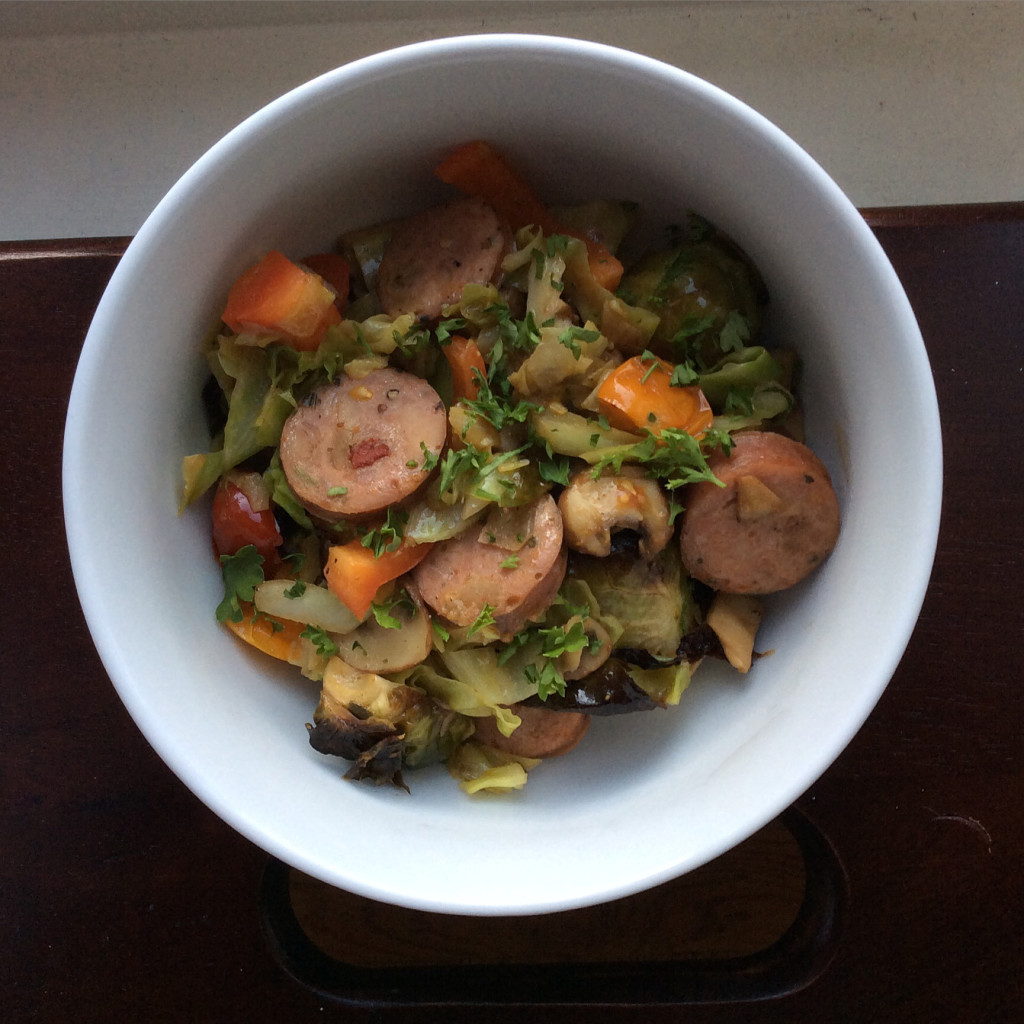 Day 15
Breakfast
Tomato Omelette with a nectarine
Lunch
Leftover chicken with butternut squash spinach salad and avocado
Dinner
Cabbage sauté with sausage, mushrooms, tomatoes, and peppers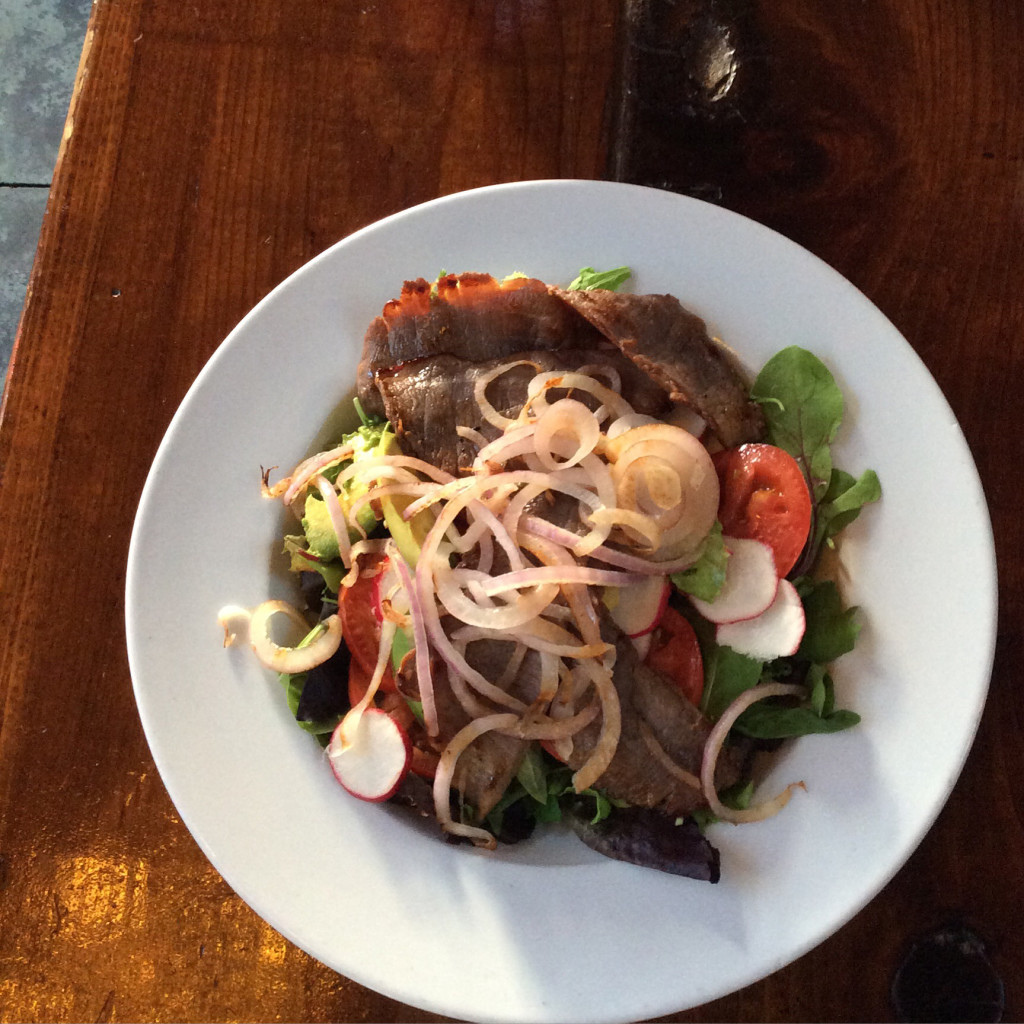 Day 16
Breakfast
Tomato Omelette with a nectarine
Lunch
Leftover sausage cabbage sauté with a side of blueberries
Dinner
Niman Ranch flank steak salad with grilled onions, avocado and tomatoes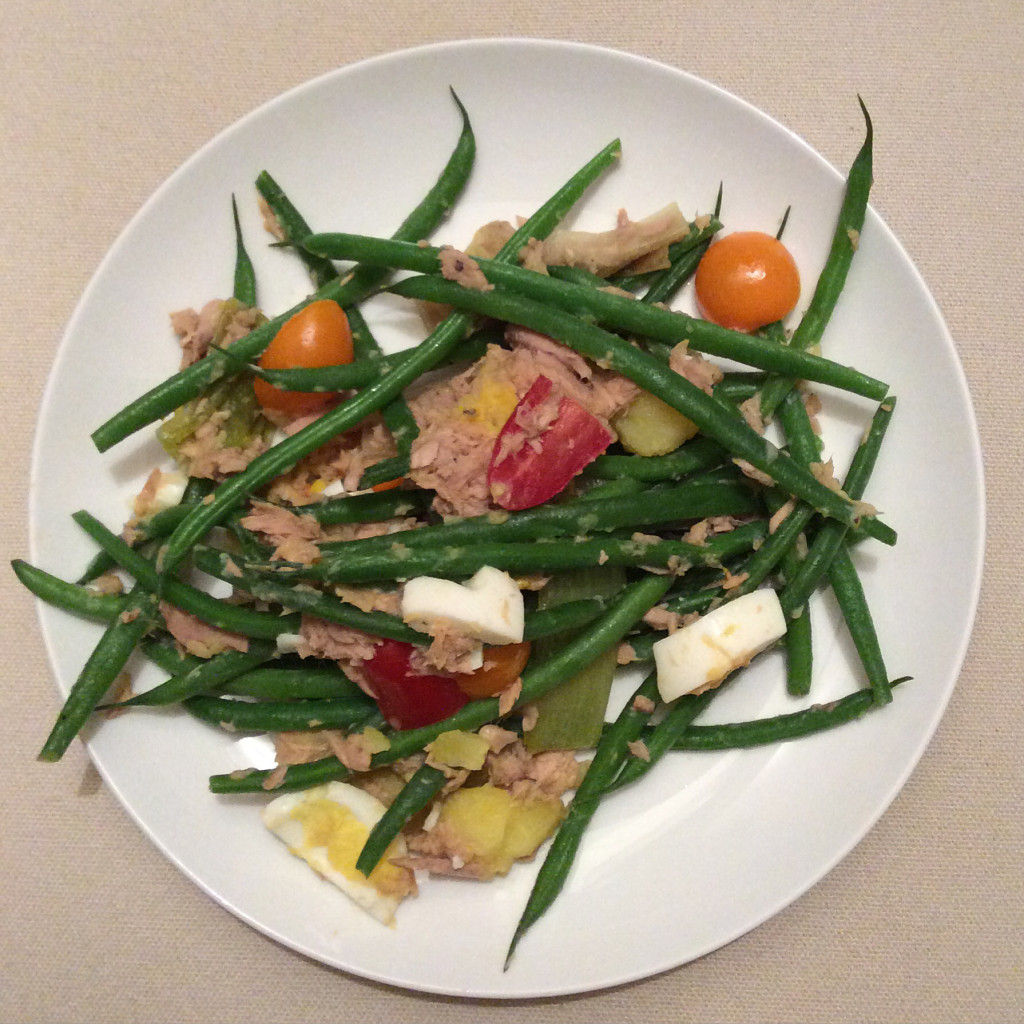 Day 17
Breakfast
Slept in- oops!
Lunch
Salad bowl from Chipotle with chicken, fajita vegetables, pico de gallo and guacamole
Dinner
My version of Salade Nicoise with a side of blueberries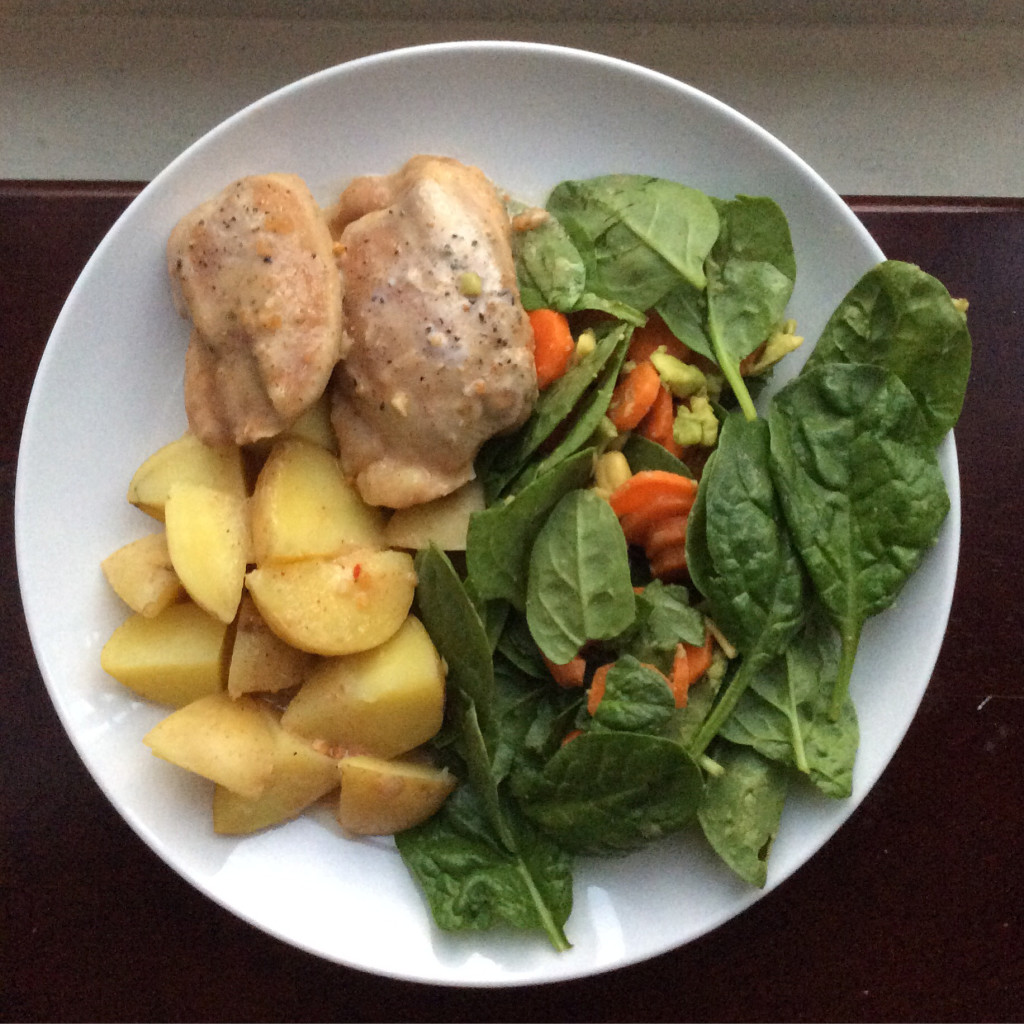 Day 18
Breakfast
Tomato, Green Bean Frittata with a banana
Lunch
Spaghetti Squash with Homemade Marinara and Meatballs
Dinner
Adobo chicken with steamed potatoes and carrot avocado spinach salad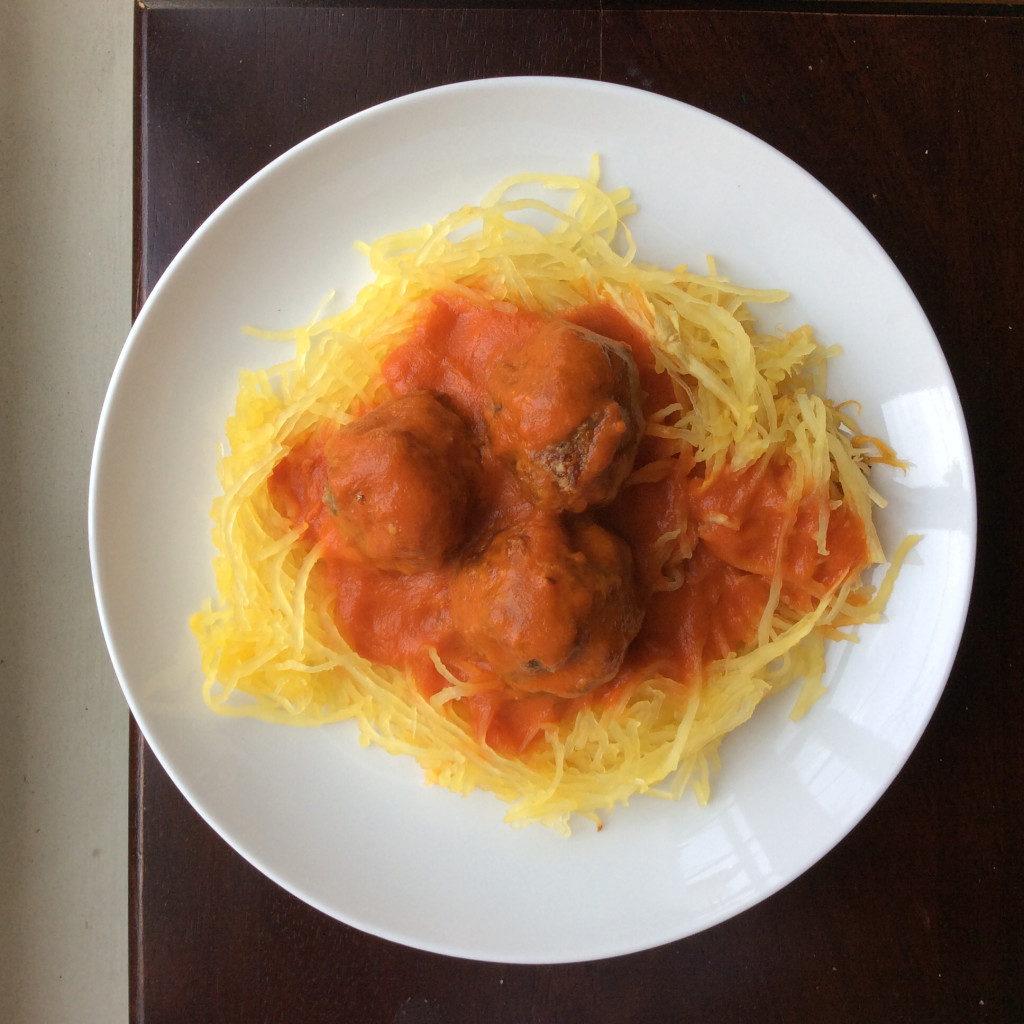 Day 19
Breakfast
2 eggs sunny side up with avocado and tomato slices and a side of blueberries
Lunch
Leftover Salade Nicoise
Dinner
Leftover Spaghetti Squash with Homemade Marinara and Meatballs along with a side of watermelon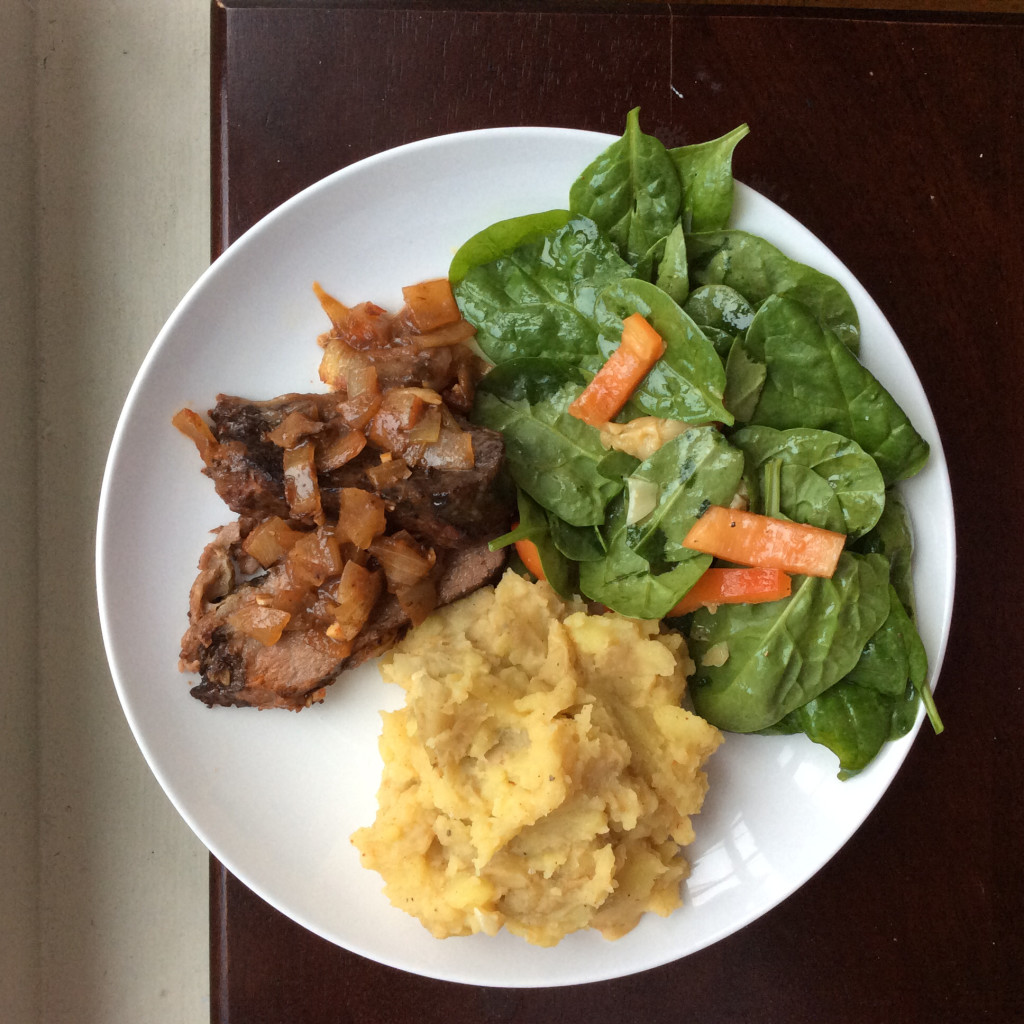 Day 20
Breakfast
Green Bean Egg Scramble with Blueberries

Lunch
Leftover Sausage Cabbage Saute
Dinner
Braised Beef with Onions,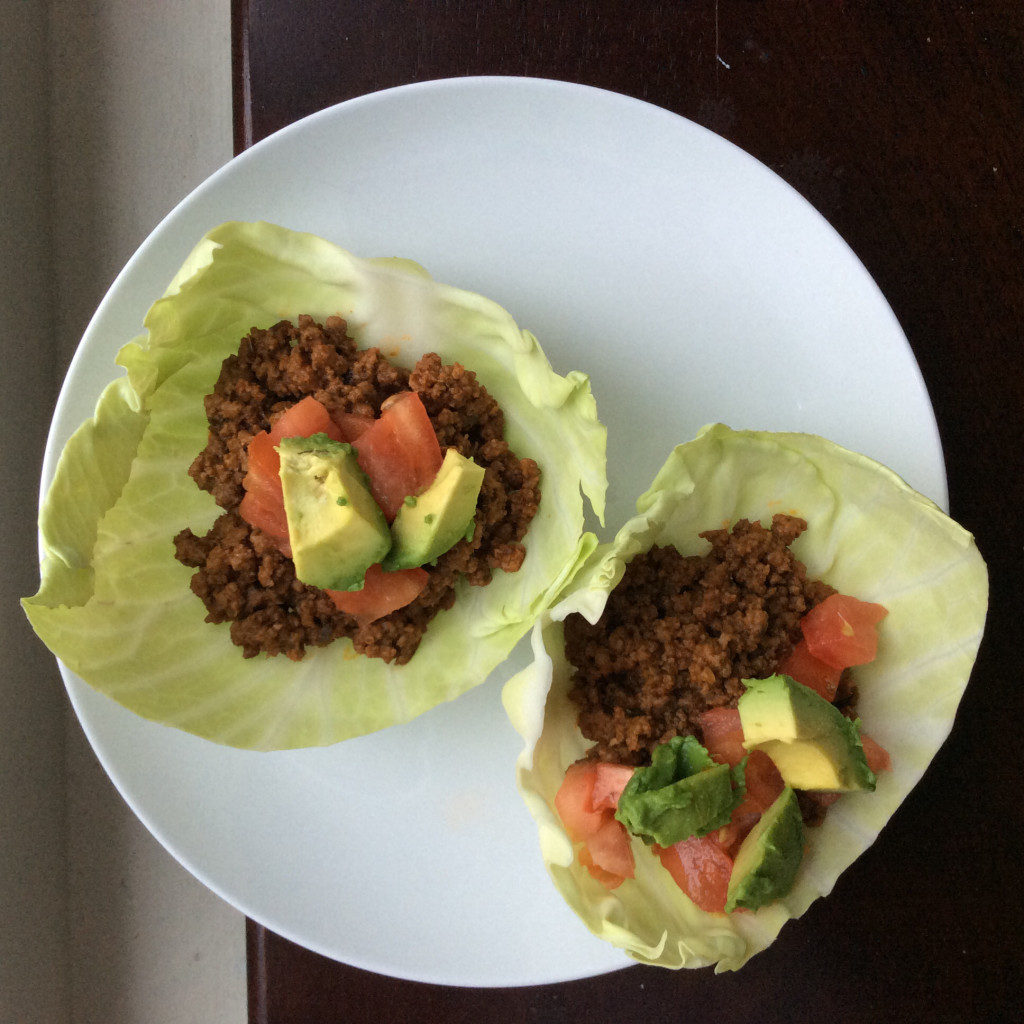 Day 21
Breakfast
Sausage Scramble with a Banana
Lunch
Leftover Adobo Chicken with Spinach
Dinner
Ground Beef Cabbage Cup Tacos with tomatoes, avocado and a side of cherries
Week 4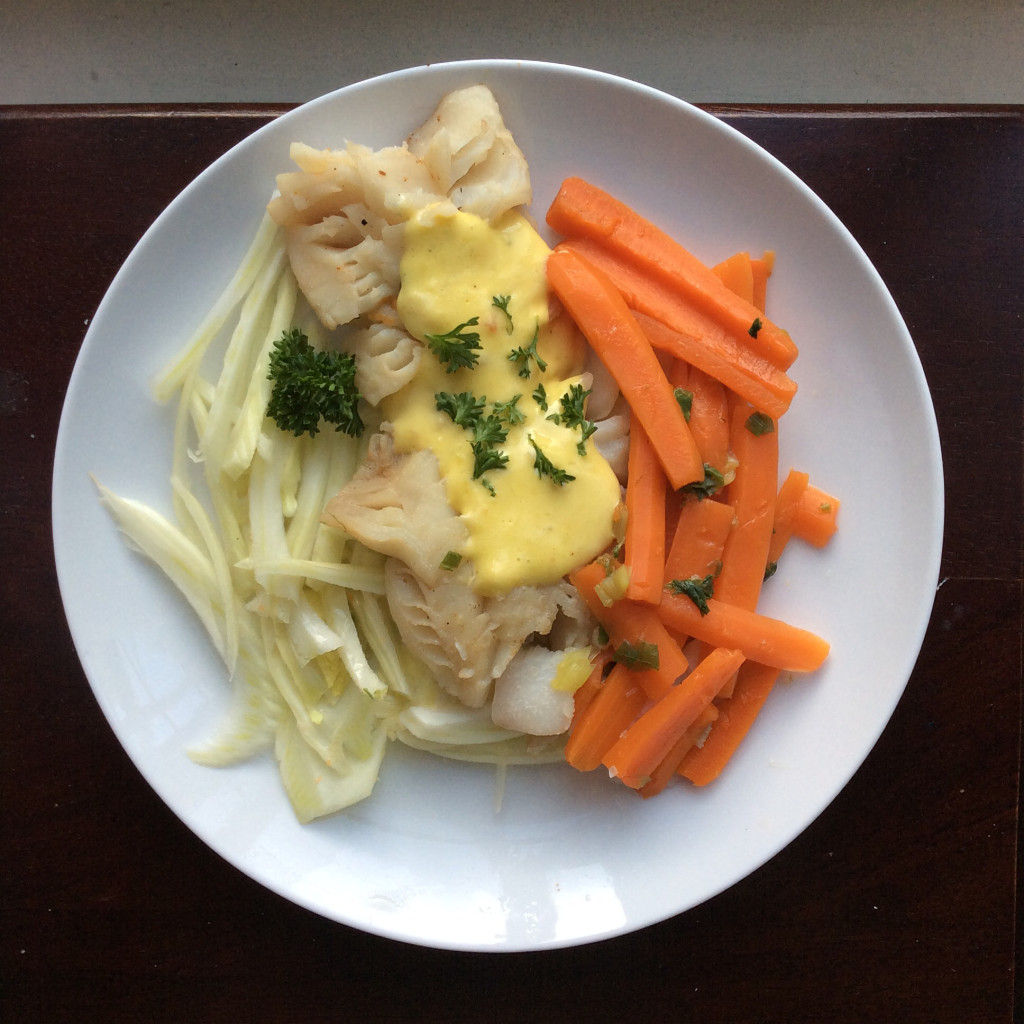 Day 22
Breakfast
Tomato Omelette
Lunch
Leftover Spiced Ground Beef Tacos in Cabbage Cups
Dinner
Poached Fish with Aioli, Steamed Carrots and Sliced Fennel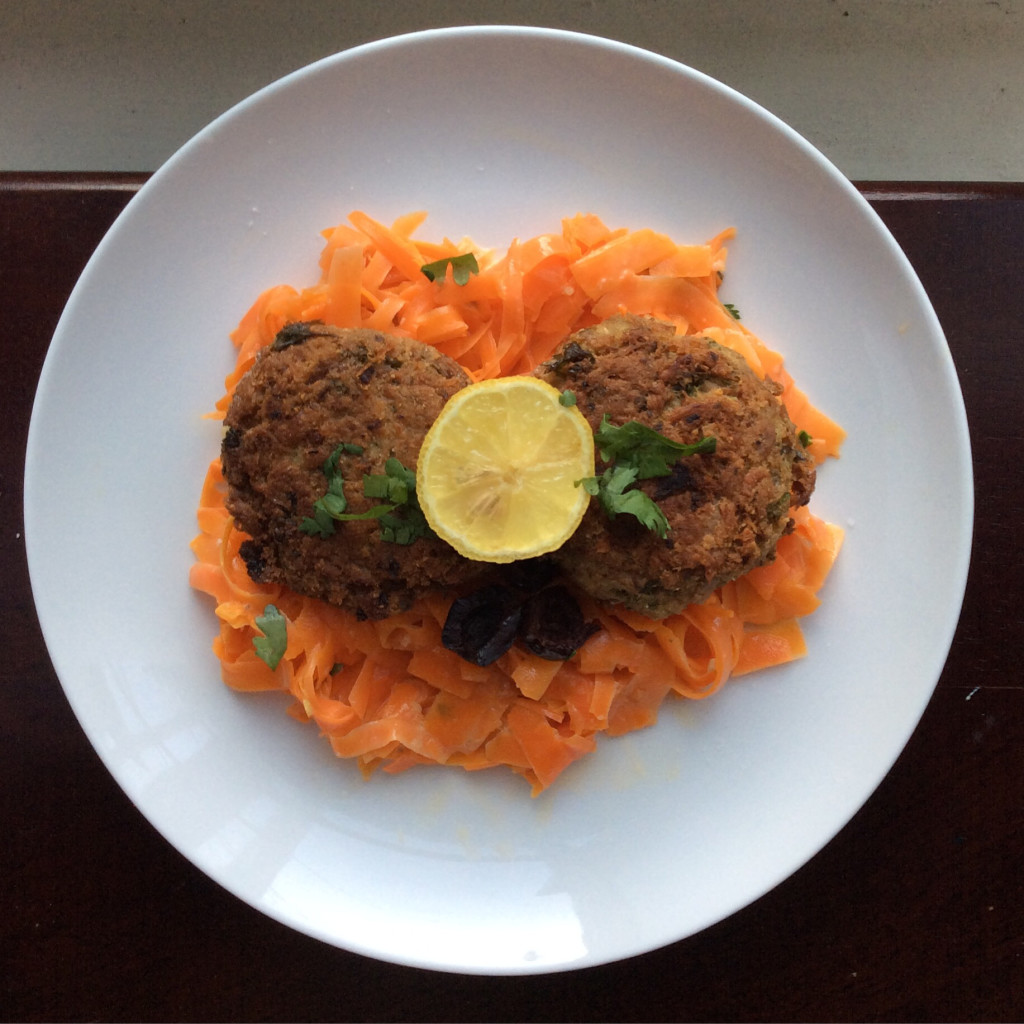 Day 23
Breakfast
Tomato Omelette
Lunch
Leftover Spiced Ground Beef Tacos in Cabbage Cups
Dinner
Tuna Cakes with Creamy Carrot Curls Tossed in Leftover Aioli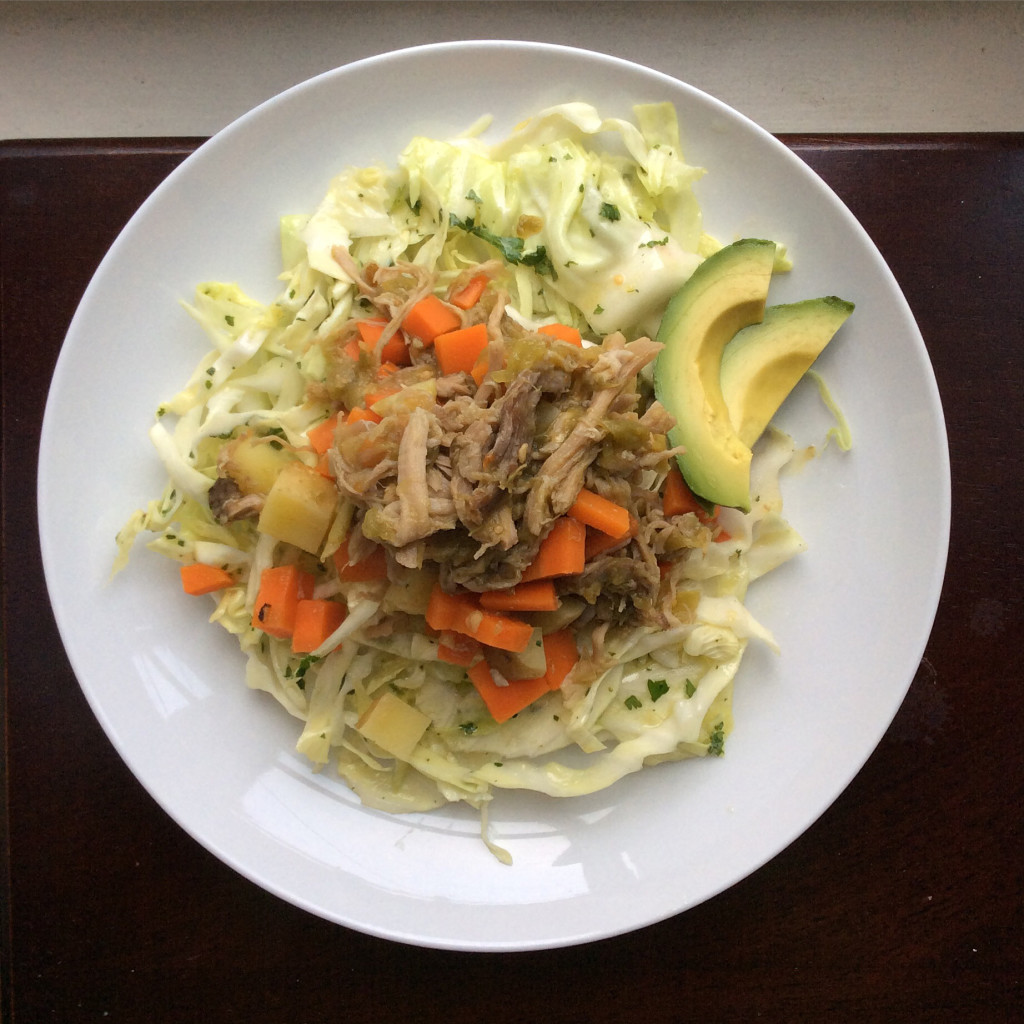 Day 24
Breakfast
Tomato Omelette
Lunch
My version of Salade Nicoise
Dinner
Shredded Pork with Carrots and Potatoes over Shredded Cabbage Slaw in Cilantro Dressing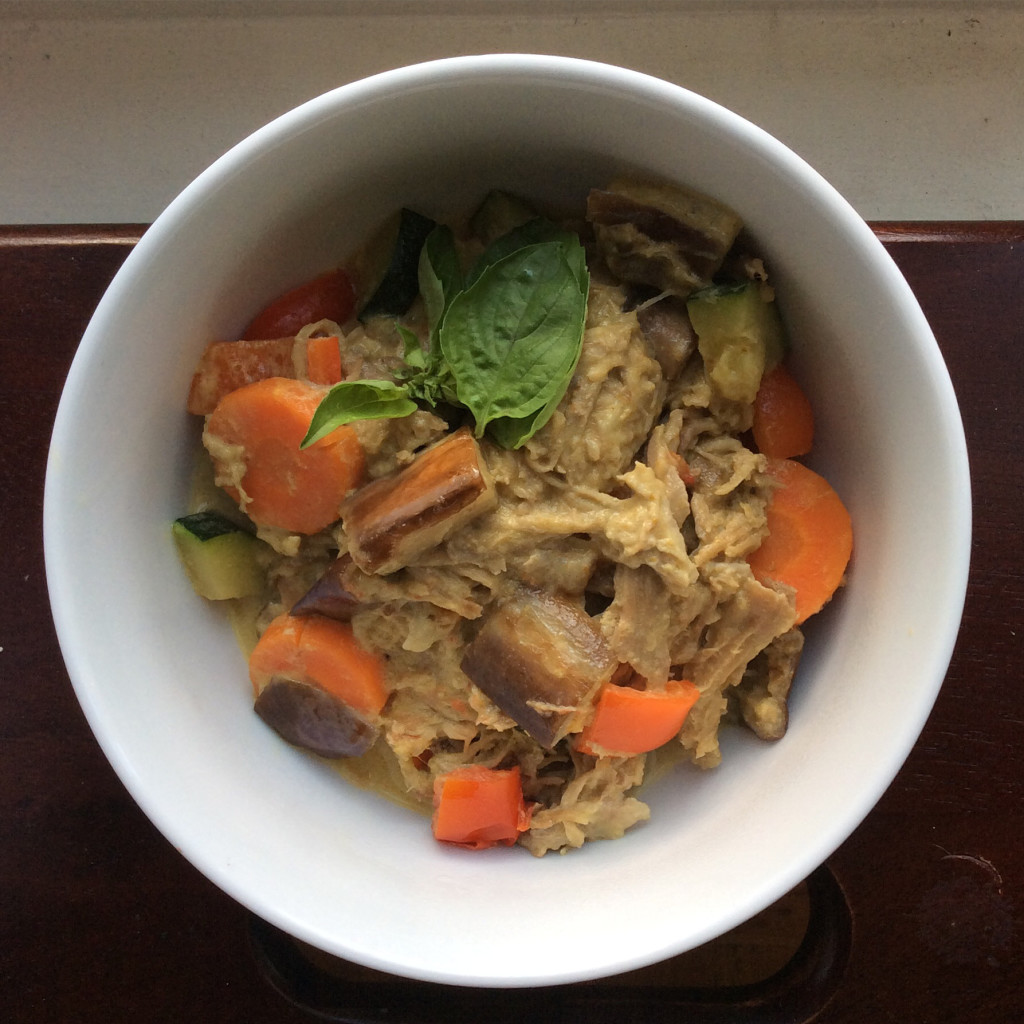 Day 25
Breakfast
Tomato Omelette
Lunch
Leftover Shredded Pork with Carrots and Potatoes over Shredded Cabbage Slaw in Cilantro Dressing
Dinner
Shredded Pork Green Curry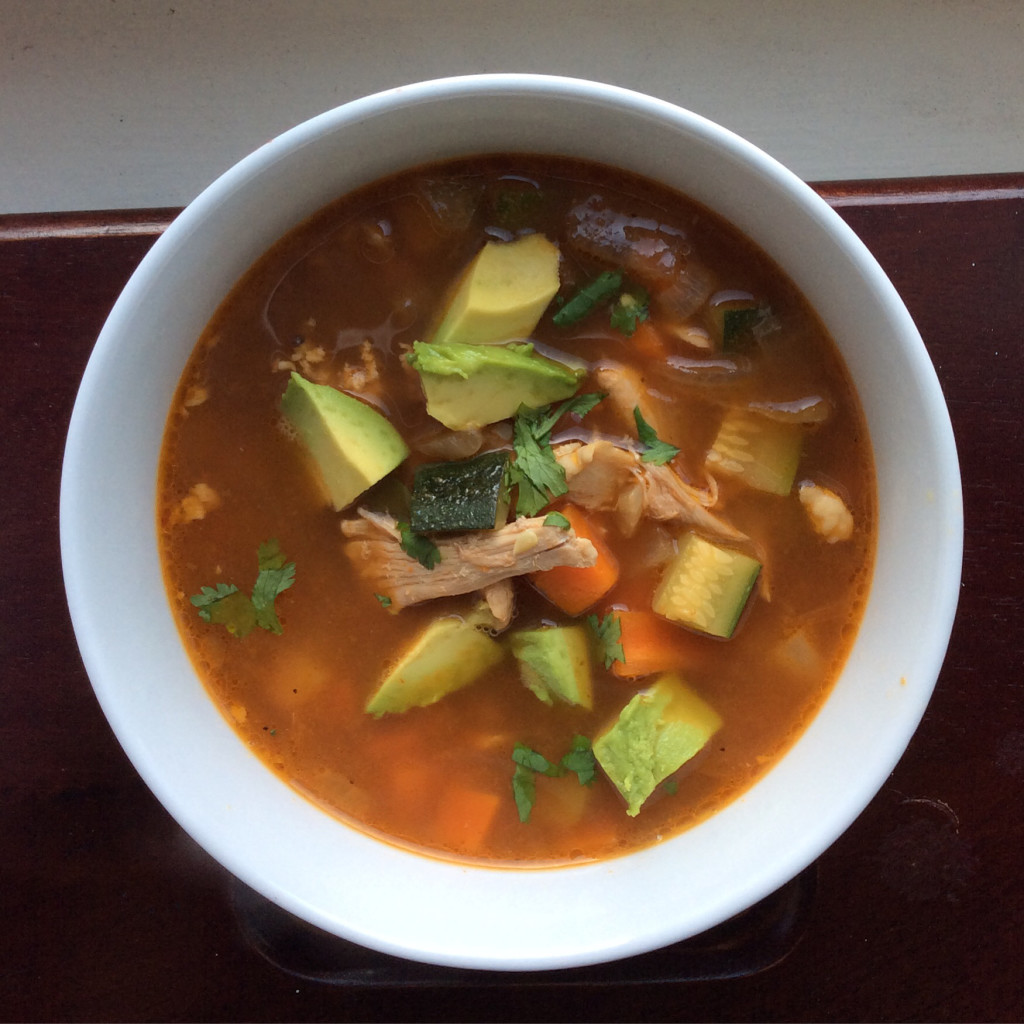 Day 26
Breakfast
Tomato Basil Omelette
Lunch
Leftover Shredded Pork Green Curry
Dinner
Caldo de Pollo with Avocado
Day 27
Breakfast
Tomato Omelette
Lunch
Leftover Caldo de Pollo with Avocado
Dinner
Spiced Ground Beef Tacos with Mexican Gremolata in Cabbage Cups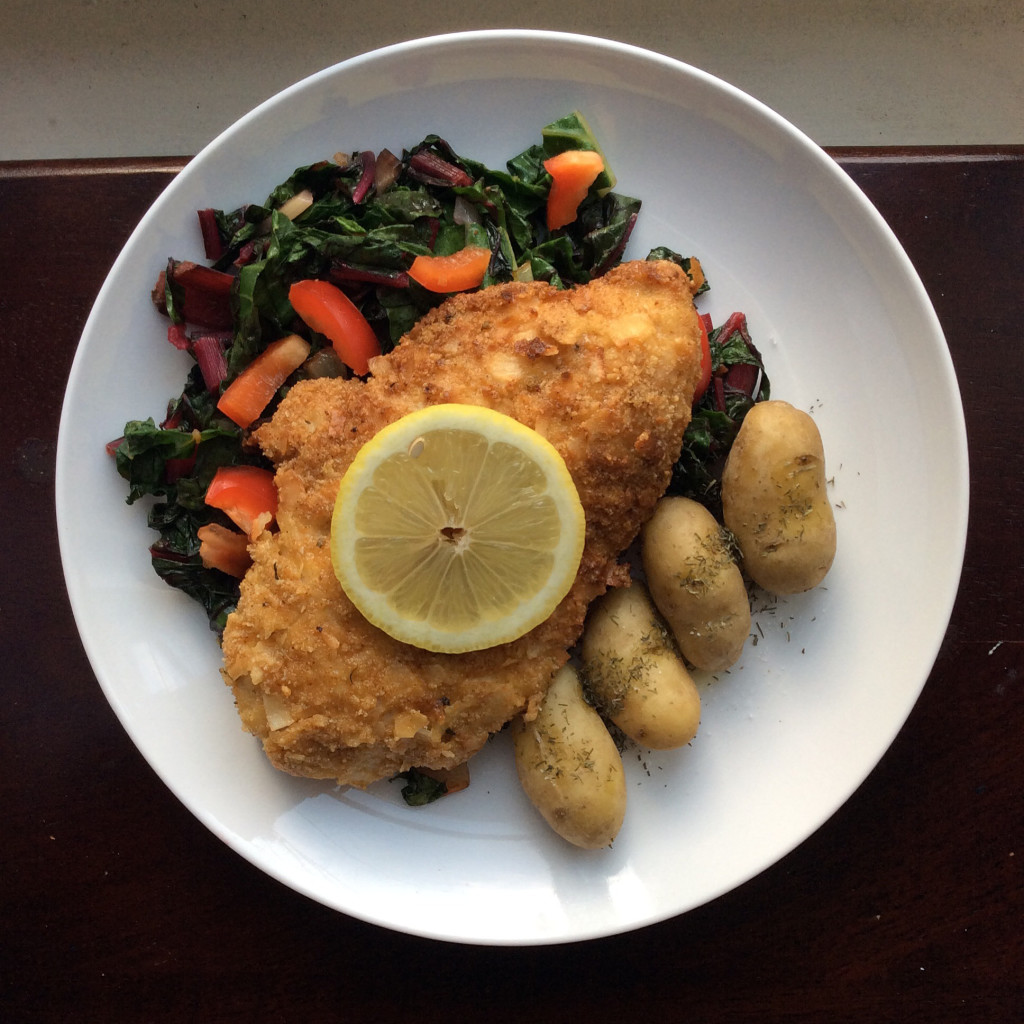 Day 28
Breakfast
Tomato Omelette
Lunch
Leftover Caldo de Pollo with Avocado
Dinner
My version of Paleo Chicken Schnitzel with Swiss Chard and Fingerling Potatoes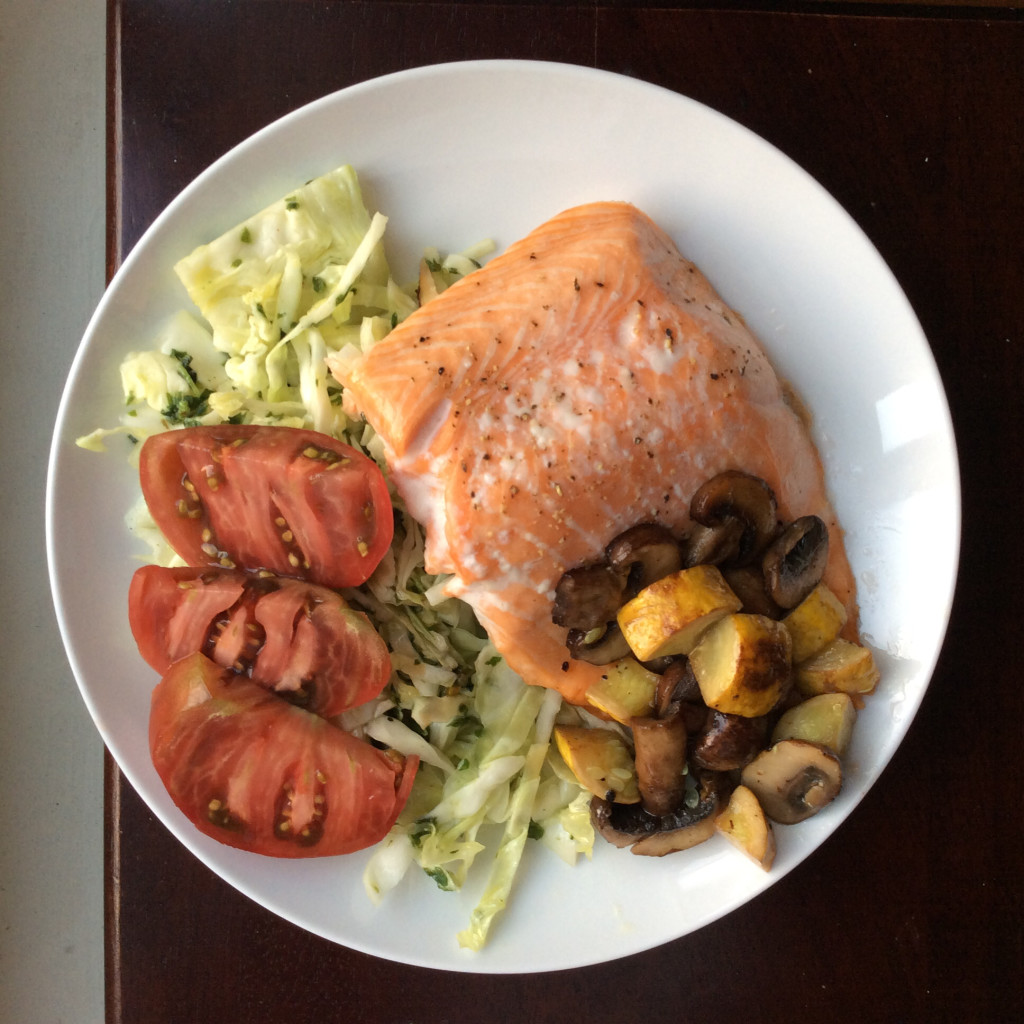 Day 29
Breakfast
Tomato Omelette
Lunch
Leftover Caldo de Pollo with Avocado
Dinner
Salmon with Squash and Mushroom Garnish, Cabbage Slaw with Basil Dressing, and Cherokee Purple Heirloom Tomatoes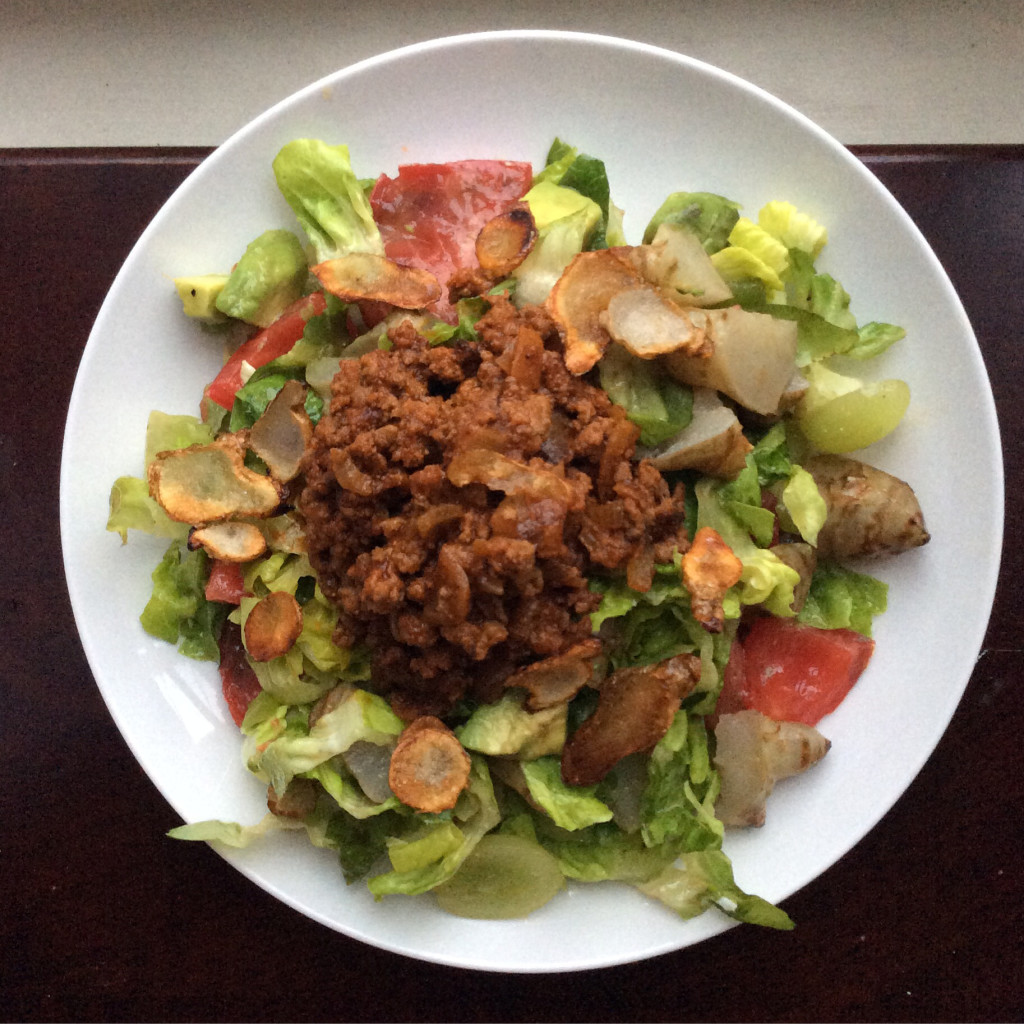 Day 30
Breakfast
Tomato Omelette
Lunch
Leftover Chicken Schnitzel with Leftover Cabbage Slaw
Dinner
Taco Salad with Spiced Ground Beef, Sunchokes, Avocado and two kinds of tomatoes (Early Girl and Cherokee Purple)