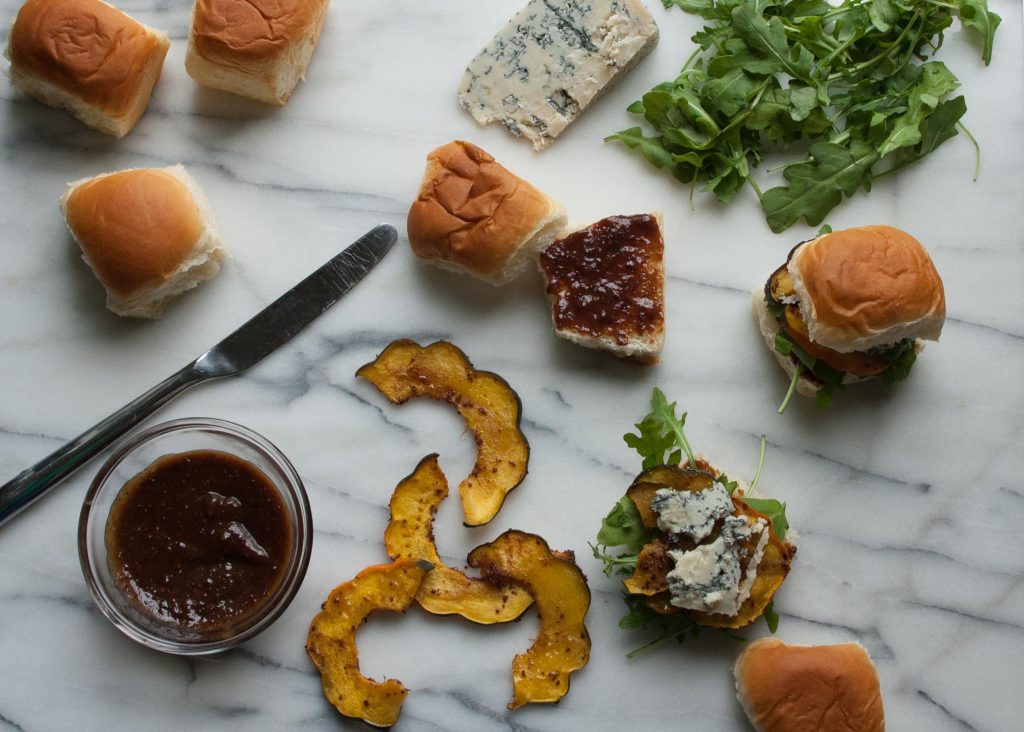 I have a quibble with pumpkin. Okay, maybe it's aimed a little bit more at the legion of people who have taken the humble gourd and exalted it as god just as Labor Day splits into white jean permissible and white jean not permissible. But that will be a tiny rant for another day. Instead, go pick up an acorn squash. Resist the temptation to eat it stuffed or slathered in butter that will melt into its flesh, especially if that inclination includes brown sugar. The temptation is real for a route that is certainly delicious, but focus with me on Acorn Squash Sliders.
Teatime created or cross-pollinated a market for sandwiches cut into skinny fingers, to be eaten with one's fingers. But at some point you might find you want to broaden the possibilities of what might pop up on the three tiered plate for teatime. Roasted acorn squash gets a bit of savory spicing to play off of sweet Hawaiian rolls, a smear of fig mustard, peppery arugula and a mellow blue cheese. This mini sandwich brings several flavors of fall into one action-packed bite. All that's left to do is put a kettle on. Portion out the black tea.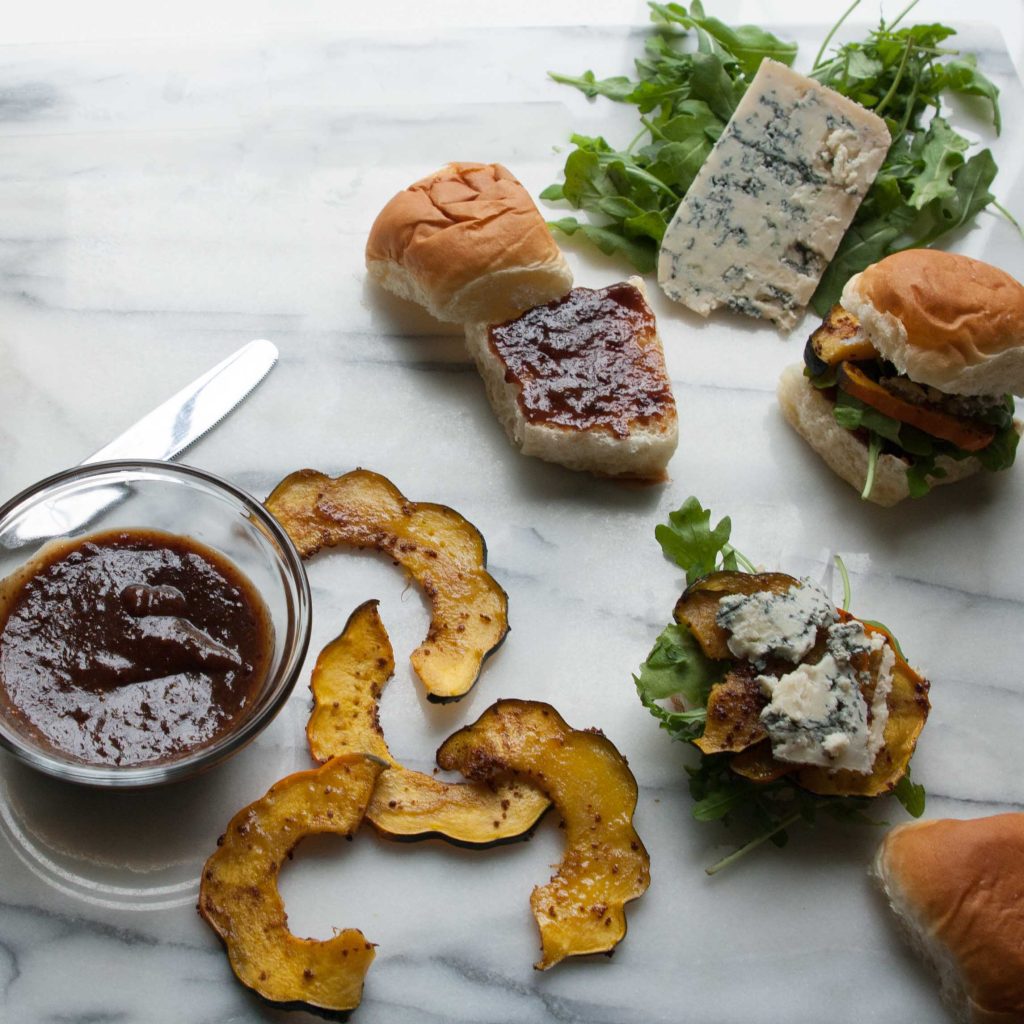 Acorn Squash Sliders with Blue Cheese & Fig Mustard
Makes 12 sliders // serves 6
1/2 acorn squash, seeded, halved and sliced into 1/4-inch half moons
2 tablespoons olive oil1/4 teaspoon kosher salt
1/4 teaspoon ground cinnamon
1 teaspoon Aleppo pepper
1/4 cup fig jam
1 tablespoon Dijon mustard
3 cups baby arugula, washed
6 ounce blue cheese wedge
12 Hawaiian sweet rolls
Preheat the oven to 350F. Line a baking sheet with parchment paper. Toss the squash half moons with oil, salt, cinnamon, and Aleppo pepper. Roast for 25 to 30 minutes or until soft but not falling apart. In a small saucepan, warm fig jam and mustard until warm, about a minute or two. Slice the rolls open. Spread fig mustard on half the roll. Layer with arugula. Tile several slices of acorn squash on the arugula. Top with a slice of blue cheese–if it crumbles, it's okay. Blue cheese is crumbly and that's what it does naturally. Serve the sliders immediately.
PS: Construct and serve the sandwiches warm or after the squash has cooled completely. Your pick. I like the warm condiment smearing the bread. You might find you like the condiment enough to smear some on the top bun. However you roll, don't skimp on the blue cheese.
PPS: Working ahead? Prepare the fig mustard and roast the squash half moons in advance if you like. Assemble the squash sliders right before serving.