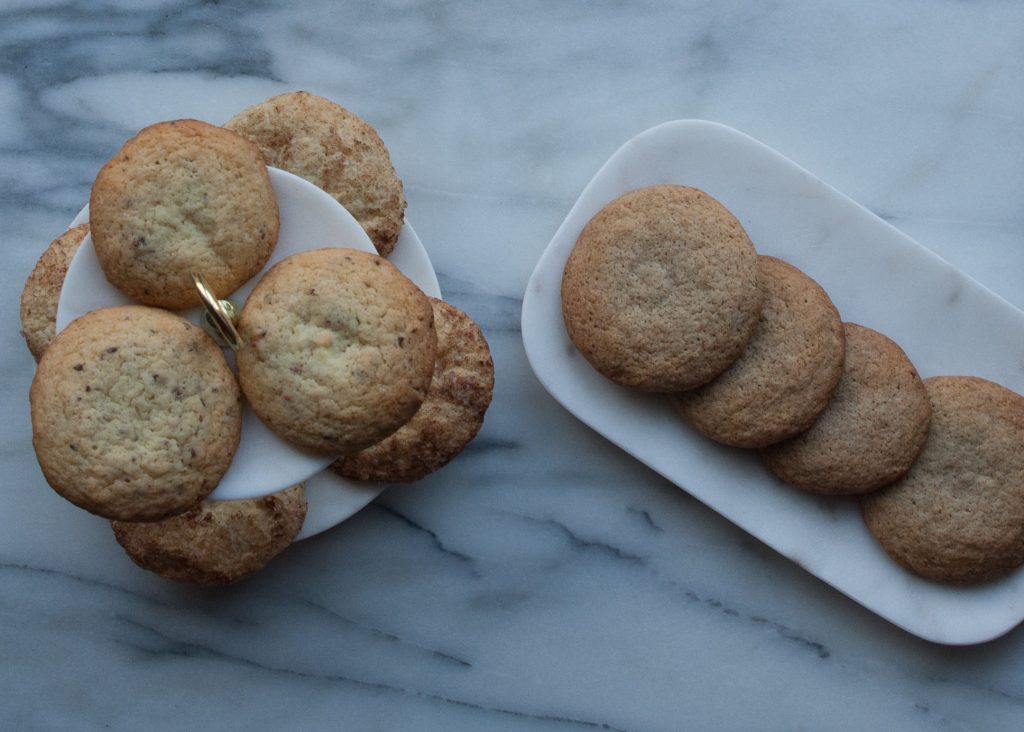 Menage a Trois Cookies
I've had cookies on the brain recently and with a very specific point of view: make one batch of cookie dough and then through minor adjustments make three flavors of cookies. Simplicity in execution and finding a simple hack for cookie season can be sexy, no? *Keep the butter at room temperature for 15 minutes so that your finger indents the butter easily but it's not quite at the soft as skin balm stage.
Makes 24 cookies
1 1/2 cups (210 grams) all-purpose flour
1/4 teaspoon baking powder
1/4 teaspoon baking soda
1/2 teaspoon kosher salt
8 tablespoons unsalted butter, room temperature*
1 cup white sugar
1 tablespoon light brown sugar
2 large eggs, room temperature
Pumpkin Spice Sparklers
2 tablespoons sparkling sugar
1 teaspoon pumpkin pie spice
Ras el Hanout & Vanilla
1 teaspoon ras-el-hanout spice mix
1/4 teaspoon pure vanilla extract
Cacao & Pink Peppercorn
2 teaspoons cacao nibs
1/4 teaspoon freshly cracked pink peppercorn
Whisk together the flour, baking powder, baking soda, and salt. Using a stand mixer with the paddle attachment, cream the butter and sugar until fluffy, anywhere from 2 to 3 minutes. Add each egg, one at a time to to the creamed butter, stopping between eggs and scraping down the sides of your bowl. Add all of the flour at once, pulsing 5 times to begin to integrate the flour into the wet ingredients. Mix the flour in until it just comes together. Divide the cookie dough into three portions (roughly 214 grams each) dispersed into three small bowls to create the three cookie flavors below.
Pumpkin Spice Sparkler: Stir together the sparkling sugar and pumpkin pie spice in a ramekin. Use a tablespoon to roll 8 dough balls. Roll each ball in the spiced sugar until well coated. Place the balls on a plate to chill for 1 hour at least.
Ras el Hanout and Vanilla: Sprinkle the ras el hanout onto the cookie dough in one of the two remaining bowls. Add the vanilla. Mix to combine. Chill the dough for at least one hour. When ready to bake, use a tablespoon to roll 8 balls of dough.
Cacao & Pink Peppercorn: Sprinkle the cacao nibs an pink peppercorn onto the cookie dough in the last bowl. Mix to combine. Chill the dough for at least one hour. When ready to bake, use a tablespoon to roll 8 balls of dough.
Preheat the oven to 400F. Line a baking sheet with a Silpat or parchment paper. Place the cookie dough balls 2 inches apart– you'll be baking in batches. Bake for 10 minutes, rotating the pan at the 5 minute mark. Cool the cookies on the baking sheet for 10 minutes before moving them to fully cool on a wire rack. Bake the remaining cookies.
PS- Store the cookies in a sealed container for 1 week. And this is where you are in luck because cookie tins should start hitting the shelves soon.
PPS- I may be weird but I like to freeze cookies too as if it is some sort of deterrent to the cookie monster (*ahem*) finding them in the wilds of the countertop. If you're going this route, consider freezing the cookie dough balls pre-baked. Said cookie monster actually likes frozen cookies but stops short of dough. This kind of prep will mean easy, fast fresh cookies ready to be baked off once you know company is coming over. They should be fine for a month if stored in a freezer-safe sealed bag.