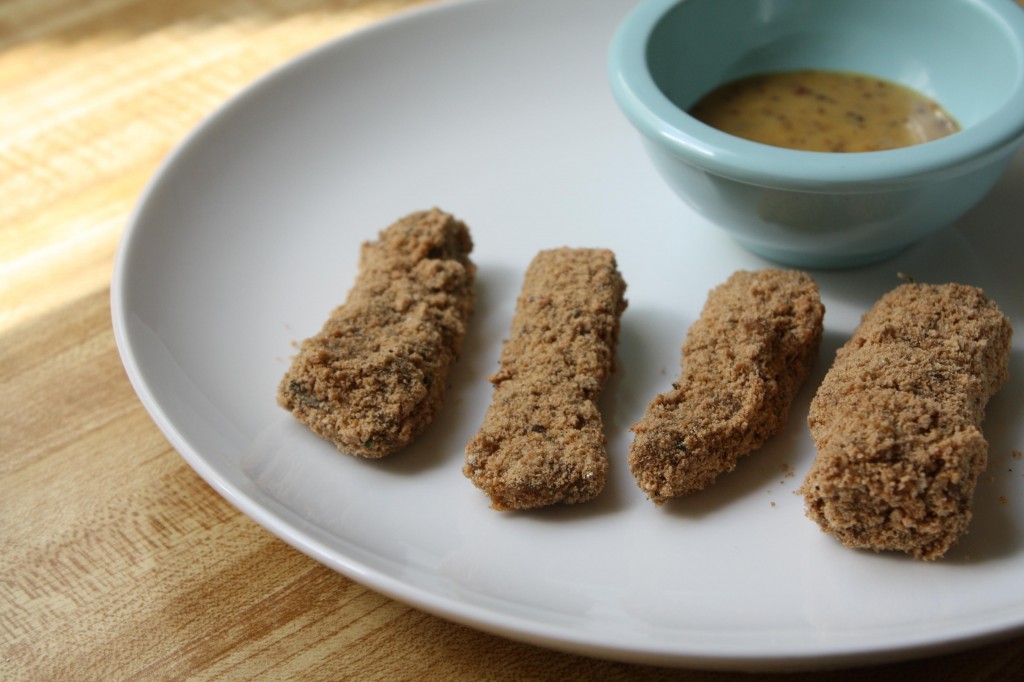 I loved fish sticks as a child. Then again, I was a child who regularly ate boxed foods. Recently, my Mom and I had a conversation about that surly food memory past riddled with processed foods. She apologized for not doing better in this department and I responded that she did the best she could. I learned how to cook from my godmother, Mom Oldine and my gourmande aunt, Tia Berta. But I learned the joys of eating and got the push of support for a sometimes unruly imagination in the kitchen from my Mom.
In a month where 5,000 people have signed up to take the pledge to eat unprocessed foods, I consider how processed foods got me through my latch-key kid days and how now, as an adult, I can make other choices. I can make my own fish sticks without preservatives and use fresh herbs to infuse their earthy flavor into the crunchy exterior. I can chat with our local butcher and fishmonger and select a fine filet of halibut from down the coast, near where my friend Cheryl lives. I can look for alternative grains and upcycle ingredients typically consigned to one mealtime and invite them into another. The world is my oyster. Or, in this case, the world is my fish stick.
Buckwheat Fish Sticks with Maple Mustard Dipping Sauce
Originally published on Eating Rules
Yields 16 fish sticks
Ingredients
For the Fish Sticks:
2 cups Buckwheat & Hemp cereal
1 tablespoon fresh rosemary
½ teaspoon real salt
¼ teaspoon pepper
1 cup buckwheat flour
½ pound of firm white fish (I used halibut)
1 egg
For the Dipping Sauce:
¼ cup Dijon mustard
2 Tablespoons maple syrup
Instructions
Preheat oven to 350F degrees. Grease a roasting pan or line with parchment paper.
Place cereal, rosemary, salt and pepper into a blender and process until finely ground. Pour contents onto a large plate.
Pour buckwheat flour onto a separate plate. In a small bowl, whisk the egg.
Place halibut filet on a cutting board and make narrow incisions down the length of the fish so that you cut long strips. Then you will cut these long strips in half. In the end, you should have 16 fish sticks.
Assemble your line-up with your cutting board of fish first, followed by the plate of flour, then the egg wash, next the plate of buckwheat bread crumbs and lastly your lined or greased roasting pan.
Proceed to dredge each cut fish section into the flour until nicely coated. Then, dip into the egg wash until all surfaces are nice and eggy. Lastly, dip and roll the fish stick in the breadcrumbs until all sides are coated. Place on the lined roasting pan. Repeat the process with all remaining fish sticks until they have all been shellacked with the flour-egg-breadcrumb mixtures.
Cook for 12 minutes.
While the fish sticks are cooking combine the mustard and maple syrup in a small bowl. Set aside.
Remove the fish sticks from the oven and serve with Maple Mustard sauce.