When looking for ways to quell pain, to stanch the source, people do interesting things. I know someone who signed up for a half marathon as a way to let her body know how really strong she is after something traumatic happened. Other people retreat into themselves and the comfort of their own company, even if one submersed in the waters of turmoil.
Then, there's a matter of pancakes.
I've never really understood the lure of pancakes for breakfast probably because my Mama tried to keep our home relatively free of sugar. Like any good, enterprising child, though, I found my ways to break out of that rut and get the sweet fix. But pancakes in all their bready circular glory were lost on me. Even smeared with a pat of butter giving up the ghost or the rivulets of maple syrup meandering across the broad expanse, around and down the edges of the pancakes, I could never quite submit to the idea of this being my breakfast choice. French toast has suffered a similar fate and don't get me started on bread pudding.
A few weeks back, we trolled the farmer's market at Pike's Place in Seattle. Between sampling chocolate noodles (bizarre) and locally made jam, my eye caught baskets of huckleberries, their tiny round reality brought me hither. And, like a delicious reminder of our weekend escapade, they bobbed in my carry-on, in the "travel-proof" packaging that had been fashioned from scraps.
Now, I've never eaten a huckleberry. The closest I can claim to having partaken of them would be a cocktail, concocted by Scott Beattie at a fundraiser earlier this year. His drink featured pickled huckleberries. I trusted my lips to that glass because Msr. Beattie has earned that right and I found those berries to be the tart cousin of the blueberry, but the one with all the swagger.
I considered folding these safely ensconced food souvenirs into homemade scones. I then thought about making a new batch of shrub or perhaps trying my hand at a specialty chutney.
Somehow, we ended up at pancakes.
Pancakes- that dark breakfast horse in the running came in first place as the winning steed. Go figure. I knew that their bold, sassy flair needed something as equally compelling and here my noble fascination, some might even say obsession with buckwheat came into play. Here, at last, I had found a suitor suitable for my heroine. And to take it up a notch, I had free leftover cereal from work that I thought might do something interesting texturally.
Cue a phone call from a friend bound in personal strife. As our conversation about one thing began devolving into terrain that took her almost to tears, I ushered an invitation to come over and enjoy a home-cooked meal that Friday.  I found myself mulling a variety of menu ideas, weighing them and looking for the right combination of elements that would compose a meal of healing and nourishment. I had a hunch pancakes might be a part of that equation and began sourcing ingredients.
Friday arrived and not too soon. In the process of trying out one recipe for a project, time elapsed more quickly than I could have imagined. Waiting by the stove, the bowl of pancake batter had been mixed and was ready to be spooned onto a hot pan. I let it wait thinking I would let her do the pancake-making honors.  The doorbell buzzed and before long, she was suited up in an apron.
The routine went something like this: brush oil onto the hot pan and ladle pancake batter onto its sizzling surface. Watch for holes to begin pocking the face of the batter as if the man in the moon had descended from on high. Lift a corner to check for doneness. Flip and watch for the few minutes it took to ensure the other side had cooked. Remove from the pan and repeat.
We chattered about current projects and life, then plunged into silence, as the simple task began to take on new form. I began to understand the role pancakes can play in one's repertoire of recipes.
I don't usually set a guest to work but kind of understood this consecrated time of talk baking into silence was exactly what would bring restoration to my highly creative friend. I knew the cooking, conversation, even the luscious pancakes would not change her circumstances. But perhaps the rote movements, the simplicity of task and meditation of being fully present might be breeding grounds for renewal. We had quickly settled on the idea that the pancakes would be rustic- no need for perfect rounds here.  And so, as we slid them onto their plates, she showed me how to serve them Swedish-style and I dripped yogurt and ginger plum compote on mine. We sank into the happy silence of solitude that good friendships and good food can bring on a dime. When she left, I knew I had unlocked a great truth through a humble breakfast food. I now had an ace up my sleeve.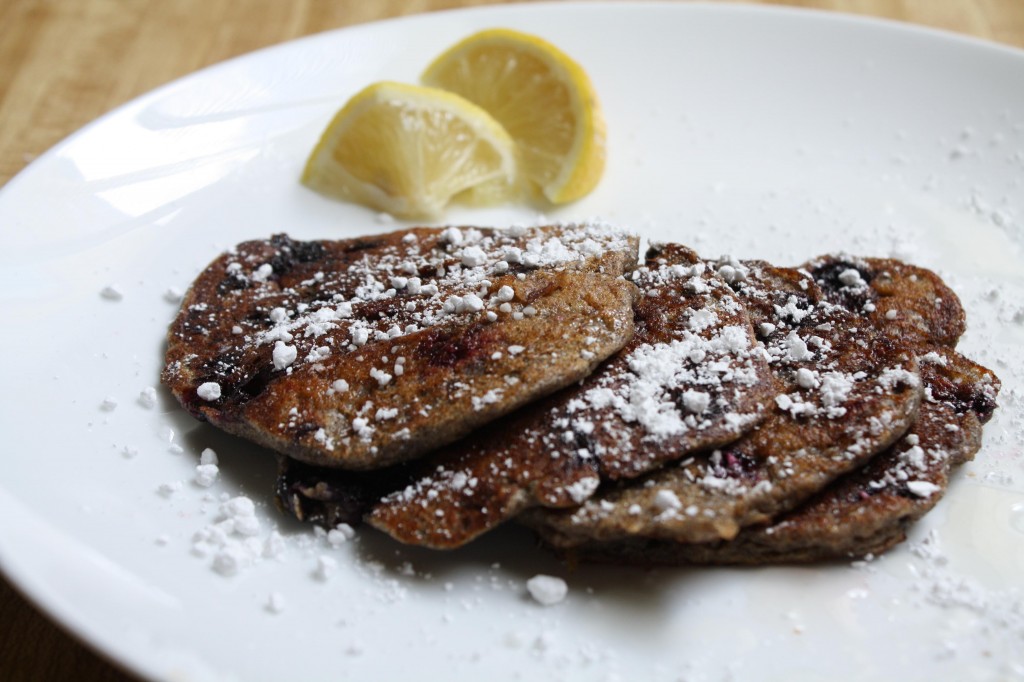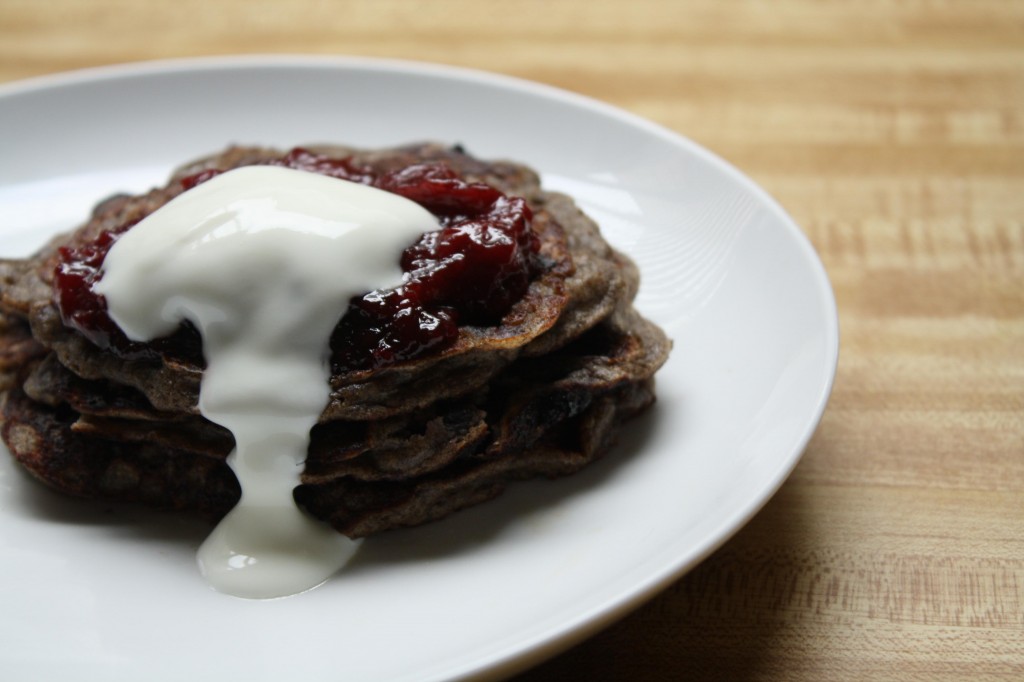 [print_this]
BUCKWHEAT HUCKLEBERRY PANCAKES WITH PLUM GINGER COMPOTE 
These pancakes smell and taste reminiscent of the fall with their bold flavors and comforting presence. Do note that these are not the sturdy buttermilk pancakes made of all-purpose flour but do have more heft. I would encourage you to try them as my creative friend enjoyed them- Swedish-style with a spritz of fresh lemon juice and sprinkling of powdered sugar. If you've got an itch though to crack open the door to fall, go for the version as lined out below. I would heartily suggest not skimping on your yogurt and using a plain whole milk yogurt. Then, if you have sad plums, nearly bursting at the seams with juices. Neglected plums work well in this compote and you will certainly give them a second life. I find that a little bit of the compote and yogurt end up working their way into one another from the heat of the pancakes.
Adapted from Smitten Kitchen
YIELD: 16 pancakes  & ½ cup of compote
1 cup buckwheat flour
1 ¼ cup buckwheat and hemp cereal, coarsely ground (yields 1 cup once ground)
2 teaspoons baking powder
1 teaspoon baking soda
¼ teaspoon real salt
3 tablespoons maple sugar
2 large eggs, lightly beaten
1 cup buttermilk
2 cups plain kefir
1 cup huckleberries
Plum Ginger Compote
6 very ripe plums
¼ teaspoon freshly grated ginger
1 tablespoon light brown sugar
¼ teaspoon cinnamon
Whisk together the flour, baking powder, baking soda, salt, and maple sugar. Then whisk in the ground buckwheat and hemp cereal a stroke or two. Next, stir in the eggs, buttermilk and kefir until just combined and then gently stir in the huckleberries.
Prepare your large pan by brushing it with safflower oil and setting it on medium high heat. Add ¼ cup of pancake batter to the pan and let cook for about 2 minutes before flipping. Let cook on the other side for about 2 minutes. Remove from heat and start a stack of pancakes on a large plate.
Chop up your plums and begin to cook them down with the brown sugar, ginger and cinnamon over low medium heat. I kind of gently mashed them in the pan with the back side of my spoon to draw out all of the water from the plums. Cook them for until most of the liquid has been cooked out, about 5-7 minutes. Now, you can certainly cook them for the earlier side of the time for more liquid but you don't want the compote to be runny, unless you do. Your choice.
Serve your pancakes with a dollop of whole milk yogurt and a spoonful of the ginger plum compote.
[/print_this]