Art
"We might not be a good match if I write you a poem and you think we're getting married."
Continue Reading
My gift to my favorite 2-year old Dadi this year is a coloring book with a page released on the blog each month for his mama to download and print so he can color his way into the things that make up 2011. No one's looking- you can print it out too even if it's for your inner toddler to color outside the lines…
Continue Reading
I have to admit as a child one of my favorite things to do was color with my mom. She treated me to one of those hefty 64 color crayon boxes and we would each pick a page. She would outline the shape with more weight of color and then lightly fill in the inside. I'm sure at some point I probably scrawled over lines and shapes in a blur of color. But her style left an impression. My mom's careful hand and stroke of the crayon would have me transfixed, watching her hand move in accord with the printed image.
Continue Reading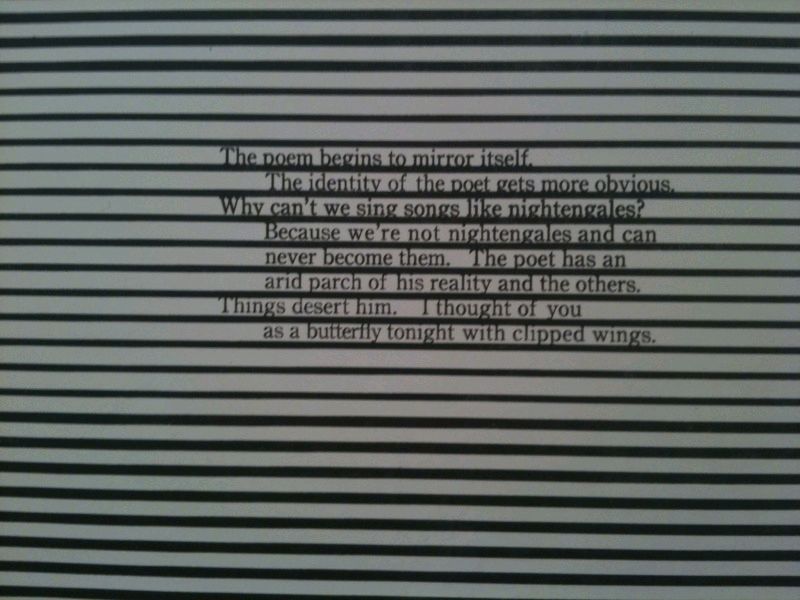 Modern art. Canvas of miniscule stripes atop larger canvas of miniscule stripes. Just another painting hanging at the MOMA. Or is it? Upon closer inspection…
Continue Reading
In college, I discovered that many things in life are free. Then again came the reality that a whole heck of a lot of things aren't. Sometime during my sophomore year, I stumbled upon a delicious secret. It kept my weekend evenings regularly packed. It kept me well versed and amused at the theater. I volunteered as an usher. By signing up in advance, taking tickets and pointing paid ticketholders to their seats, I received free entry. As the lights would go down, I would find a nook at the back of the auditorium to watch the play or musical performance. Many good nights were spent in the three theaters on campus.
Continue Reading
Last Sunday, the sound of rain pelting the window pane woke me up. Plans to lead a walk along the Golden Gate bridge were definitely off. One of my favorite past times and excuses to love rainy weather is the opportunity to ensconce myself in a museum. Two photography exhibits proved to entice me to visit the MOMA. New friends, Elina and Carolyn accompanied.
Continue Reading
For Halloween, as my friend Bryan walked to church, I yelled at him across the street, gesticulating wildly and told him about the afternoon planned. A happy captive, he joined me as we set out for the Hunter's Point artist colony open house and an afternoon of stepping in and out of people's subconscious. Art shows what is important to the person, like the subject matter that keeps a poet writing different lines about the same thing.
Continue Reading
"I think a good artist needs to be good human being. It's difficult to explain that. I think that if you're a good human being you have a better chance of being a good artist because I think good art is made of compassion. Compassion and empathy. And if you don't have that you can create some very interesting pieces, but it won't be great art. It won't be something that people of other times and other places will be touched by. I think when we look back at the great artists (not saying that all writers and artists were wonderful people), we find that they had to have that compassionate vision in order to be great."
Continue Reading
I sing. This is no surprise to those in my inner sanctum (or those driving in the lane near to my driver's side window.) A joy as immense as the sky is long stretched over Texas bursts from my open lips in the form of matching what is heard and shifting it slightly.
Continue Reading
"The artist is the antennae of the race." (pound)
"You must love your crooked neighbor with a crooked heart." (auden)
"You don't choose to be an artist, the art chooses you." (gioia)
"Poetry is a way of remembering what it would impoverish us to forget." (frost)
"Art is the light by which human things can be mended." (murdoch)
Continue Reading
Be on the look-out for:
— Restaurant Reviews from Chicago
— Lecture Notes from "The Importance of Art in Human Community" with NEA Chairman, Dana Gioia
Continue Reading