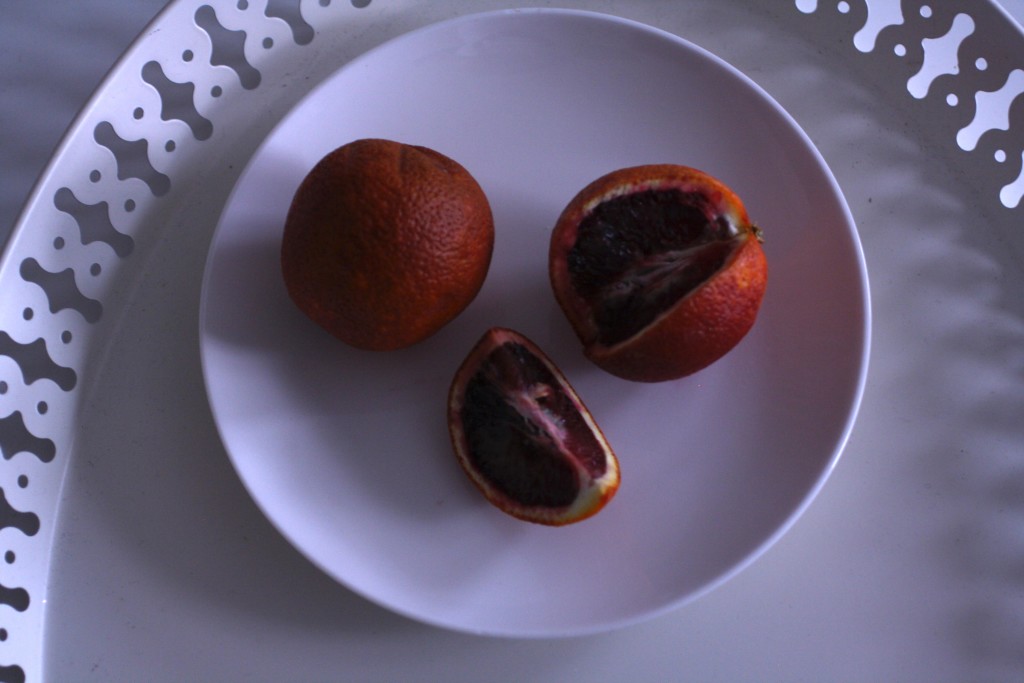 Segments of an Orange
How can I rest?
How can I be content
when there is still
that odor in the world?
— Louise Gluck
Hours before she died, my grandmother
sucked dry three segments of a navel orange
and, claiming her appetite had a short range,
hooked out the pulp with her finger,
shreds catching on her ring. With delicate theater,
she wrapped the untouched sections in a napkin
she'd halved down the center folded line
to keep them fresh for later.
I fly in to sit shiva from Orange County,
where the branched that bear citrus are bent
by a greedy public who can't resist
loading their bushels with questionable bounty–
the hard, yellowing rinds left hanging by migrant
workers, who know best this business
of surplus, and restraint, and what to pick when.
And all at once, oranges are everywhere:
In the shampoo I use to wash my niece's hair.
In the disinfectant wiped onto porcelain
fixtures in the home where the dead are lain.
On the plates I fix for guests too old to rise from chairs;
nestled, smugly poisoning the air
from grass-filled bamboo baskets sent by friends.
My niece balances the fruit on her baby-fat palms
before rolling them to the great-aunts, who can't
remember the exact numbers of their ages but who speak
with accents Polish enough to date them.
"Range," Corrie says. She's learning to want
the meaning to match the sound, so when she plucks
it on the string of her tongue over and over
her relatives will marvel and give applause.
She bowls the fruit at every leg in the house,
each pant-suited visitor a pin to strike and quiver.
Tomorrow, one of my grandmother's sisters
will trip on a forgotten orange and break
her hip, and the doctor will adjust his face
and pat her silk-clad shoulder, and call her, "Helen Dear."
And in the hospital, she'll tell the story
of my frugal grandmother's last day
to the congregated bedside brood,
and claim she'd prefer a fruit with more glory.
"But should the season call for an orange," she'll say,
"at least make it blood, my darlings. Make mine blood."
                                                                     – Jen Karetnick
Jen Karetnick and I share three things in common. First of all, both of us are intensely interested in food to the point of working in the field of food writing, and specifically are entrenched in our appreciation of restaurants. She writes for a Miami magazine as the local restaurant reviewer; I credit my work in the food field with my first job at a bakery. Then there's the fact that both of us studied for MFA's in literature, diving into trying to better our craft through directed programs. But I'm most interested in the link we share where food poetry and recipes converge. In the same year that her first cookbook, Mango was published, her first full-length book of food poetry was bound and released in the collection, Brie Season. She sent me the latter book to read and of all the poems in the book, her poem "Segments of an Orange" is one that didn't let me go quite so easily after the poem finished.
Part of what gripped me in this poem is its certainty of place and the ways the narrative keeps the symbol of the orange before us. The details make this poem come alive like the moment when her grandmother folds the napkin to save the rest of the orange for later, as if she would have more time or as if she is saving it for someone else to finish. We then begin to see and smell oranges in places outside of that hospital room. Fake oranges in shampoo or disinfectant. The narrator even travels to Orange County as if she cannot get away from the tidal wave of grief that can assail those who lose someone they love. From the very old who pass away to the very young who are still learning to form their mouth around the word, settling on "Range," the poem takes a turn to somewhere in between in the end. This time the orange has afflicted a mishap on a character in the poem that takes us back into the hospital but doesn't take a tragic turn. Instead the grandmother's sister exerts her power over the obstacle calling for something "with more glory." That she requests a blood orange bewitches the poem with the duality of the symbol. She contrasts her living with her sister's dying: "Make mine blood." Wow. What a brutal and breathless way to end the poem! I was struck with how powerful this poem is. Being haunted by symbols of the person who has passed away and then being able to keep the trope going to an unforeseeable end is exhilarating.
About Jen Karetnick
Miami-based poet, writer and educator Jen Karetnick is the author/co-author/editor of 12 books, including three published in 2014: Mango, a cookbook (October); Brie Season, a full-length book of poems (White Violet Press, September); and Prayer of Confession, a chapbook of poetry (Finishing Line Press, June). Her poems and essays have been widely published in Cimarron Review, December, North American Review, Poet's Market 2013, Poets & Writers, River Styx, Seneca Review, Spillway and the Submittable blog. She works as the Creative Writing Director of Miami Arts Charter School; as the dining critic for MIAMI Magazine from Modern Luxury; and as a freelance writer for outlets including The Atlantic.com, Destinations MO, Food Arts, TheLatinKitchen.com, The Local Palate, Morning Calm/Korean Air, Southern Living and USA Today.