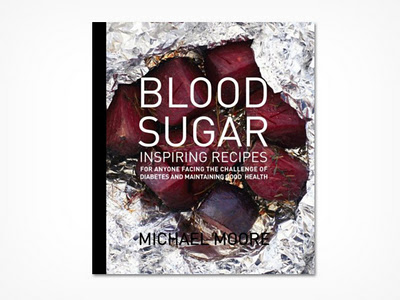 Chef Michael Moore invited a room of food bloggers to join him for a morning run.
This may sound strange for a chef to be so up front about personal healthy living habits, but his story quickly lets you know that just like Jamie Oliver came from the UK to broach food in schools, Moore has  a message for Americans too and it's this: healthy food doesn't have to be flavor-less. Instead, the flavor pairings make the plate sizzle.
His story is simple: at 35 he was diagnosed with diabetes and eight years later he had a stroke. Even though he was already active and fit, his diabetes diagnosis called for lifestyle change. He wrote "Blood Sugar" to share his method of healthy good eats.
When I received a review copy of the cookbook, I found the title "Blood Sugar" a bit hard to swallow since it's isn't typically something I think about when it's time to cook.  Thumbing through the luscious and gigantic photos of fresh food, I began to warm up.
Then meeting him at a blogger conference and getting to hear him describe his rationale for pairings of ingredients and more about his personal story firsthand clinched my enthusiasm to explore "Blood Sugar." And explore we did.
He divvies up the types of food as the types of fuel. There's coal foods- the ones that allow your blood sugar to burn low and slow for long periods of times- such as protein and high fiber foods. Water foods keep you hydrated and full- mostly vegetables. Fire foods are the ones that burn the fastest and have high GI- things like processed, starchy, sugary or fatty foods. These visuals really work in terms of thinking of food as fuel and how your body will react to certain kinds.
I don't know how you work through cookbooks, but I tend to read them like if they were novels- front to back. I like to flip through them once and get a lay of the land before going back to recipes I've tabbed to try out. We worked our way through the Blood Sugar cookbook, trying out a slew of recipes. I can honestly say they stretched my pantry and encouraged playing with ingredients in unexpected ways.  Here are some of the recipes that stood out and wet our palates, like they might yours!
Spinach, Pea and Fetta Salad– This salad has been a regular at our dinner table for the ease of preparation and the bright flavors of lemon and mint. We tend to go for double servings when this salad is on the menu.
Baked Ricotta, Pear, Celery and Walnut Salad– We served this for a dinner with friends. The crunch of the celery salad paired well with the creamy baked ricotta and roasted pears. This would work well for brunch.
Romesco Soup with Chicken and Chorizo Sausage– Oh my goodness. This soup was quite popular and went quickly. The roasted red peppers, the almond meal and savory flavor of chorizo with chicken all worked symbiotically.
Pumpkin-Crusted Fish on Mash– We liked that the fish coating was comprised of crushed nuts and the use of yogurt sauce with the mashed sweet potatoes.
Lamb with Pomegranate, Pears and Sumac– The earthy flavor of the lamb paired with the tartness of the pomegrante arils, sweetness of the pears and the sumptuous sumac made this one decadent dish.
In my kitchen, my cookbook collection is pretty serious. That said, this cookbook is one I will continue to revisit because of the refreshing take on real food recipes that also considers your blood sugar in the process.
I'm giving away a copy of Blood Sugar to one winner. To play along, leave a comment about an a-ha moment you've had about your health and lifestyle. I'll select a winner Sunday night and share it on Monday. Good luck!