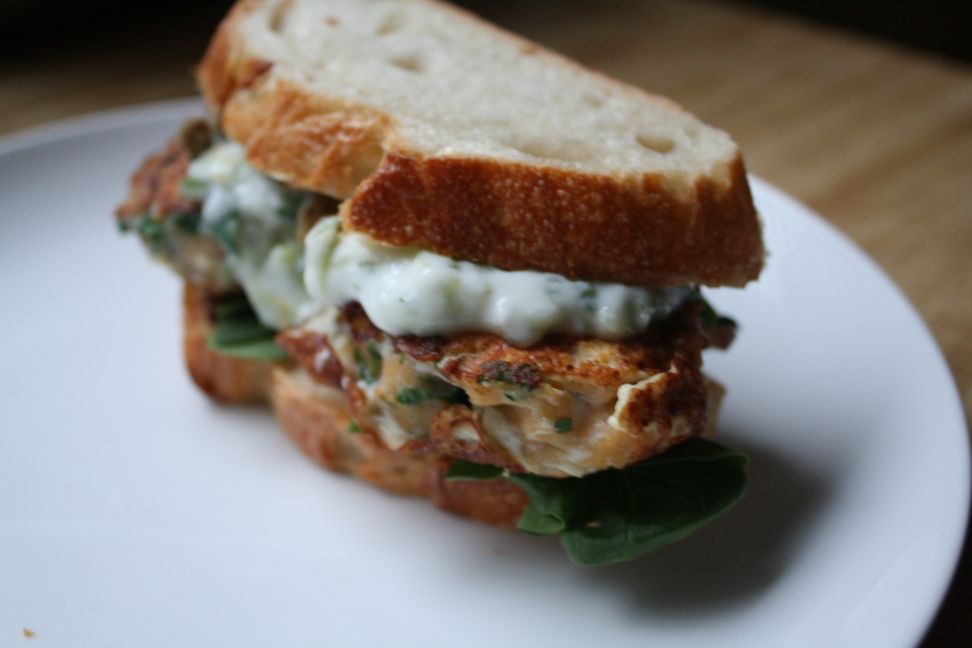 My first cookbook giveaway is over – congrats Routhie! I will be sending you your own copy of "Blood Sugar" to enjoy. And in the spirit that everyone is a winner, I'm posting a recipe from the cookbook with a thanks to the publisher New Holland.
Say this with me: fish burger with lentil dip and cucumber yogurt.
I just returned from the pre-eminent food show for the natural and organic food industry and three nights out of five, I found myself hankering for fish. In a sea of non-GMO, organic, natural foods, fish and vegetables were what I craved regularly.
This sandwich puts other fish sandwiches to shame for the simple facts: variety of flavors and textures. The crispety crunch of the roasted garlic toast contrasting with the tangy yogurt sauce and smooth savory lentil dip played well with the fish. This recipe is typical of Chef Michael Moore's style, featuring fresh herbs incorporated in to make a full-flavored without being full fat entree that's pretty exciting.
Enjoy. Every Monday needs a bit of oomph.

[print_this]
FISH BURGER WITH LENTIL DIP AND CUCUMBER YOGURT
Recipe by Chef Michael Moore from "Blood Sugar"
Reprinted with permission & with a few adaptations
I didn't use canned lentils, so I'm giving the measurements below for what we did use, which was dried lentils. Also, we didn't find any wholemeal soy and linseed rolls, but there was a beautiful loaf of roasted garlic bread that caught our eye instead, which I think worked out great. This sandwich is tall and if you're like me and have a small mouth, the sliced bread worked better than a roll. Also, I encourage you to consider eating this as an open faced sandwich which, we enjoyed at several meals. The recommended serving size of each sandwich has two fish patties on the toasted bread, which works out to neat single patty portions if you cut the bread between the patties.
FISH BURGERS
1 lb. firm white fish filets, boned and skinless
2 egg whites
½ bunch cilantro, chopped
1 teaspoon harissa paste
pinch of salt
MOROCCAN LENTIL DIP
1 tablespoon olive oil
1 clove of garlic, crushed
1 teaspoon, ground cumin seeds
1 teaspoon ground coriander seeds
pinch of ground fennel seeds
1 cup dry brown lentils
1 ¾ cup water
CUCUMBER YOGURT
½ Persian cucumber, grated
1 cup non-fat plain yogurt
juice of 1 lemon
TO SERVE
Spinach
Sliced roasted garlic sourdough bread
Chill the fish and egg whites in the freezer for 15 minutes.
Using a blender, process the fish and harissa until smooth. Add egg whites and season with salt and pepper. Add the cilantro and blend will. Form 8 small patties from the mixture and make sure to coat with cooking spray. Cook over medium heat for 3 minutes on each side or until cooked in a nonstick pan. They should look golden and firm to the touch.
Bring 1 ¾ cup water to boil and add in 1 cup dried lentils. Bring down to a simmer and cover to cook for 20-25 minutes or until soft.
Make the Moroccan dip by cooking the garlic in oil for a few minutes and then stir in the spices. Heat for another minute and add in the cooked and drained lentils and 1/4 cup of water. Simmer for 10 minutes or until liquid has evaporated and lentils are thick. Cool slightly and then puree until smooth. Add a pinch of salt and pepper to taste. Set aside.
On a box grater, grate the cucumber and drain out any excess liquid. Add grated cucumber to a small bowl of yogurt, lemon juice and mint. Stir.
Toast your bread slices.
Assemble your fish sandwiches by laying down two slices of toast and then smearing one side with the lentil dip. Lay down the mixed greens or spinach and two fish patties on top. Finish with a dollop of the yogurt.
SERVING SUGGESTION: Try these with some roasted parsnip fries for a delightful healthier fish and chips combination.
[/print_this]