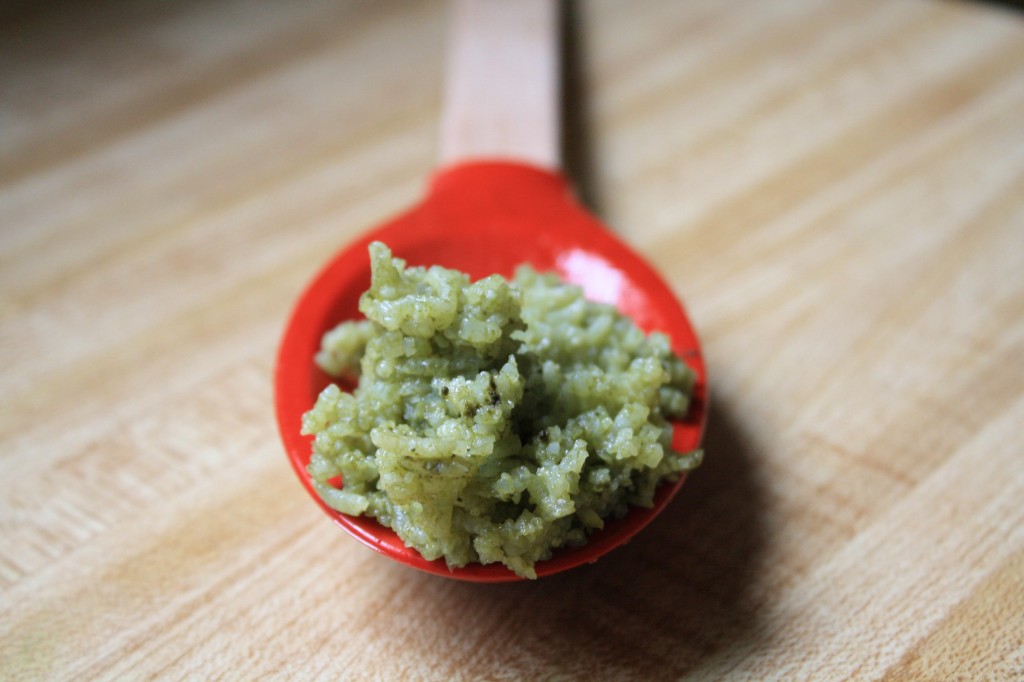 I'm a bit obsessed with Matcha green tea.
Maybe it has something to do with the bright grassy flavor that almost makes the mouth pucker. Perhaps it's because with Matcha, you drink the entire tea leaf, not leaves infused in hot water and then removed. It could be the disarmingly green color and hear me clearly, it should be bright and bold.
The color actually reflects the quality of the tea. While there are cheap versions of Matcha out there, you'll find them to be dull in color and flat in flavor. Spend the money and invest in good Matcha. You might find yourself newly obsessed. This Japanese green tea typically is served infused with hot water and a special whisk to froth it. Often times, and in the United States it's become popular to whisk Matcha with hot milk for a creamy beverage.
Maybe you've tried Matcha and you didn't know it. If you've guzzled a Green Tea Smoothie or licked and slurped Green Tea ice cream, then chances are pretty high that you too have lapped on the luxurious green tea that is Matcha.
So it's not such a far leap to consider how that bright, grassy flavor might deepen the creamy decadence that is Coconut Rice. I give you two suggestions below: for a more subtle Green Tea Coconut Rice, use only 2 teaspoons of Matcha and you'll find the tea will paint the rice kernels a pale green with a flavor profile that is creamy, almost sweet with a slight green tea finish. For something a bit more bold and pictured below, use 2 tablespoons of Matcha green tea and you'll find a much more pronounced tea flavor, a bright green hue with a slight creaminess of coconut. This bolder Green Tea Coconut Rice really works well and stands up to Asian cuisine like the Thai take-out we ordered for dinner earlier in the month.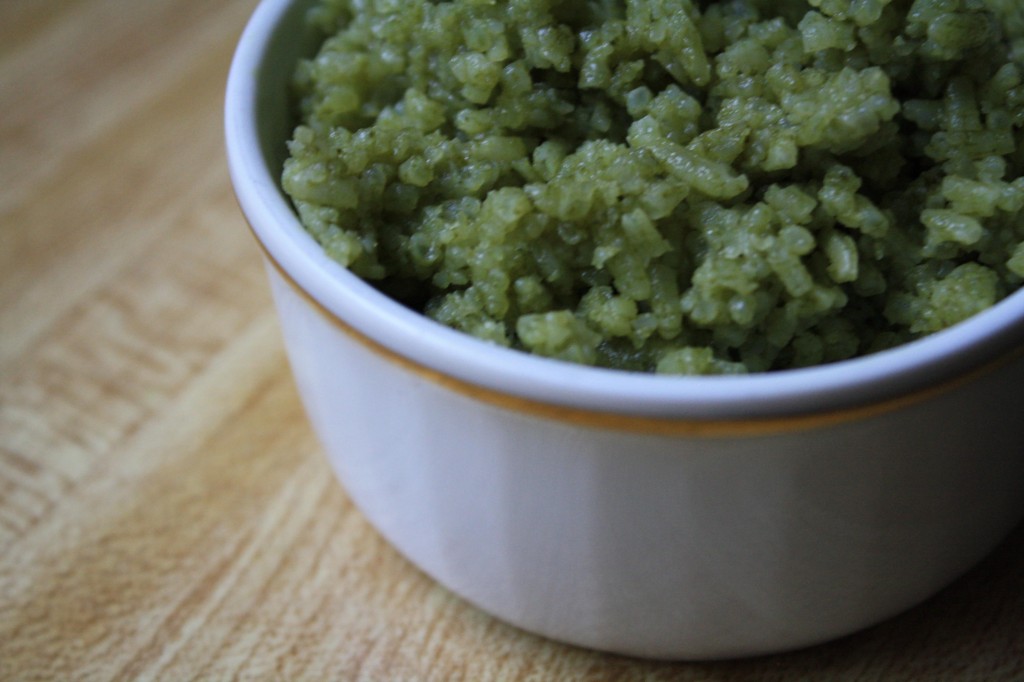 [print_this]
GREEN TEA COCONUT RICE
YIELD: 6-8 side servings
This is one grassy and stark green rice. If you want something a bit more subtle where you get the green tea flavor in the finish with the coconut milk playing front fiddle, use only 2 teaspoons of Matcha. I tried it this way and it is a subtle cerulean green with a creamy slightly sweet flavor that ends on a grassy bright note. I prefer mine with more tea and even found it stood up to the flavors of Thai food when we paired it with take-out earlier in the month. It's your call. I wouldn't suggest swapping out light coconut milk for the real deal. It's really quite pronounced of a difference and your rice is left wanting that supple quality that the full fat milk brings to it and the mingling with tea. Also, I tried this recipe with basmati rice but found the texture to be superb with a long grain white rice which served as a great canvas for the flavors. Special thanks goes out to friend Caryl at Lotus Foods for giving me samples of their specialty Mekong Flower rice to test in the recipe. It cooked up beautifully and gave a great texture.
1 1/2 cups water
2 tablespoons Matcha green tea
2 cups long grain white rice
1 13.5 ounce can coconut milk
Rinse rice twice and discard rinsing liquid. Set aside.
Bring water to a gentle boil. Measure out your Matcha and place in a measuring receptacle (like my Pyrex 2 cup measuring glass), slowly whisk in the boiling water. Now this is key: while you are eventually going to add enough water to the Pyrex glass to equal that 1 ½ cups, initially during the whisking stage, you want to only pour in a little bit of water- say ½ cup as it will make whisking easier. As you notice that any large clumps or notice that your tea is without clumps, add the rest of the hot water and whisk.
Add your coconut milk and whisked Matcha tea to a heavy pot and place over high heat, stirring together. Once you find that the coconut milk and Matcha have integrated well and you are beginning to have larger bubbles on the surface of the liquid, add the rinsed rice and stir.
Cover your pot and turn down the heat. Simmer for 20 minutes on low heat.
SERVING SUGGESTIONS
This is a very versatile and unexpected side dish. The key is to pair it with foods that will not overpower the Matcha and coconut flavors.  I've provided a few ideas to get you started. Let me know if you come up with your own pairing suggestions.
FISH- Consider pairing with a filet of salmon or perhaps this Confetti Tilapia.
VEGETARIAN- Serve with a side of the white beans from this stew.
CHICKEN-  Try this with roasted chicken seasoned with garlic, ginger and shallots.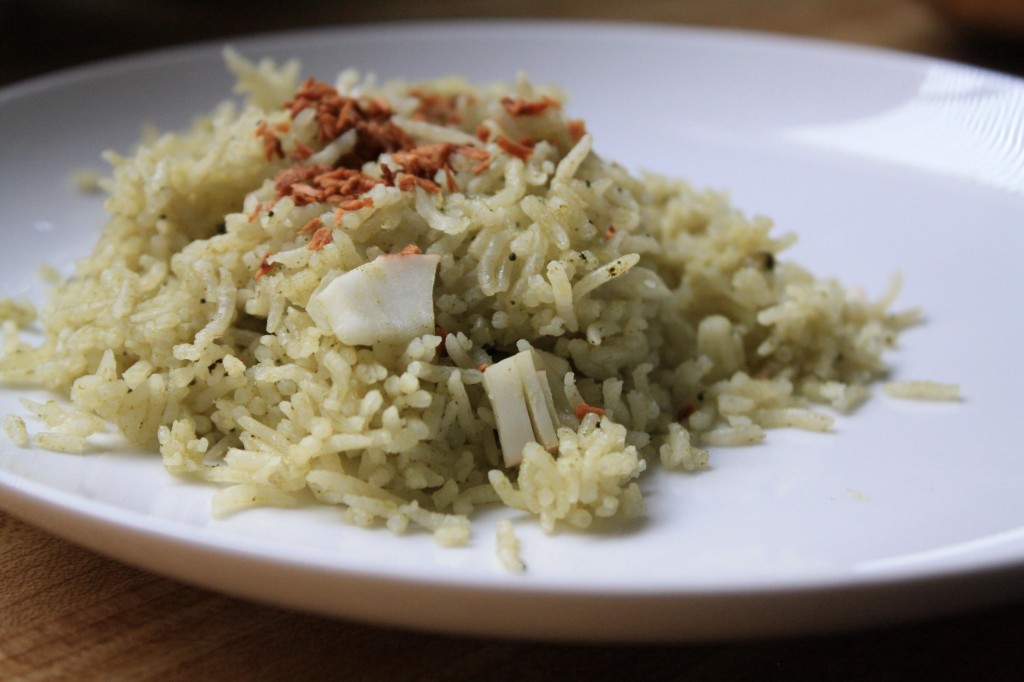 DOUBLE THE COCONUT
You could dice fresh coconut and throw it into the pot for an extra punch of coconut or textural difference. You could even toast some unsweetened coconut and then sprinkle some on top of your finished fluffed rice as pictured above. I find that the rice is lovely without either of these additions, though I tried it with both. Your choice.
[/print_this]