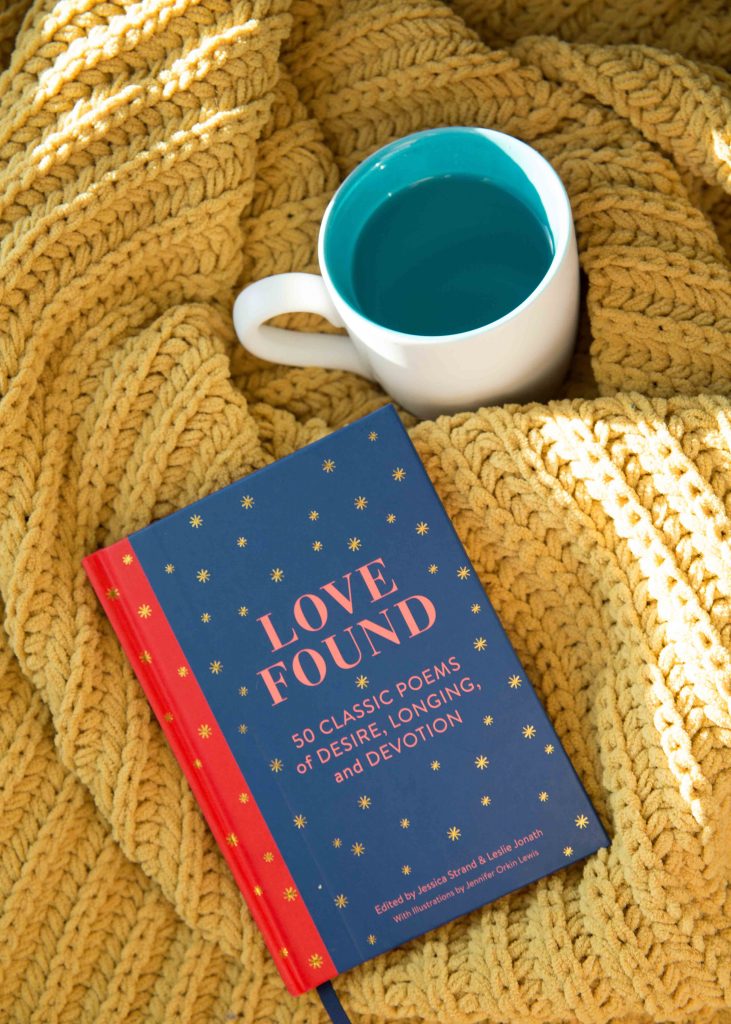 Love Found isn't your typical tome of love poetry. And for that, we can sigh a breath of relief. So many collections just include eros, but neglect the other forms that love takes on. Also, let it be known, there is only one Neruda poem in here—while I prefer his poems about food, he seems to have a mystique in the cultural accounting for his love poems. Around Valentine's Day, all eyes turn toward hearts but what does the act of loving look like the rest of the year? This compact book edited by Jessica Strand and Leslie Jonath wrangles 50 poems from a range of domestic and international voices. Full disclosure, Leslie and I know each other from the food book world, but we really connected over a conversation about poetry. When I heard she'd finished an anthology of poems, I knew I needed the collection and reached out to her.
This book is broken into three sections. You start where you'd expect: Desire and Longing. I resonated with the question like the one posed in "Openness" by Wislawa Szymborska (p. 13) of a moth reflecting on the two lovers, musing, "Maybe it sees where our eyes fail." When reading "Love Song for Lucinda" by Langston Hughes (p. 21), love is defined as "a ripe plum…a bright star… a high mountain" reminding the reader that love is more than blissful emotions but it can burn and is a destination that requires work to get there.
Desire & Longing takes you next to Heartbreak & Loss. And this is where the book is most refreshing. Yeats bumps shoulders with Akhmatova. We see the idea of love become timeless in the act of losing. Its scope broadens to include more than mortal love in an exquisite poem by Shams al-Din Hafiz Shirazi that leads in so well to "The Lesson of the Falling Leaves" by one of my favorite poets, Lucille Clifton. In "Love After Love (p.51)" Derek Walcott reminds us that "You will love again the stranger who was your self," that space between a word that should be whole playing a necessary function of brokenness that can be repaired. Loss of love can be more than breaking up, and I resonated with Conrad Potter Aiken's keen insight in "Bread and Music" (p. 55) to write about the love-loss that follows a death: "These things do not remember you, beloved: / And yet your touch upon them will not pass."
Then, we enter Passion & Partnership with "Wild Nights – Wild Nights!" by Emily Dickinson tucked in like a white hot poker. I read the delightful four line, "A Word to Husbands" by Ogden Nash to my husband and we both laughed (perhaps it might even be hand-transcribed for placement on the refrigerator?) In his poem, "For Love" (p. 86-87), Robert Creeley asks "Must / I think of everything / as earned." The punctuation underlining it as answered, evolved into a statement.
Of the entire collection, of all the curating and placing and reading aloud and reading on the page—of the questioning and exclamation point yes decisions of which poems make the 50 poem cut, only one poet is featured twice. And, to that end, the second of their poems serves as the coda to the book.
And, for me, now we get to the heart of the book.
I kept coming back to the book title, Love Found, at first seeing it as a two word way to distill the ethos of the collection. At times, I might read a poem and forget myself, the title playing the role of compass and guide back to the all-encompassing theme. But, there is a part of me that wonders in the creation of the book, if that title, was an anchor pitched out into rocky waters—an idea that even in the bleakest circumstances if you look hard enough there can be love found. Because at the end of things, can love ever really be lost? Shakespeare reminds us in one of my favorite sonnets of his (p. 74) that love "is an ever-fixed mark / That looks on tempests, and is never shaken;" It is what is cultivated in private more so than what's on display in public as we listen in like voyeurs while Mark Strand surmises, "In that low voice, our late night disclosures… why live / For anything else? Our masterpiece is the private life." (p. 90)