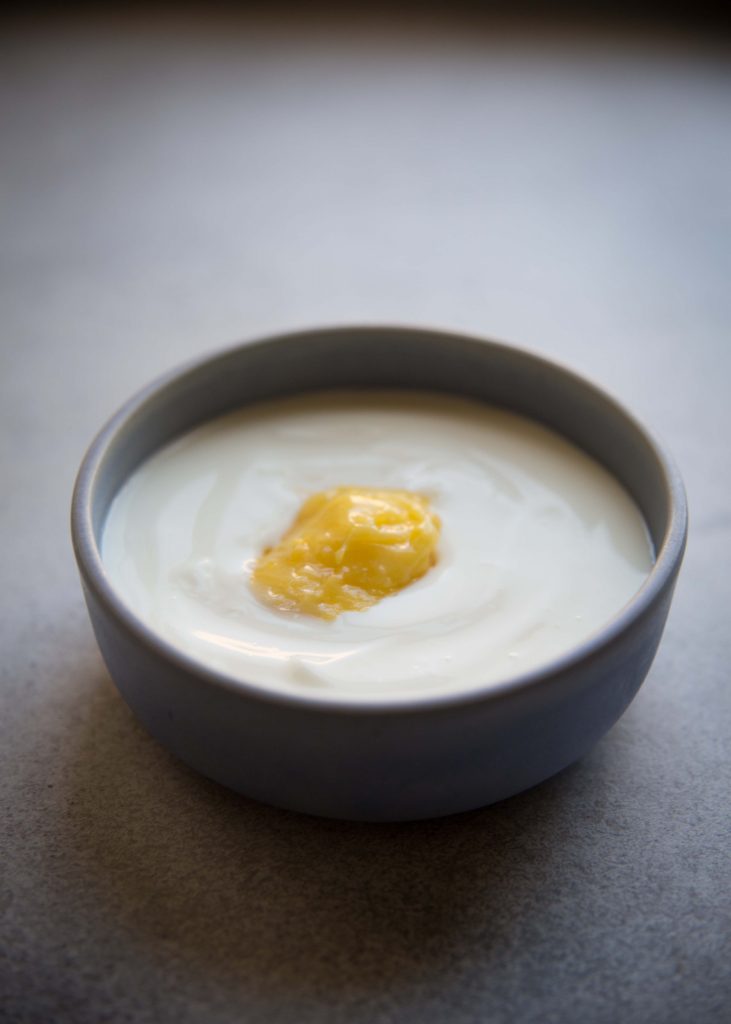 Stowed away in my closet, in the farthest reaches of where the walls meet, a winter coat enclosed in a zippered bag waits. Nestled nearby, snow boots that are nearly good as forgotten, might as well yell that they still reside with me. It's been almost a decade since I attended New England in the winter and summer for my poetry MFA, but I can almost hear the slight crunch of snow compacting underfoot. The break of seasons gives a natural rhythm to the year and even though winter sometimes can take its time finishing its lap, there is something whimsical about a world bathed in fresh snow and diffused light. Living in the golden state, we forget what winter can mean. For us, on good years, we can expect rain. And this year, days three and four involved climes of mid-seventies weather. So, I'm dedicating this recipe to my friends and family entrenched in a winter wonderland. Think of it as a love letter from California.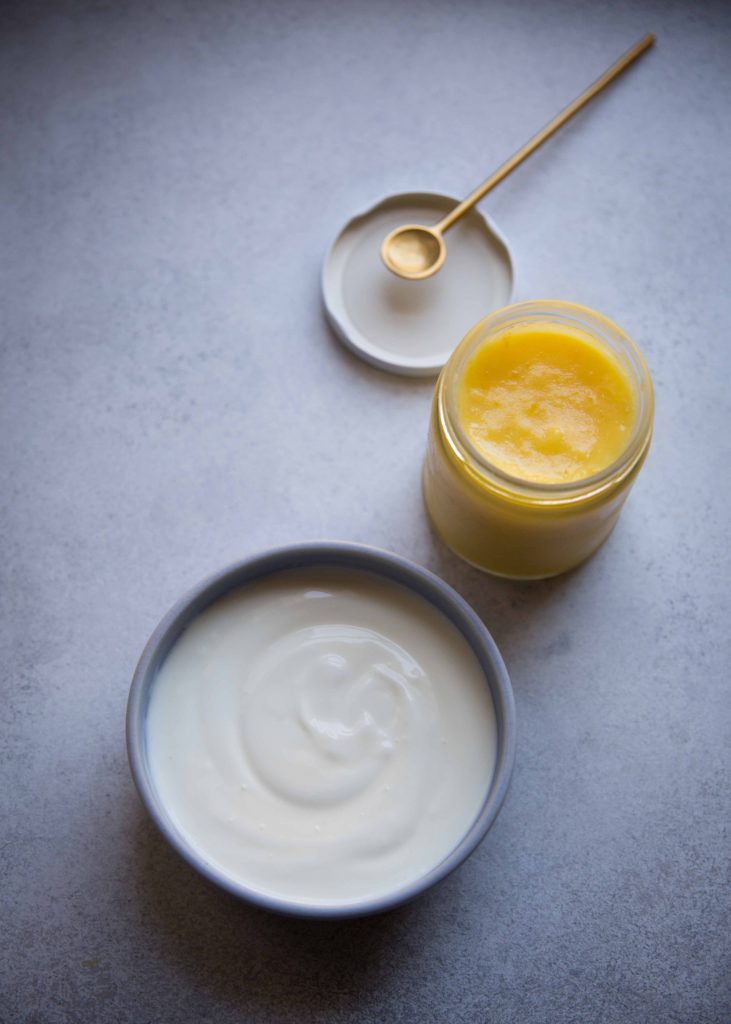 Winter sun for us means bright orbs of citrus that when sliced open reveal the jewel tones of gold, crimson, and copper. I have a slight obsession with one citrus in particular, a fruit so odd you might think it comical or creepy depending on how it comes to you. I dedicated a marmalade recipe to it in Steeped, sparked a hearty fascination with it candied and enrobed in chocolate, and sometimes just like to infuse it into a simple syrup with ginger. I'm teaching a cooking class on teatime around the world later this spring and while visiting the cooking school, kindly received two very unexpected gifts. You don't expect an extra hand or two on a Monday! And so, I mused how I might best preserve their exquisite flavor and heady aroma. It doesn't take much to get me considering curd and thus, I was reminded of my favorite way to eat yogurt in Seattle and crafted my own version. May your winter days grow shorter until spring shoots grace you with green. Until then, find bright moments of glee in a glass bowl of yogurt kissed by the sun, what I'm calling sunburst yogurt, but you can call Buddha's Hand Lemon Curd Yogurt.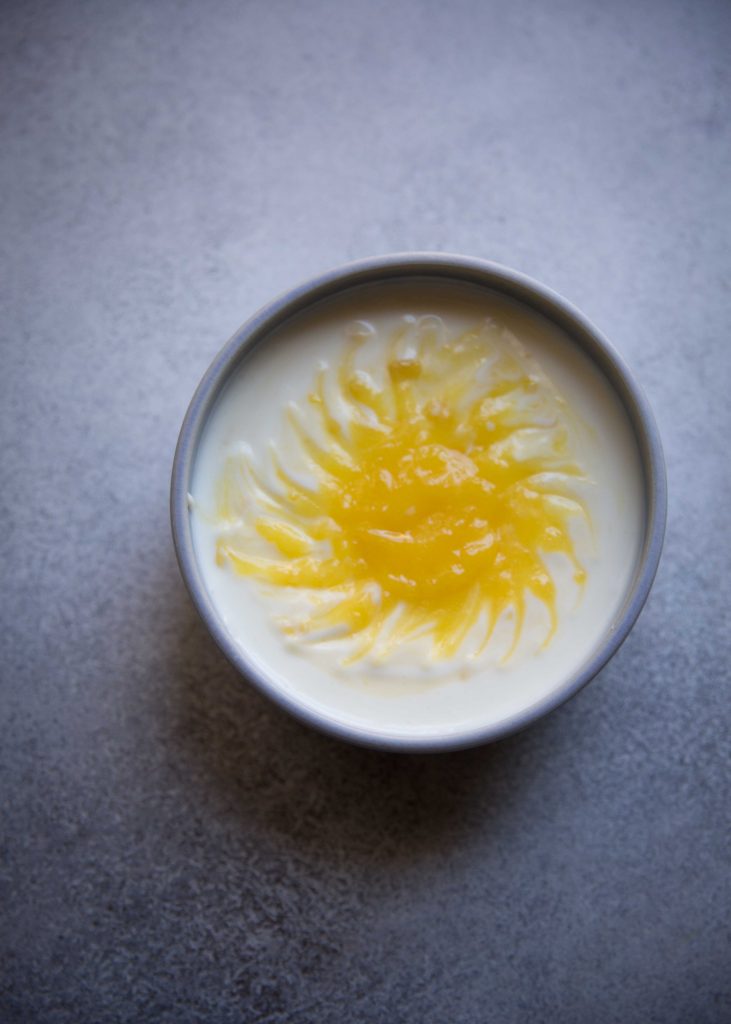 Buddha's Hand Lemon Curd Yogurt
Ingredients
Buddha's Hand Lemon Curd
4

large

yolks

1/2

cup

granulated sugar

1/3

cup

fresh lemon juice

1

Buddha's Hand

1/4

cup (4 tablespoons)

unsalted butter, chopped
Instructions
Peel the Buddha's Hand. The zest is pure gold. Finely mince the peel. You should end up without 1 1/2 tablespoons of it, depending on the size of your Buddha's Hand.


Set up a double boiler, placing a metal bowl or pot on top of a saucepan, set over medium heat and filled with an inch or two of water. The bowl should not touch the water. Whisk the sugar and yolks in the bowl until combined. Pour the lemon juice into the bowl and add the Buddha's hand zest, whisking until the mixture thickens up and gets glossy, about 3 minutes. Remove from the heat and stir in the butter chunks. Pour into a container and bring to room temperature before chilling.

Make the sunburst yogurt: Scoop or pour 1/2 cup of yogurt into a bowl. Spoon a tablespoon of warm citrus curd into the center of the yogurt. Using the skinnier end of a chopstick, drag the tip from the center of the curd circle, curving to the left. Continue drag-curving from the middle of the curd until you've made sun rays shooting out from around the curd. Then, taste a bit of sunshine.
Recipe Notes
PS- You can use whatever yogurt you'd like. I'm amenable to Greek yogurt with its thick pucker that transports me to Seattle. Or, I also like the looser cow's milk yogurt made by Straus Organic Yogurt. But, I'm a devoted fan of the lovely goat's milk yogurt from Redwood Hill Farms.
PPS- Don't have Buddha's Hand on hand? (I had to do it). Feel free to add lemon zest for a basic curd or mix it up and add the zest from bergamot (if you can find some!), blood orange, cara cara, tangerines, or even clementines. I'm an equal opportunity citrus curd lover. I've also been known to make Feijoa (Pineapple Guava) Curd when it's in season.