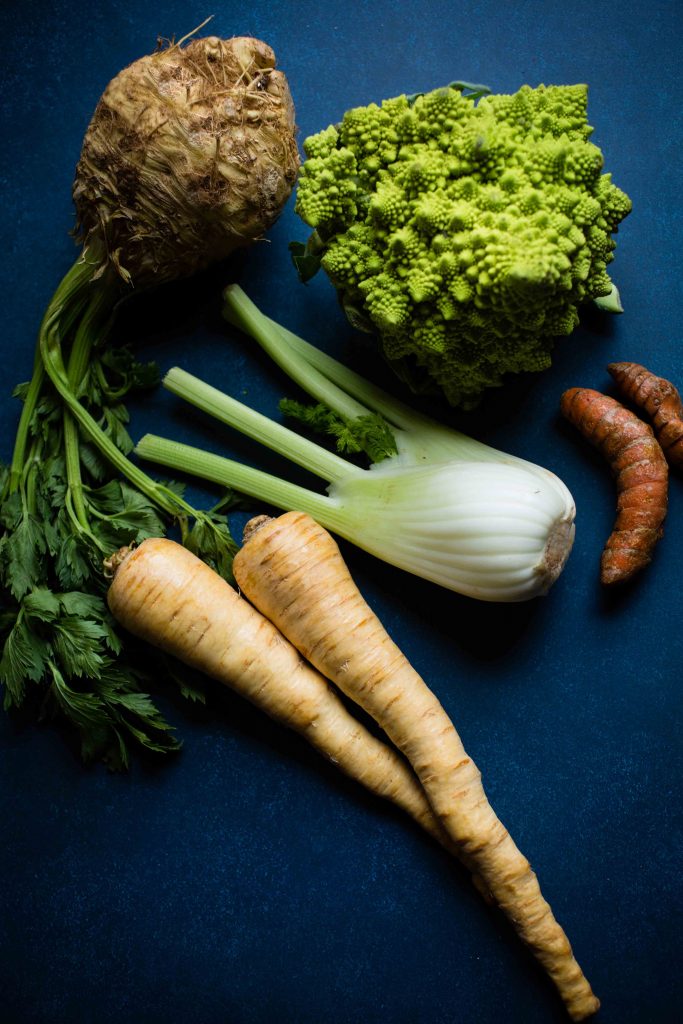 Romanesco might be the vegetable of an architect's dreams. This broccoli cauliflower hybrid is full of M.C. Escher angles. I could eat soup every day. It can be easy and tough to master. So much of it comes down to semantics of seasoning. For this Romanesco Soup, I wanted to riff on the green color, adding a green tasting food like celery root, which when the hairy husk of an exterior is cut off reveals pale flesh that taste like the stalk. A little parsnip goes a long way but I love it in soup. Fennel offers a smidge of sweetness and a barely green bulb sliced into half moons. The spice here is enough curry powder to give it an edge but not enough to taint the silky green surface with turmeric's golden glow. No, instead, that's done by actual shaved disks of fresh turmeric as an optional garnish with shaved jalapeno for a hit of heat (and more green), and the fresh sudsy scent of cilantro. Fresh turmeric is a revelation–it's a taste of sweet earth with only rooibos coming close to matching that flavor moniker. Don't skip the butter unless you're vegan (then, you can totally sub in vegetable stock and all olive oil). I love the luscious texture the butter gives to the soup and a hint of flavor without it becoming at all indulgent. But then again, I'm of the ilk that a soup made from scratch (that includes using boxed broth) with time, love, and intention is pure indulgence of the highest order that feeds the stomach and soul simultaneously.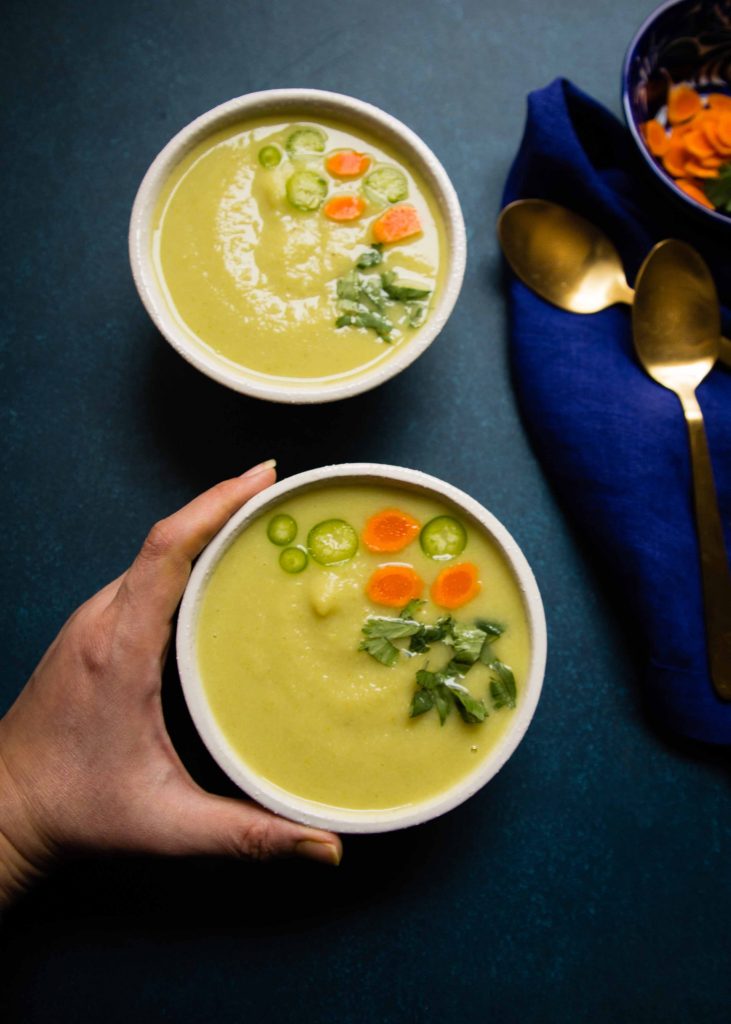 Romanesco Soup
Ingredients
1

medium

white onion, chopped (about 1 1/4 cups)

1

celery root, peeled and chopped (3 cups)

2

teaspoons plus 1 teaspoon

kosher salt

2

tablespoons

olive oil

1

tablespoon

unsalted butter

1 1/2

teaspoons

curry powder

1

large

parsnip, peeled and chopped (1 heaping cup)

1

fennel bulb, cored and sliced (about 2 cups)

1

romanesco, chopped (about 5 cups)

4

cups

low sodium chicken or vegetable stock

3

cups

water

1

knob

fresh turmeric, peeled and shaved into coins

1/4

cup

fresh cilantro leaves, chopped

1

jalapeno, shaved
Instructions
Saute the onion, celery root and 2 teaspoons of kosher salt for 10 minutes in oil over medium high heat, stirring often or until slightly browned and the onion is translucent.


Melt the butter. Stir in the curry powder, parsnip, fennel, romanesco and remaining teaspoon of salt. Pour in the stock and water.


Cover and lower the heat to medium. Cook for 10 minutes or until fork tender. Puree. Top with turmeric, cilantro, and jalapeno if using.