[print_this]
Massaged Kale Feta Salad with Pickled Cherries and Walnuts
SERVES: 6 side portions
TIME: 3 days for pickling; 10 minutes for salad prep
PICKLED CHERRIES
Adapted from the Pickled Grape recipe by Karen Solomon in "Can It, Bottle It, Smoke It"  
As someone who had never pickled anything before, I sought out an expert named Karen Solomon, and her book "Can It, Bottle It, Smoke It" is one you should have in your kitchen on the recipe book shelf. (Wait, doesn't everybody have one of these?!) She's got so many fun weekend projects that I want to tackle… This is an adaptation of her "pickled grapes" recipe and an example that something sweet turned sour can taste like magic. Also, pitting cherries is a breeze after the first few, so lest you think I'm leading you down a time-suck path fraught with frustration, it gets easier the more you pit. And besides, you're making pickled cherries- how sweet is that? This salad's got a surprise in every bite.
· 2 small cloves of garlic, crushed
· 1 piece green onion – white part up the stalk (2 inches)
· 1 cinnamon stick
· 1/4-inch fresh ginger, peeled
· 1 cup Bing cherries, washed
· 2 tablespoons sugar
· 1 teaspoons kosher salt
· 1/3 cup white distilled vinegar
· 1/3 cup water
MASSAGED KALE SALAD
· 4 cups kale, washed and stemmed
· 2 tablespoons hard sheep's cheese
· ¼ cup crumbled feta
· 1 cup pickled cherries, plus 2 T of liquid
· ¼ cup chopped carrots
· 2 tablespoons chopped walnuts, toasted
· 2 tablespoons fresh mint, washed and torn
· 2 tablespoons olive oil
· Dash of salt and pepper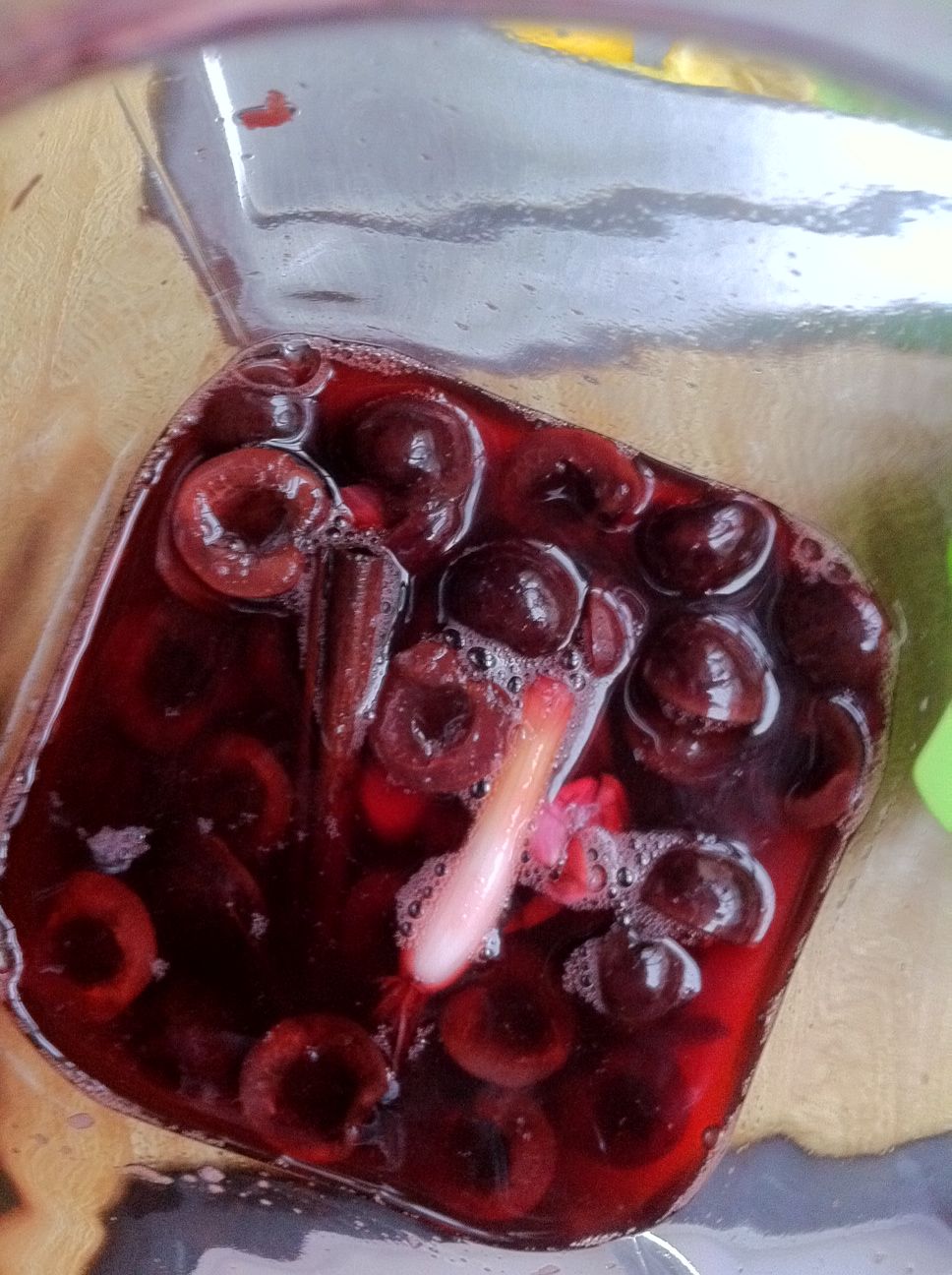 PREPARATION
Pickled Cherries
1. Remove pits from cherries- carefully slice them in half and remove the pit before tossing de-pitted cherries into bowl.
2. Pack the ginger, garlic, green onion and cinnamon stick with cherries into a clean pint jar. (I used a much larger quart sized jar because that's what I had on hand and it worked like a charm– the main thing is to make sure it has a lid that seals and is tight-fitting.)
3. Add cherries to your jar. Next add sugar, salt and vinegar.
4. Pour in the water (you can add a little extra as you want to make sure the cherries are sufficiently covered).
5. Close lid tightly and shake your jar gently to dissolve sugar and salt. (This is quite relaxing).
6. Let sit on counter for 3 days or inside refrigerator for 1 week, gently shaking your jar every day.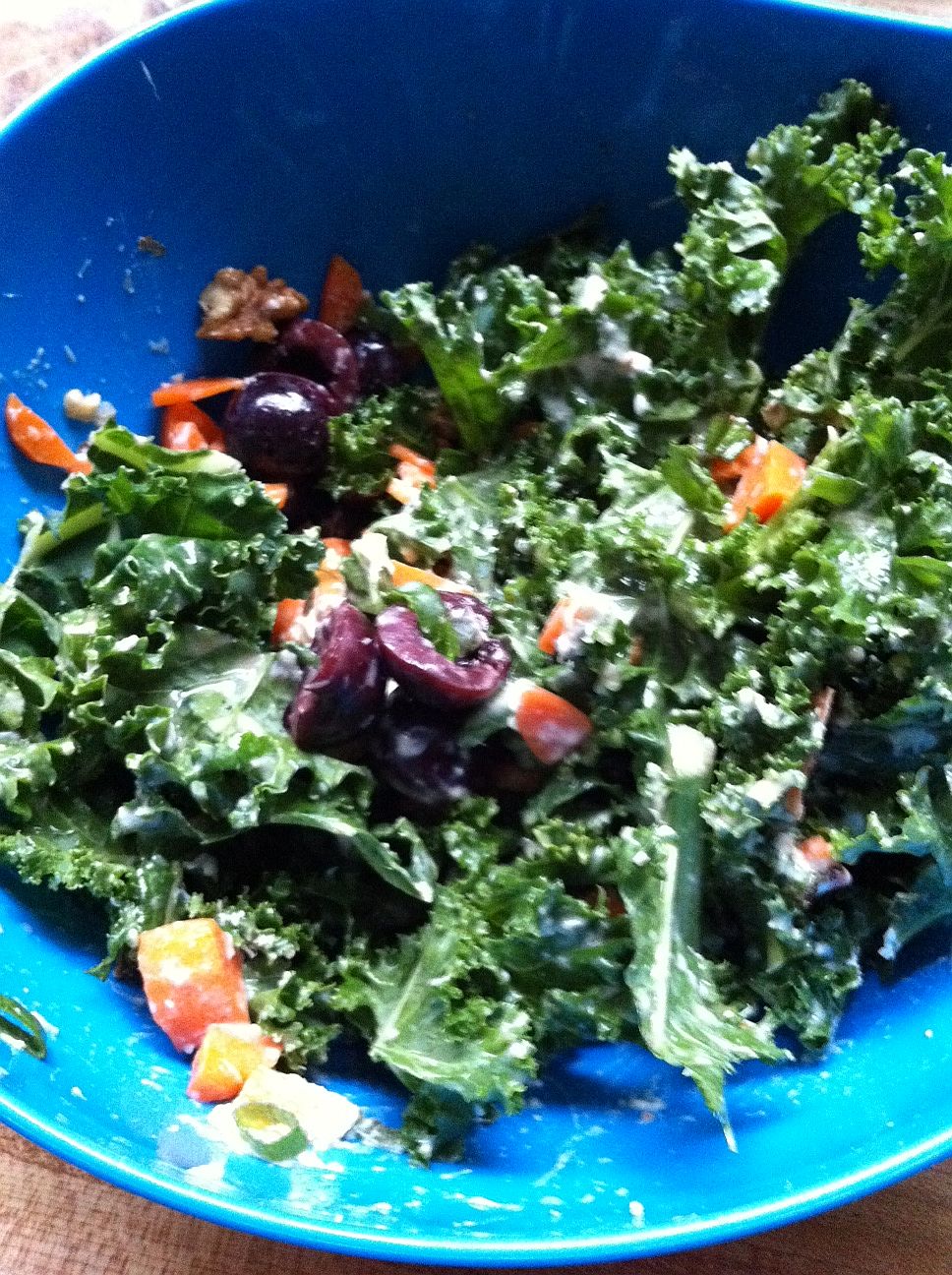 SALAD
1. Prepare about 10-15 minutes before you are ready to serve.
2. Pour olive oil and pickled cherry juice onto kale leaves. Add dash of salt and pepper to taste. Then massage with your hands until sufficiently covered.
3. Toss in remaining ingredients. Let sit for 10 minutes as you want the acid and oil to meld with the kale leaves.
[/print_this]