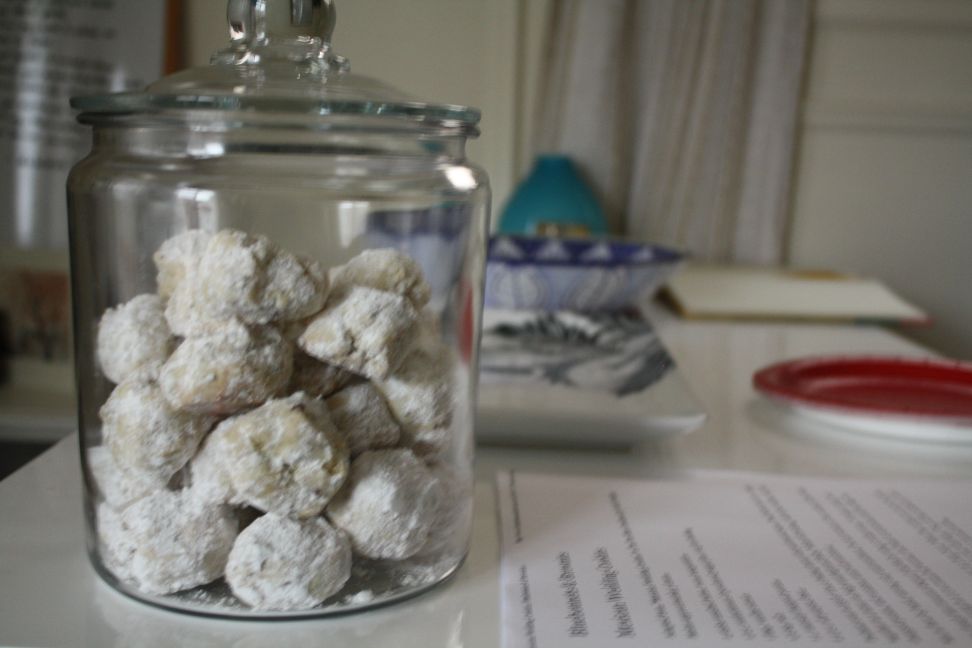 Over dinner one night in Oakland, I swapped stories and ideas with Luna. We share a love of tea and as such had decided it would be fun to meet up and bake at my new digs using tea. Weeks and a wedding later, the idea was revisited and began growing until I swapped out the tea baking get-together into a cookie swap.
I had never hosted a cookie swap before.
Seemed simple enough. Invite guests. Check. Have guests bring homemade cookies to swap. Check.
But then it went in many different directions. I've been known to put my own spin on the occasional party, such as last year's Birthday Chili cook-off where guests voted for each other's chili using print-outs of Willie Nelson and varying degrees of "Willie Likes It"… The year before that, a cupcake decorating party thrown in the spirit of Project Runway, complete with a runway and a backdrop illuminated with the words Project Cupcake. Yup. My spin.
So when I started thinking how to do the Cookie Swap I began tossing around ideas. People walking in and drawing a slip of paper out of a hat and then later looking for their word's other half (i.e. "candy & cane"). Distributing cookies like a secret santa party where people could exchange the cookies they receive for another person's.
Nathan and I discussed how to proceed. And we went for simple, straightforward: everyone bring 36 homemade cookies and the recipe to share. Our first Christmas together, we are making traditions as we fashion our lives together. The cookie swap cemented our first party for us to co-host! Nathan's the ultimate party sidekick.
The guests began arriving. Heather brought homemade Scottish shortbread. She told the story of earning the recipe from her grandmother which entailed baking them with her and then sending her some to make sure they were okay. I loved this and especially the part of her learning through shadowing her grandmother. Family time / cooking time.
Stephanie and I chatted it up at that same dinner in Oakland now several months ago where we talked about her studying linguistics and her mad baking skills. I'm still looking forward to baking macarons with her! She brought and adapted a recipe from David Lebovitz for Meyer Lemon Rosemary Madeleines and Berry Pumpkin Madeleines. The glaze on the Madeleines gave them a delightful crisp and tang of berry or lemon. Yum!
Anita and Mike came bearing several types of cookies. Armed with meringues and her jam thumbprint cookies. We were excited to nibble and nosh because we knew these would be phenomenal. I met Anita at the SOS Bake Sale this year. She single-handedly organized the logistics and bakers for the sale with poise and grace. Her jamprint cookies were a fun take on a wedding cookie with a thumb print filled with TellTale jam Sangria chocolate jam. These reminded me of Mexican cookies with their specific crumb and especially tasted great with a glass of milk.
Irvin and AJ showed up bearing a plastic bin filled to the brim. Irvin has a way of making people laugh in between bites of his creative concoctions. We met originally at the SOS Bake Sale because we were the two people to bring gluten free goodies. He definitely leaves an impression and has quickly become my twitter BFF, my sidekick at food blogger get-togethers and my go-to source for gluten free baking. He baked up Marbleized Lemon and Ginger cookies. The texture was soft with a slight crunch of sugar at the end.
Jen (aka Jeters) showed up bearing Ginger Cranberry Cookies. Jeters recently roasted an entire pig and we talked about how she stealthily did it in a tiny kitchen. Her spunk and spirit make any party more fun. We laughed at a food blogger conference earlier this year as her name was called as the winner of a well outfitted albeit huge oven unit. The Ginger Cranberry cookies were small and bite-sized sweet and spicy morsels. I ate mine with a glass of milk.
We had a great time chatting it up and sitting around telling stories in between the plates of cookies being passed. This was such a great way to celebrate the holidays!
Nathan and I contributed by baking up some Mexican Wedding Cookies.
Here's the thing. I had every intention of baking some up for the wedding. I told my Mom and Tia that I would be baking up cookies the Sunday evening before the wedding to include in the guest welcome bags. As I got closer to that Sunday, it so didn't happen. Irvin offered to make some, but I was definitely in the space of overload and began molting ideas, letting them go as fast as they actually occurred to me. It was my way of staying sane. And his offer was beyond nice.
So there really wasn't any veering from the cookie of choice for the year. I found the recipe at new friend Amber's blog. She too is from the Southwest and recently posted a recipe of Mexican Wedding Cookies from a Southwest recipe book. That was all I needed to know. I trust her Southwest instincts and it only fit that one food blogger inform this food blogger friend cookie swap.
While this may be my first cookie swap, I'm looking forward to continuing the tradition next year… who doesn't love starting a new tradition and one imbued with sugar…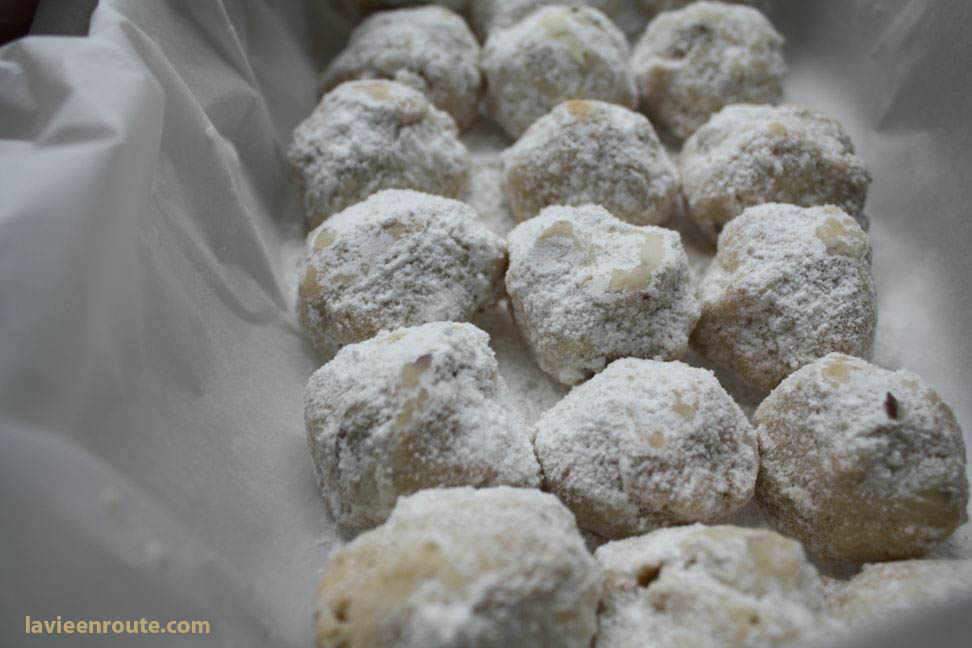 [print_this]
MEXICAN WEDDING COOKIES
Found at Bluebonnets and Brownies Adapted from "Mexican Wedding Cookies" in The Tex-Mex Cookbook by Robb Walsh
YIELD: Makes approximately 3 dozen
2 sticks unsalted butter, room temperature
1/2 c. confectioners' (powdered) sugar plus 1 cup for dusting
1 tbsp. vanilla extract
1/2 tsp. salt
1 c. coarsely chopped pecans
2 1/2 c. all purpose flour
Preheat oven to 350F. Line 2 baking sheets with parchment paper. Beat butter and 1/2 c. sugar together in a mixer on high until light and fluffy. While still mixing, add in the vanilla, salt, and chopped pecans, and continue until well combined.
Mix in flour by hand, stirring only until combined. Do not overmix or the cookies will be tough.
From dough into crescent shapes (I did this by using a cookie scoop. I'd make a scoop, and then cut the scoop in 1/2 to create half moons), and bake 12-16 minutes until the edges are golden brown.
Allow to cool. Put the rest of the sugar in a large bowl. When the cookies are cool to the touch, place 2-3 at a time into the bowl, and shake to coat with sugar. Once all the cookies are coated once, sift the remaining sugar over the cookies to give a second coating.
[/print_this]