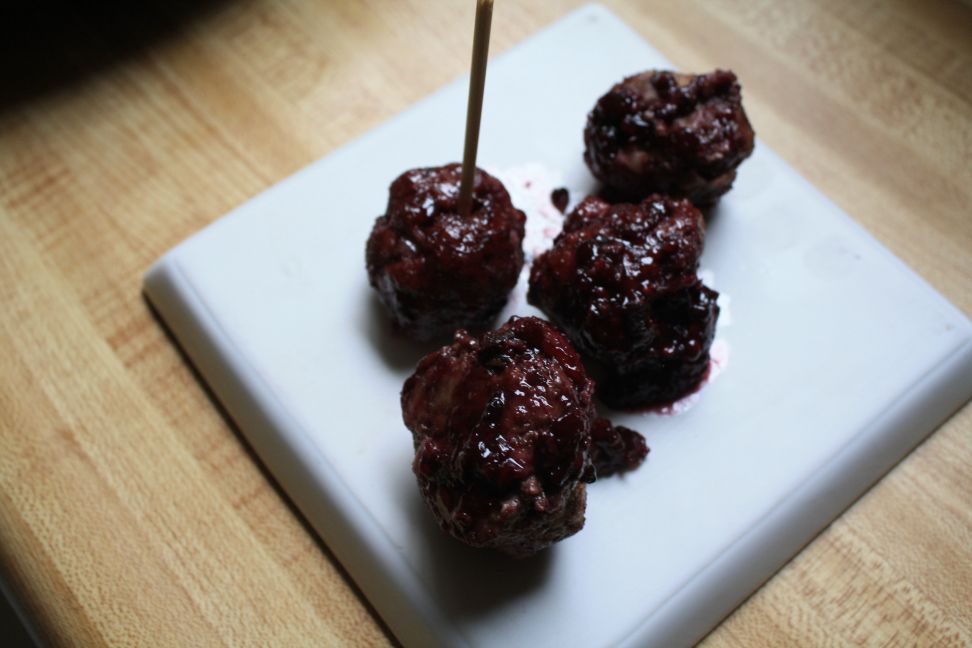 The lovely folks at Driscoll's sent over some blackberries for me to play with in my kitchen. While their original invitation involved dessert and treats, I kept imagining the winsome combination of blackberry and sage having their way with meatballs. Cocktail meatballs are noted in the annals of party hors d'oeuvres and involve grape jam, so the idea wasn't entirely farfetched. Rather than using commercial jam, I kept imagining rotund balls of beef or ground turkey slathered in a just-made glaze still kind of chunky from the slightly muddled blackberries mingling with tawny Port.
We eat with our eyes, don't we? The first batch was a far cry from what I envisioned in my mind's eye and resembled a practical joke. That first batch ended up finding their ways into the mouths of some food friends who were being kind and tried my "purple meatballs." All the while, I heeded a warning that they looked weird but tasted reminiscent of meatballs in a purple tomato sauce. The disquietingly purple hue left much to be desired. Steph gave a thumbs up on the flavor but let's be honest, no one outside of an alien planet in the outer reaches of the Milky Way would serve these at a party.
Back to the drawing board I went, tinkering with the ingredient proportions. This time, I struck gold. Purple gold. One down the hatch became four in a mere shadow of minutes for Beck.
Oh yes, shellacked purple gold.
NOTE: Driscoll's sent me the blackberries for free and all opinions about the culinary dexterity of blackberries are mine.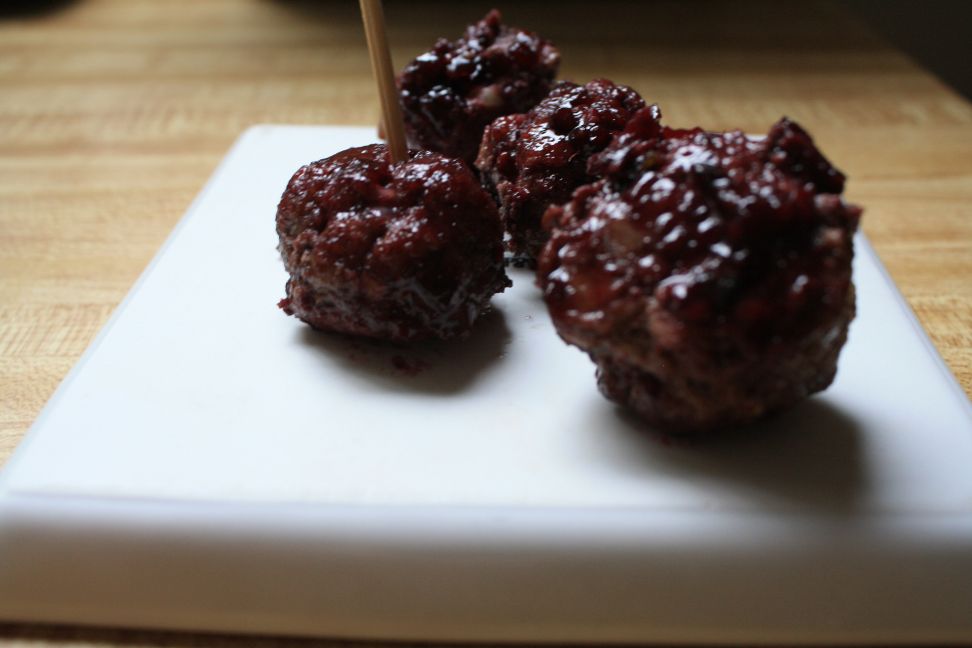 [print_this]
BLACKBERRY SAGE GLAZED MEATBALLS
I didn't use breadcrumbs in the meatballs. To be frank, I wanted to see if breadcrumbs are an imperative in meatballs. No, is a good short answer here. Then again, I know there are purists who chafe at the idea of a meatball not involving pork, beef and veal, but we don't eat two of those meats. So I encourage you to experiment and use the meat combination that most appeals to your sensibilities and consider ground turkey as another alternative. Batch one didn't have anything other than the egg and spices for a binder which turned out okay, but I prefer them as laid out below with the almond meal. I think of it as an extra touch of protein and a bit of textural intrigue, not to mention they're gluten free.
YIELD: 20 meatballs
TIME: 45 minutes
1-inch knob ginger root, minced and divided (1 tablespoon)
1 shallot, minced and divided (4 tablespoons)
1 egg
½ cup almond meal
1 lb. ground beef
1 garlic clove, minced
1 tablespoon extra virgin olive oil
6 sage leaves, minced
1 cup blackberries
1/8 teaspoons kosher salt
½ cup tawny Port
2 tablespoons sugar
1 tablespoon fresh lemon juice
¼ cup chicken stock
Pepper
Preheat oven to 350 degrees F.
Add ½ tablespoon of minced ginger, 1 tablespoon of minced shallots, egg and almond meal to ground beef. Mix with hands until well combined. Then form into small meatballs and place on lightly greased roasting pan. There should be 20 meatballs. Place in oven to cook for 25 minutes, turning meatballs halfway through their cooking time.
Saute the remaining shallots, ginger and garlic in a pan with the olive oil until lightly brown. Then add the sage and cook for another minute. In a large glass with a muddler, slightly muddle blackberries not until they are mushy. Then add muddled blackberries and salt to the pan and add the Port. Stir in the sugar and lemon juice. Stir in chicken stock after about five minutes and let cook on low heat for about five minutes more or until thickened.
Remove the meatballs gently with tongs. Place them into the large pan with blackberry sage glaze. Spoon the sauce over the meatballs and let simmer for five minutes, turning the meatballs gently.
Serve hot and make sure to scoop any remaining sauce from the pan onto the meatballs in your serving dish or bowl.
[/print_this]