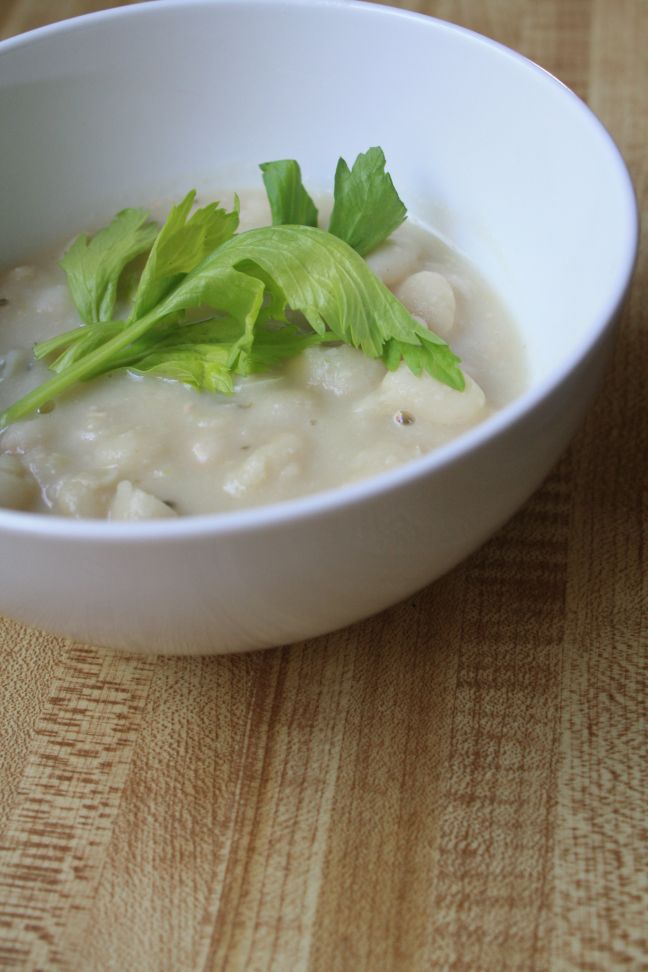 New Year's Day in Texas requires a pot of beans- black eyed peas to be precise. Our next door neighbor would annually bring over the black eyed peas and requisite cornbread. As a transplant in California, I decided to do a small bait and switch with this tradition this year. Sunday afternoon, we settled in for a bowl of beans, served over brown rice. It seemed a bit of a nod to old and new, which is fitting for New Year's, is it not?
I consulted Melissa Clark's "Cook This Now", eager to try out her recipe for White Bean Stew with Rosemary and Garlic. I had the pleasure of meeting this New York Times writer and James Beard award winner last year and loved hearing how her husband Daniel sometimes reads poetry to her while she's cooking. It reminded me of Beck and his guitar accompaniment that occasionally serenades my flurry of kitchen activity.
I've been cooking my way through this gem of a cookbook the past month or so, kicking around its tires, so to speak. Beck and I devoured the Seared Wild Salmon with Brown Butter Cucumbers. Another evening found us feasting on Roasted Chicken Legs with Smoked Paprika, Blood Orange and Ginger (the leftovers paired a few days later with a carrot jam sauce, made a great variation of Orange Chicken). Yet another evening, we salivated over the Spiced Braised Lentils and Tomatoes with Toasted Coconut. I have machinations of menu planning ahead of me accented by recipes from "Cook This Now." This cookbook lives up to its title.
I like Clark's friendly tone and the detail she writes into her recipes. She categorizes the recipes by seasons. This is a great way for people wanting to cook seasonally to get started, though as we know in California, our seasons are a bit out of sync with other states. At the end of each recipe, she provides footnotes with other ideas on creating variations on the original theme, and I appreciate that call for experimentation and the nudge to adapt and personalize the recipes.
Back to these beans! Let's be frank. Soaking dried beans overnight requires a bit more forethought but yields for a quicker cooking time in the end. So next Saturday night, set a big bowl filled with dried cannellini beans and water several inches above the beans,  to soak. Put on a pot of easy Sunday beans to warm and feed you well into the week.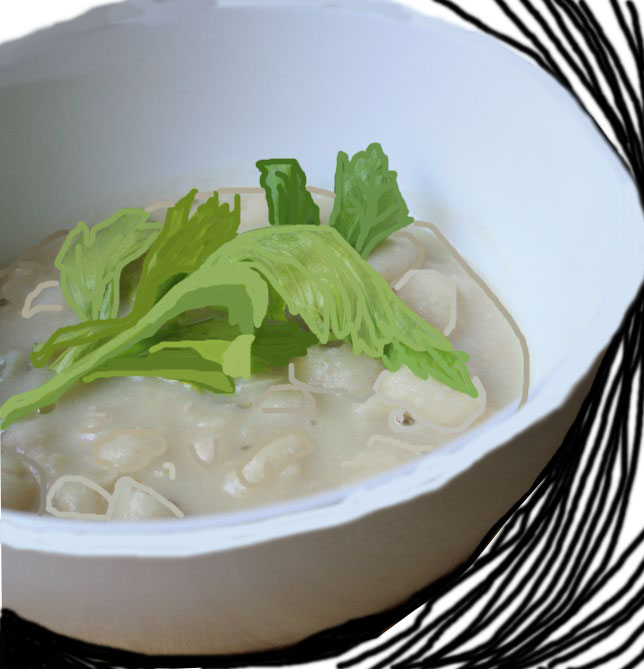 [print_this]
WHITE BEAN STEW WITH ROSEMARY AND GARLIC 
from Cook This Now by Melissa Clark
Copyright © 2010, Melissa Clark, Inc. Published by Hyperion. Available wherever books are sold. All rights reserved.
The original recipe calls for making them with farro. We tried them instead with brown rice at one sitting and at another, over polenta, and found both options highly palatable. You can also add kale to the beans, but I wanted to try them out without the extra accoutrements (don't skimp on the celery leaves in the recipe- they were a bit of revelation). These beans will be making their way into many meatless Mondays, Tuesdays and Wednesdays to come.
SERVES 6
1 pound dried cannellini beans
1/4 cup extra virgin olive oil, more for drizzling
5 garlic cloves, peeled
1 celery stalk , cut in half crosswise (reserve the celery leaves for garnishing)
1 large onion, halved lengthwise from root to stem so it holds together
1 whole clove (stick it in the onion half)
2 rosemary sprigs
2 thyme sprigs
1 bay leaf
piece of Parmesan rind
2 1/2 teaspoons kosher salt or coarse sea salt
chopped celery or parsley leaves, for garnish (optional)
lemon juice and / or grated Parmesan cheese, for serving (optional)
1. When ready to cook, drain the beans and place them along with the oil, 3 of the garlic cloves, the celery, and the onion in a large pot over medium-high heat. Bundle the rosemary, thyme and bay leaf together, tie securely with kitchen twine, and throw it into the pot (or just throw the untied herbs into the pot, though you will have to fish them out later). Add the Parmesan rind.
2. Cover everything with water and stir in the salt. Bring to a boil, then reduce the heat to medium and allow it to simmer, partially covered, until the beans are soft. This can take anywhere from 1 to 3 hours, depending on how long (if at all) you soaked your beans and how old your dried beans were when you got them.
3.A test of doneness is to place a bean in your palm and blow on it (the natural thing to do since it will be hot). If the skin breaks, it's ready. Of course, tasting it is a better way to tell. If your bean pot starts to look dry before the beans finish cooking, add more water as needed. At the end of cooking, the water should not quite cover the beans. (If it's too liquidy, ladle the extra out and discard.)
4. Mince the remaining 2 garlic cloves.
5. When the beans are cooked, remove and discard the onion, celery, herbs, and Parmesan rind (you can leave the garlic cloves in the pot, they are yummy). Ladle half of the beans into a food processor or blender, add the minced raw garlic, and puree. Return the bean puree to the pot (you can skip this step and just stir in the garlic; the broth will be thinner but just as tasty).
6. Serve the beans in bowls with your whole grains, drizzle each portion with plenty of olive oil, then sprinkle with good flaky salt, red pepper and celery leaves. If the stew tastes a bit flat, swirl in some lemon juice at the end to perk up the flavors. Grated Parmesan cheese on top is also nice. But make sure not to skimp on the oil, salt and red pepper when serving. It really makes the whole thing come together.
[/print_this]