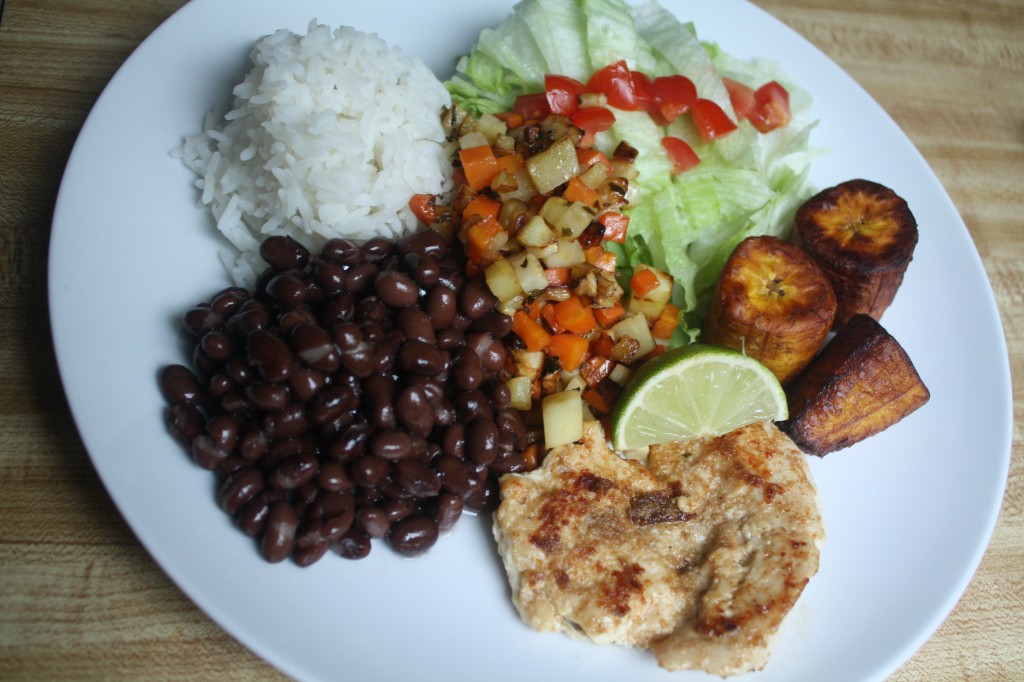 Casados.
It's what someone might say of a couple replete with smooches and rings on the left hand. They're casado. Married. Nathan and I said our vows in a rustic church filled to the hilt with family and friends from all over the globe. When planning the wedding, it was important that it feel like us. I jokingly said multiple times, if the wedding had a theme, it was "it takes a village." We wanted it imbued with as many of our closest people doing what they do best: singing, playing piano, baking cake, hand-making caramels… the list could go on.
We wanted it to feel like us. Nothing too gussied up, but full of texture, language, color and flavor. Yes!
The morning started quietly. In the silence of a new apartment, I padded around barefoot, drinking it in, contemplating the weight of the day ahead, excited with a pep in my step. And then breakfast, photos and ceremony threaded together to find me at the pivotal moment.
Will I promise to love Nathan in sickness and in health? I will.
Will I promise to love him until death do us part? I will.
So much leading up to this moment of transition: casados.
We had the happy occasion to travel on a family holiday trip to Costa Rica right after Christmas. We rang out New Year's Eve and walked into the New Year trolling our local beach with sand dusting our toes.
A few people at work asked upon my return, "How was your honeymoon?" This tickles me as I try to imagine inviting anyone other than Nathan to a honeymoon, but I'm polite, and say, "Fantastic!" Come to think of it, the woman seated next to us on the HOU – SJO leg of our trip asked if we were newlyweds. It must be something impermeable. Perhaps it's the starry eyed look or our need to tuck our heads into each other's neck nooks like ostriches. We are that couple.
See, we've decided to stay on honeymoon permanently. One of the best pieces of marital advice we've gotten is from his parents to "plan adventures with each other!"
Trust me, if they'd seen:
the commuter airplane that hoisted us cross-country to the coastal town of Nosara chug noseward up-
the canopy tour with its pully system and the directive to "Jump!" off the mountains-
us staring into and separating darkness from darkness, craning our ears and eyes for Olive Ridley Turtles come to shore to lay their eggs and then set off again-
the two hour pitch black trek from one beach to a mini mart "cross beaches" rather than "cross-town" in search of lotion, shampoo and a green vegetable-
hand-to-hand combat with the warrior locust to usher it back outside
We are living up to that bit of advice.
Food is always a bit of an adventure. (At least in my kitchen it is). If another culture doesn't first enter through my ear, then it sure does through my stomach. The food section on my last blog was even called puerta de la panza (doorway to the stomach). Much to my delight, the Costa Rican' national dish* happens to bear the name of my newly cemented status, casado. When in Costa Rica, you will see this as a menu item in most soda ticas, bars and restaurants.
I spoke with new friend Isabel to get a better idea of what a casado actually is.
A  casado consists of rice, black beans, salad and a choice of protein including chicken, fish or bistek en salsa, meat in sauce. Some casados include plantains and some don't. Further inquiry (on wikipedia) revealed a possible reason for the name: businessmen said they wanted to be served like those who are married because the implication is married men eat this kind of meal in the home for lunch or dinner. I'm taking it with a grain of salt, though maybe that is its origin.
While we were in Costa Rica, each of us had casados at different restaurants and each gives it their own flare. One evening in San Jose, my mom ordered the Casado and it came not only with plantains and the usual fare, but also included Fajita chicken and a picadillo of squash and carrots. Yummy. When we were in coastal Nosara, the casado at a local popular soda tica did not include plantains.
I think the casado is aptly named. It brings a smattering of individual parts onto a plate and from the many ingredients comes a hearty dish with variety that can be personalized by venue or person. And it appeals to my personal sense of order: each ingredient has its own quadrant of plate. Beans over here. Rice to the right of the beans. Plantains nestled up against the rice. Chicken nudging the plantains. Salad in its own corner. Unlike, Nathan who prefers all things mixed together, I like to build the perfect bite. See, casado: something for everyone!
We returned from Costa Rica in early January and find ourselves hankering a bit for the simplicity and beauty of those environs, not to mention the warm temperatures and sun in place of the living room heater cranking for a short burst to cut through the old building cold. Then again, we are casado…
Heater turned off, oven turned on, we get started.
[print_this]
Casados
CHICKEN
4 chicken breasts
1 cup milk
1 tablespoon ground roasted coriander
1/4 teaspoon garlic powder
1/4 teaspoon onion powder
1/8 teaspoon freshly ground sea salt
Cracked black pepper, to taste
1 tablespoon olive oil
1 Mexican lime, quartered
Place chicken breasts in milk bath and refrigerate for an hour. Blend spices together in a small side bowl. Set aside. Once ready to cook chicken, place olive oil in pan over medium high heat. Remove one chicken breast and sprinkle both sides with spice blend. Cook on each side for 4 minutes or until cooked through.
RICE
1 cup long grain white rice
1 1/2 cup water
Rinse rice two times. Then add 1 1/2 cup water and bring to slow boil. Once boiling, set to simmer and cover for 20 minutes or until cooked.
PICADILLO
1 medium carrot, peeled and diced
1 medium parsnip, peeled and diced
1/4 cup peeled and diced celery root
1 tablespoon olive oil
1 tablespoon chicken stock
1 teaspoon Oregano
Salt to taste
Steam the diced veggies for 5 minutes. Remove from water. Combine oregano, salt, chicken stock and oil. Add to pan and turn heat onto medium high. Sauté veggies for 2 minutes.
BLACK BEANS
1 can black beans, drained
Heat up black beans on stovetop until warm.
PLANTAINS
2 plantains
1 cup canola oil
Peel plantain and discard peel. Cut plantain into 1/4 inch chunks. Coat bottom of pan about 1 inch deep with oil. Heat oil over high heat but take care to not let it begin bubbling. Place plantain sections in oil and turn every 2-3 minutes or until golden brown.
SALAD
½ head of iceberg lettuce, shredded
½ cup grape tomatoes, diced
This can be the final step for your casado to keep salad cool and ingredients in fridge until everything else has cooked.
Plating
Think of your plate by quadrant, when plating a casado: every ingredient gets its own home. Our casado will have a part of the plate dedicated to the beans, another to the rice, the plantains immediately next to the rice, then chicken and lastly salad.
[/print_this]