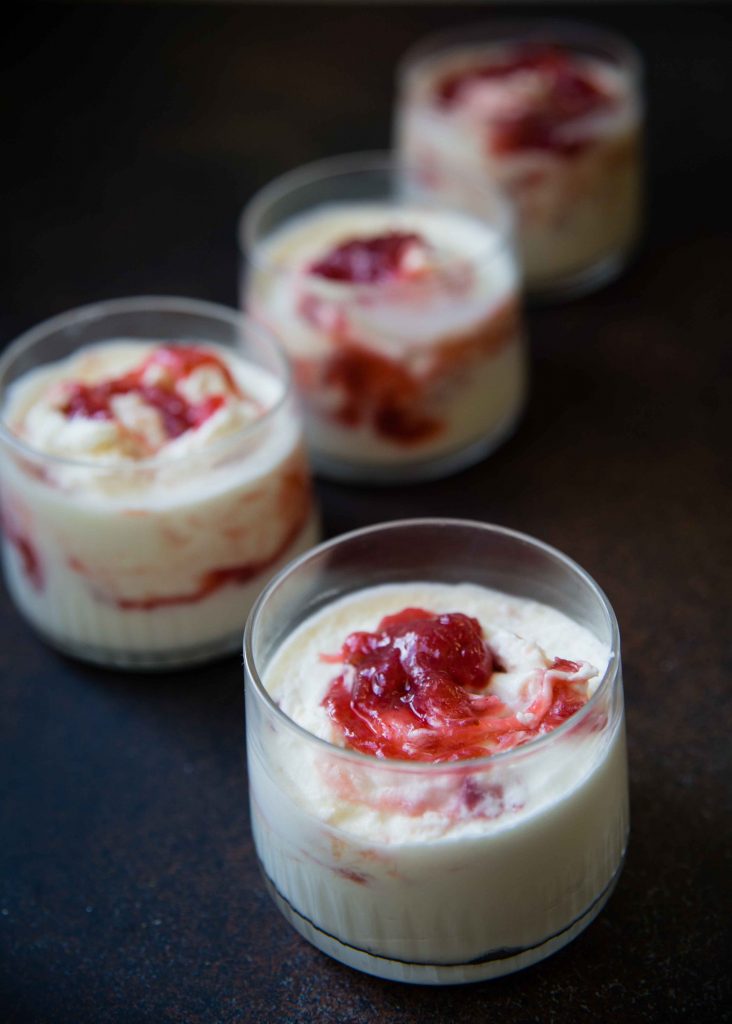 We inherited a rose bush, fully mature and waving around her blooms like it's the Macy's Day parade everyday during season. It's only a little bit unknown that I have a record with demerits for killing plants you can "neglect," doing such a good job in my neglecting that they shrivel into a husk of their former selves. Not so with the rose bush. Call it adulting or call it dedicating oneself to the preservation of beauty in the world society, but I have doubled up efforts and that will soon include pruning and weeding. (Sidenote: who am I?)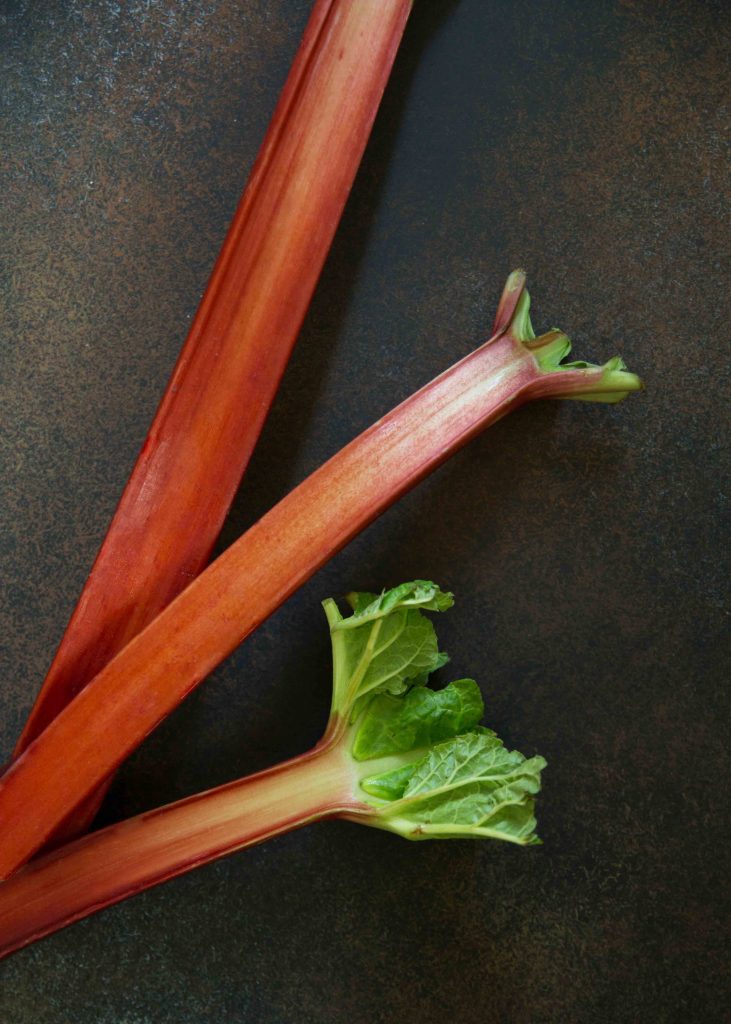 Rhubarb usually takes me by surprise. It's in the market, then a bevy of rhubarb shows up in my Instagram feed, all gossamer pink ribbons. Before you know it though, it's gone. You've missed the season again. I vowed to not let that happen this year. Cue rhubarb rose fools. Rhubarb rose compote has just enough rosewater and citrusy pink peppercorn to make things interesting. That pairing–rhubarb, rose, and pink peppercorn are meant to be. And, I might be late to the rosewater party, but you'd be a fool not to fall for it.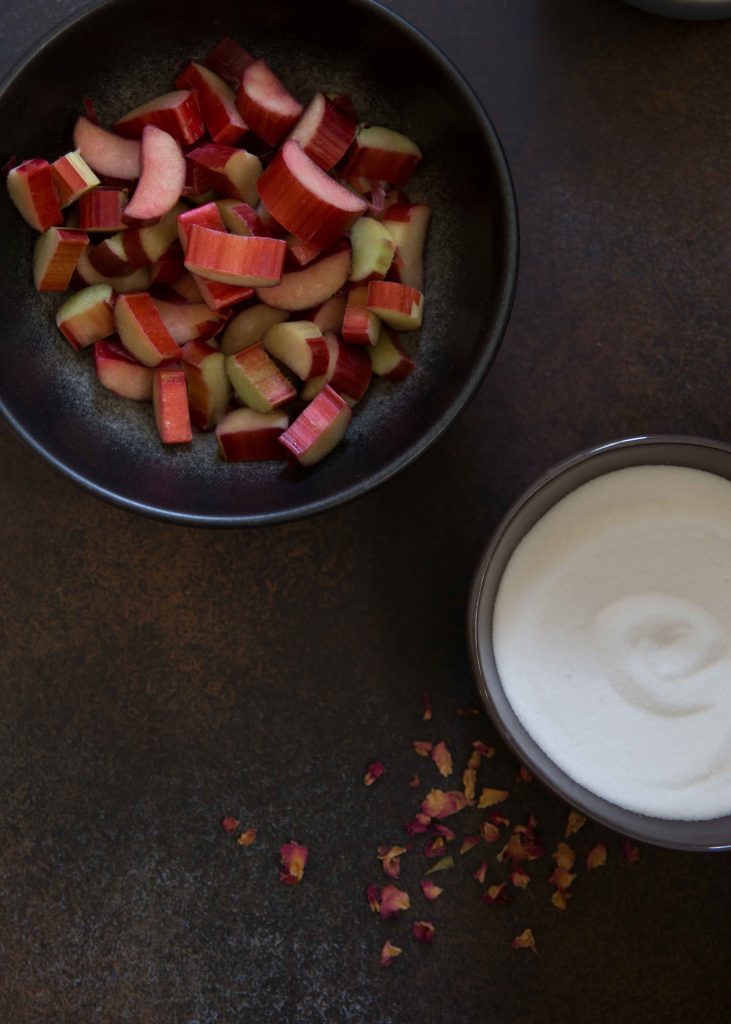 Also, whipping creme fraiche into lightly beaten whipped cream until soft peaks emerge is a bit of a revelation. You could swap in Greek yogurt instead of the creme fraiche, but if you do, taste and adjust the sweetness as it might be a bit too tangy. I wouldn't advise using mascarpone or cream cheese, but if you do, consider adding a smidge of lemon juice to make it not quite so one note.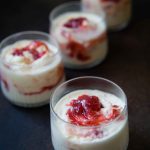 Rose Rhubarb Fools
Ingredients
Rhubarb Rose Compote
2

cups

¼inch chopped rhubarb (about 2 large stalks)

3/4

cup

granulated sugar

2

teaspoons

rosewater

1

teaspoon

fresh lemon juice

1/2

teaspoon

ground pink peppercorn
Whipped Creme Fraiche
1

cup

heavy cream

1

tablespoon plus 1 teaspoon

granulated sugar

1

cup

crème fraiche

(1 7.5-ounce container)
Instructions
Make the Rhubarb Rose Compote
Cook the rhubarb, sugar, lemon juice, rosewater, and peppercorn in a medium-sized heavy saucepan set over medium heat until the fruit softens and most of the liquid cooks out but the fruit is not sticking to the bottom of the saucepan, about 12 to 14 minutes, stirring frequently.
Make the Whipped Creme Fraiche
Whip the cream for a minute, adding the sugar when it thickens up a bit. Beat until soft peaks form. Fold in the crème fraiche, briefly beating it in until smooth soft peaks form, lustrous, and thick.
Assemble the Rose Rhubarb Fools
Spoon a 1/4 cup dollop of whipped crème fraiche into six tumbler glasses. Stir in a tablespoon of rhubarb compote into the cream with a chopstick, swirling it in slightly, but only enough so there's a marbled ribbon of fruit lacing through the cream. Top each tumbler with another 1/4 cup dollop of cream, and top each tumbler with a teaspoon of the remaining compote. Chill for 10 minutes or eat.