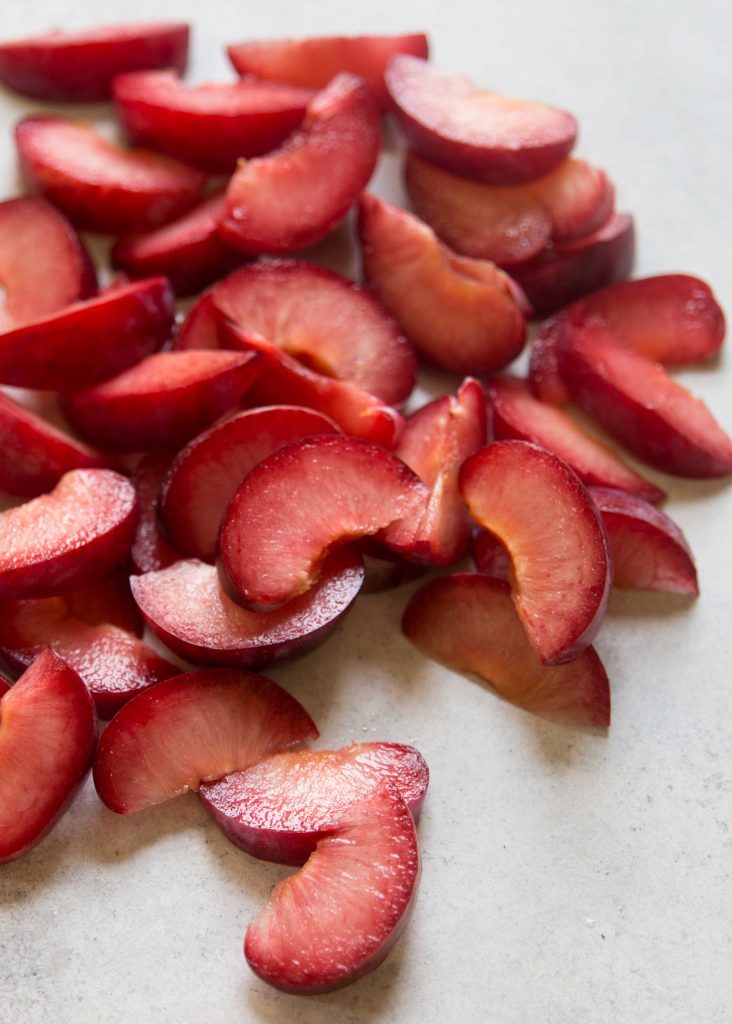 Do yourself a favor and go snatch up a pound of plums to make Sara Bir's Italian plum cake before summer ends. Then, see if you can hold off on cutting into it until it's set, but still warm. If you don't have a favorite summer dessert yet, you're about to taste it. Those are bold words, especially since I prefer chocolate always and fruit out of hand. But this cake! The olive oil and dash of balsamic vinegar really take it over the top. I bet it would be amazing with mission figs too.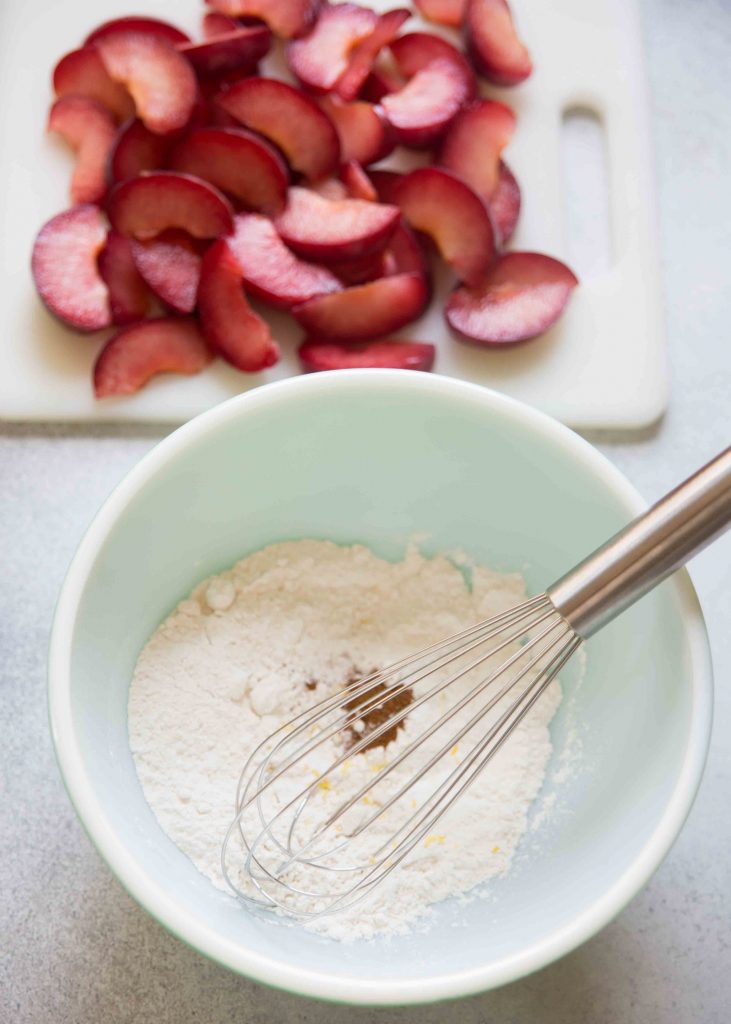 Once cooled, all you need is a dollop of Greek yogurt and dig in. I tucked Dapple Dandy Pluots into this Italian plum cake, but Bir suggests you can swap in cherries, strawberries, nectarines, blackberries, or raspberries.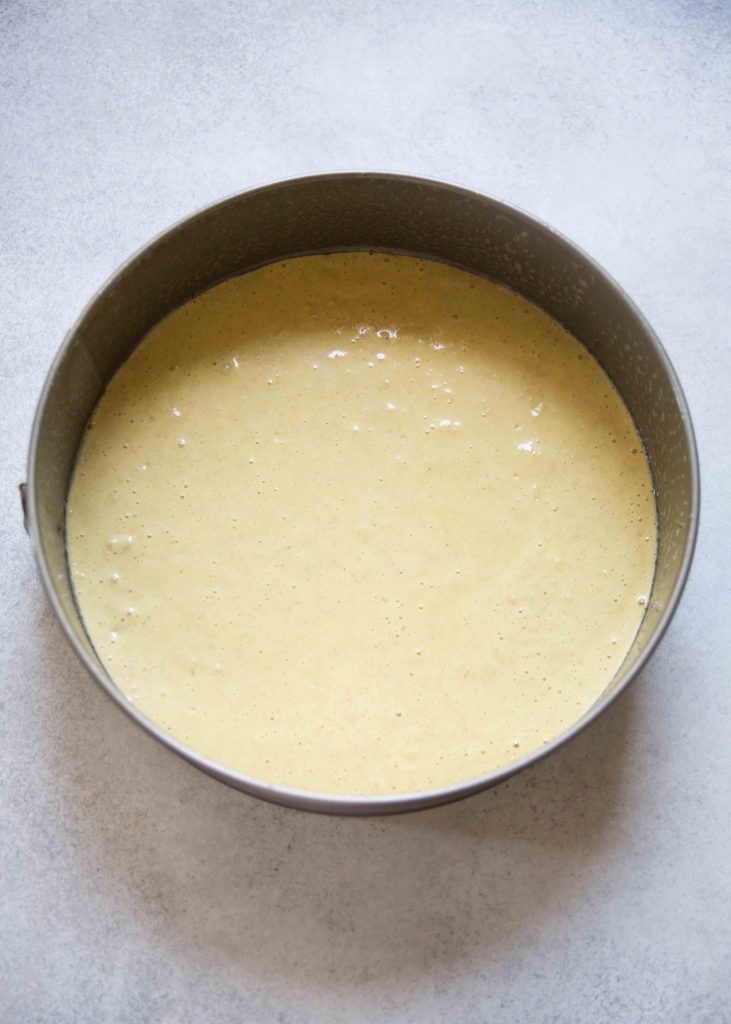 This recipe comes from her new cookbook, The Fruit Forager's Companion. I made a few small tweaks to the recipe such as omitting the turbinado sugar (though I can imagine the delightful crunch it would give to the crumb of the cake) and instead of halving or quartering, I sliced the pluots wanting them to infuse a bit more juice into each bite.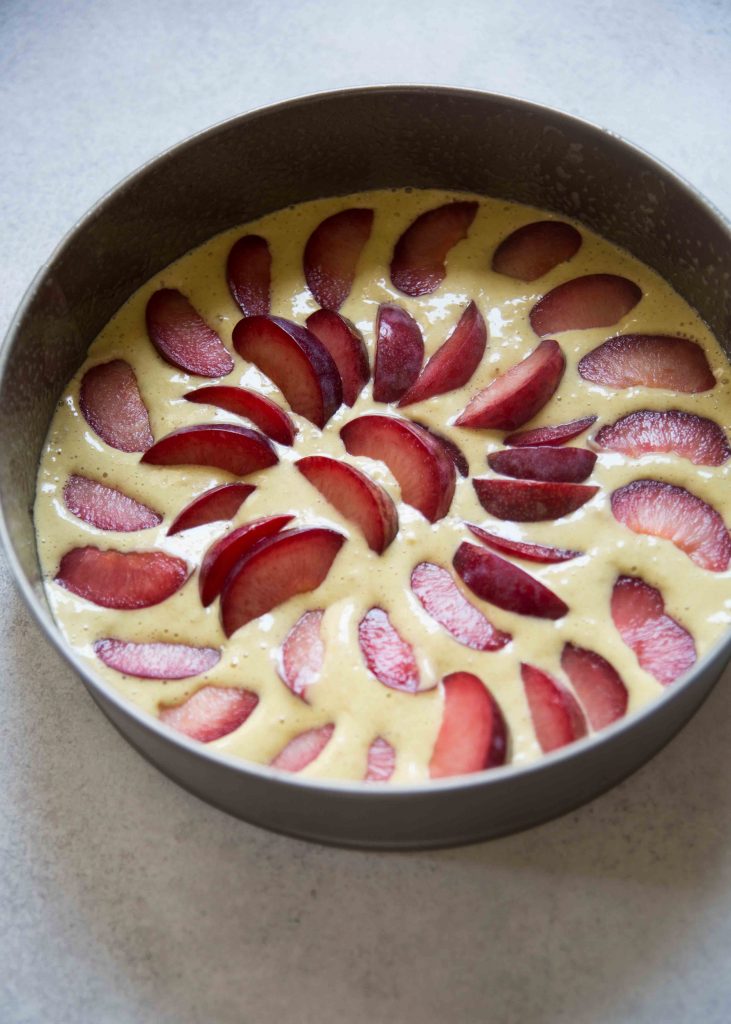 Sara Bir's Italian Plum Cake
This recipe is from Sara Bir's book The Fruit Forager's Companion: Ferments, Desserts, Main Dishes, and More from Your Neighborhood and Beyond (Chelsea Green Publishing, 2018) and is reprinted with permission from the publisher.
Ingredients
3/4 cup

(100 grams)

unbleached all-purpose flour

3/4

teaspoon

baking powder

1/4

teaspoon

salt

(I used kosher)

1/4

teaspoon

finely grated lemon zest

1/4

teaspoon

cinnamon

1

large

egg,

at room temperature

1/2 cup

(100 grams)

granulated sugar

1/2 cup

(120 ml)

olive oil

1/4 cup

(60 ml)

milk

1/2

teaspoon

balsamic vinegar

1 pound

(455 grams)

plums, pitted and halved or quartered

(I used Dapple Dandy pluots, thinly sliced)

2

tablespoons

turbinado sugar
Instructions
Preheat the oven to 350F (175C), and position a rack in the center. Line the bottom of a 10-inch (25 cm) spring-form pan with baking parchment. Grease the sides and bottom well with baking spray or butter. Set aside.


In a medium bowl, whisk together the flour, baking powder, salt, lemon zest, and cinnamon. Set aside.


With an electric mixer, beat the egg and the sugar on high speed until the mixture is creamy, pale yellow, and lighter in volume, about 5 minutes. With the mixer on low, add the olive oil, then the milk and balsamic vinegar. Fold in the flour mixture with a rubber spatula just until it makes a smooth batter.


Scrape the batter into the prepared pan. It will look really skimpy once it's in the pan, but don't worry. Arrange the plums in a single layer across the batter, and sprinkle the cake with the sugar.


Bake for 50 to 55 minutes, until the cake is golden brown on top, a little puffed, and set in the center (a toothpick should come out free of batter but may have a few crumbs clinging to it). Cool on a wire rack for 5 minutes, then remove the sides and cool until just barely warm. You can serve it either that way, or at room temperature.

Recipe Notes
Vanilla ice cream, whipped creme fraiche, or good plain whole-milk yogurt are all very nice accompaniments to this.