The apartment is filled with the aroma of cinnamon and sugar mingling together in the air. Something about this smell is both comforting and reminiscent of childhood. It smells like home. I somehow lucked out, as I was the one who got to move into the apartment before the wedding. Over the past few years and subsequent roommates, I have been lucky to become and remain friends with each of them. As some friends joined us in the heave-ho of boxes and bags from my last apartment, I was somewhat reticent to leave. A page was turning, was I ready to read what comes next?
I traipsed down every night to my former abode the first few weeks to dwell in the familiar, leaving this new world we get to create behind. One evening Nathan came with me and there at Carole's apartment, we watched the remainder of the Giants game. It's been a year and one of the best ways I can exclaim what it's teaching me or what He's teaching me is to hold things loosely. And tightly while you have them.
I made cookie dough on Sunday afternoon with Kristen and an intention of bagging freshly homebaked cookies for my new-to-me neighbors, but a gas leak and thus non-working oven forced my hand and dough to wait until mid-week. So tonight, I sit in the afterglow of Snickerdoodles scenting this new apartment, this new world that feels very quiet when Nathan is not around. So quiet that my thoughts become ravenous to leap onto the page.
Snickerdoodles, the name alone conjures up a smile, takes me back to a black Baptist church my mom's friend Dottie belonged to. Sometimes we would meet her on a Sunday morning and all I remember are the crash of the tambourines, my body slumping in the wooden pew and clutching a brown paper bag slightly soiled with butter stains. Dottie's auntie would bake fresh Snickerdoodles for me when we joined her at church. I always remember being fond of her church. Who doesn't love a house of joy, a bag of warm cinnamon sugar disks and the melodic rise and fall of song? So, somehow it seemed fitting that these be my first baking foray at the eyrie. If I had her recipe now, it would be below. Instead I purloined one from Smitten Kitchen. Bake and serve for people you love.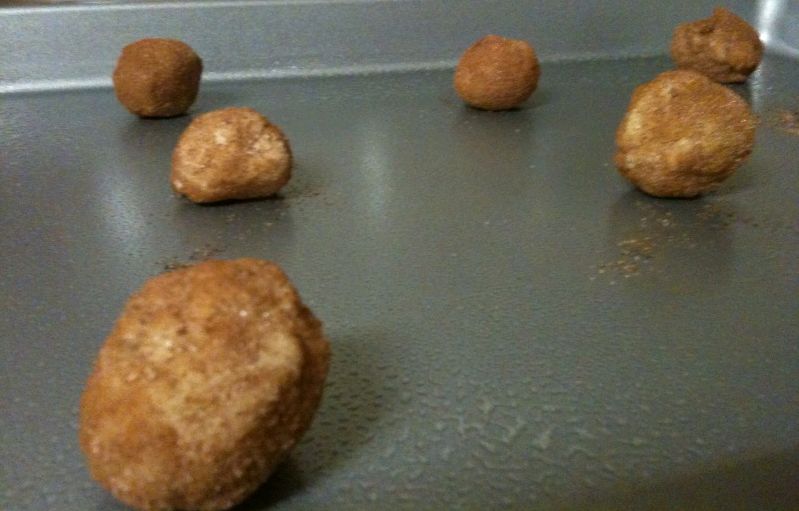 [print_this]
SNICKERDOODLES
Adapted from Martha Stewart, from Smitten Kitchen
YIELD: Makes three dozen 3 to 4-inch cookies
2 3/4 cups all-purpose flour
2 teaspoons cream of tartar
1 teaspoon baking soda
1/4 teaspoon salt
16 tablespoons (2 stick or 8 ounces) unsalted butter, at room temperature
1 3/4 cups sugar, plus more if needed
2 tablespoons ground cinnamon, plus more if needed
2 large eggs
Preheat the oven to 400°, with one rack in top third and one rack in bottom third of oven. Line baking sheets with silicone baking mats or parchment paper; set aside.
Sift together flour, cream of tartar, baking soda, and salt; set aside. In the bowl of an electric mixer fitted with a paddle attachment, combine butter and 1 1/2 cups sugar. Beat on medium speed until light and fluffy, about 2 minutes. Scrape down sides of bowl. Add eggs, and beat to combine. Add dry ingredients, and beat to combine. At this point, I chilled the dough for an hour (or you can overnight) before scooping it, because I otherwise found it too difficult to scoop into balls and roll but the original recipe doesn't find this step neccessary.
Once dough has chilled, in a small bowl, combine remaining 1/4 cup sugar and the ground cinnamon. Use a small ice-cream scoop* to form balls of the dough, and roll in cinnamon sugar. Place about two inches apart on the prepared baking sheets. Bake until the cookies are set in center and begin to crack (they will not brown), about 10 minutes, rotating the baking sheets after five minutes. Transfer the sheets to a wire rack to cool about five minutes before transferring the cookies to the rack. In theory, they can be stored in an airtight container up to one week, but I say good luck wtih that.
[/print_this]