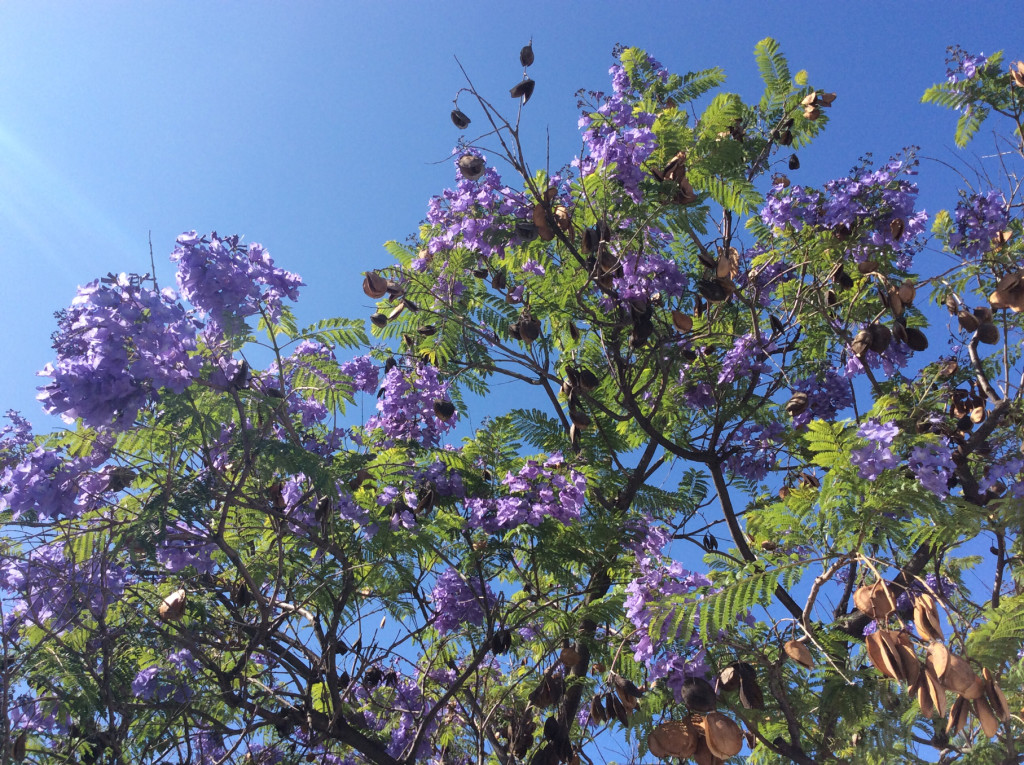 For a long time, I've thought about how a poet can only really get away with using words like jacaranda or halcyon in a poem once in their career.  But last month, that all changed.
Recently, my rental car has had the occasion to zoom down the 605 and 10 on my way to Long Beach from LAX. Several weeks ago our car cruised down the 5 in Santa Ana with my husband at the helm. Sprinkled like glitter around the edges of the framed highway, I had begun to notice bright purple blooms that sometimes burst above the highway walls. A few times they almost distracted me from the road. More than once, I had to peer above my sunglasses just to make sure that the flowers were really as purple as my eyes perceived them to be behind sunglass lenses.
In February, on a trip with my mom in Mexico, I first noticed these trees towering with festive purple plumes waving in the wind like bells. They swung backward and forward as if pealing their invitation to a block party. What I thought of as beauty, she gave a name: jacaranda.
Jacaranda. The word is as stunning as the blossoms that burst forth from its branches. Maybe it's that its four syllables provide a pleasing aural sensation where the four a's mirror each other in succession. Up – down – up – down. Like bells blowing in the breeze, welcoming in invitation. And I'm back underneath the tree, peering up and watching the wind tousle the tendrils of purple.
While we drove around Los Angeles and into Orange County for a Steeped cookbook pop-up shop at a maker's festival, I ached to see more jacaranda trees in bloom, as if trying to make up for years of never being aware that this kind of beauty exists. I boldly proclaimed as we walked to dinner in Long Beach with friends that we would buy a house with a jacaranda tree out front (and subsequently we happened upon one for sale on their street, making me eat my words.) I mentioned to Ernie at the festival about my newfound fondness as he proclaimed that their season is so short. I remember wondering if the pay-off for a month or two of purple was enough to make up for all the other months of bare branches. I remember wondering what kind of food could rival that vivid color in edible form. Candied violets?
San Francisco has its cherry blossoms and plum blossoms that have always seemed like small pom poms of trees that cheerlead from the sidelines of the streets. But jacarandas are nothing short of frothy party dresses to remind people in their proximity that life is a fiesta.
Over the top in their vibrance, they unabashedly flaunt their flowers for the short time that they cling to the limbs. And isn't that a bit like life itself? That urge to celebrate good news or a finished project can quickly get eclipsed by what's next. I'm here to tell you that people plant their glory in close proximity down in Southern California: you might think jacaranda trees have so much pop of personality that one tree would suffice, but sometimes there are full stands of purple-flocked trees – one after the other that would make you question the idea that one can get weary of celebration.
It's been such a swell of excitement and energy, traveling on my first book tour so far. When I used to travel every month for the tea company, I remember trying to temper my enthusiasm for where I had been, using words that would diminish the experience so as not to stir any sort of jealousy or blockage between me and my colleagues. Sometimes that tactic worked and other times, notsomuch. The small celebrations that happen at home can be some of the most beautiful and don't require booking a trip around the world to find a life worth living. I've played the part of road warrior and take it up as a badge of honor to meet readers, answer cooking questions, and sign books, which is all thrilling. But I wonder when the tour is over and the suitcase is hidden in the closet, can the life cultivated off-script be enough? You know the one–it doesn't make it to Instagram; it probably involves several evenings of leftovers. It could resemble four bags worth of laundry that have been waiting or a calendar without penciled in appointments. It might look like bare branches when compared to frothy purple party dresses dancing late into the windy night. But you and I know better, right?
The other evening, we took a walk around our neighborhood in Oakland and as we rounded one corner, a jacaranda surprised me and waved hello.