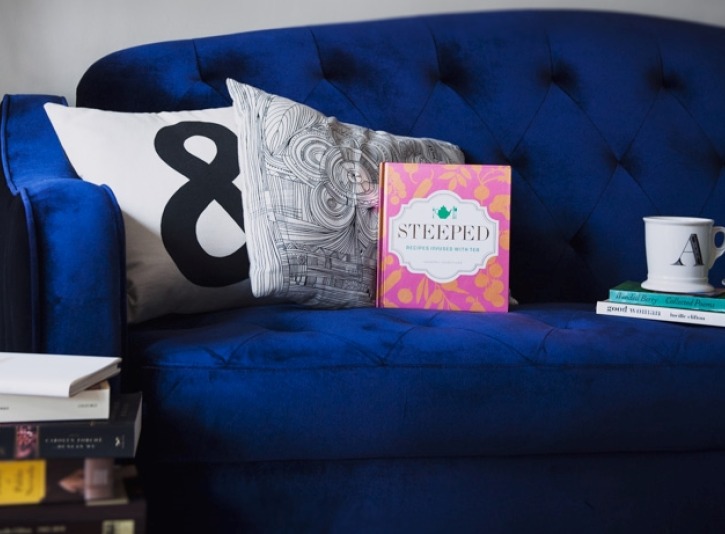 On the eve before school started, my eyelids would flap open not to be easily closed. Try as I might to shut them, excitement coursed through my body and anticipation kept the thoughts bumping along like trams hooked into an electrical current. Have you ever experienced that kind of sensation before?
Steeped: Recipes Infused with Tea is officially available! It's been a week since my first book, Steeped: Recipes Infused with Tea has been out in stores. For days leading up to its launch, I was in a suspended state of anticipation that is now the fuel of excitement keeping me moving from one city to the next.
While attending a conference and selling books in Minneapolis, I shared a cab with three women from Washington, DC. The next day they surprised me and bought three books. In New York City, I befriended a cab driver who asked his friend to buy my book so I could sign and dedicate it. On a Sunday afternoon, women from all over New York gathered to learn how to cook with tea before we settled in for a supper they had all a hand in making, as we all contributed to a conversation that cut past icebreakers to talk about what it looks like to live a life of meaning and purpose.
People are getting steeped. It's an exhilarating feeling to know people are inviting the recipes I worked on fervently onto their table. It's exciting to hear people mention they are emboldened by the idea that tea can provide a path of looking for everyday opportunities to celebrate and the discovery of how tea can imbue its flavors into familiar foods.
On Instagram, photos are popping up of that bright and shiny pink and orange cover that a friend described as her favorite colors, as a sunset and that I liken to a beautiful sari. I am humbled and thrilled to see the glee and enthusiasm on Facebook. If you are getting steeped, I would love to join you for the ride by tagging your photos or tweets with #steepedbook.
The book tour has begun and I consider my life enriched by the people who have opened up their lives for a book about cooking with tea and crafting a life you want to live. While Minneapolis, St. Paul, and New York were the starting points, the journey is far from being over. I'm posting new events in my weekly newsletters and also on the book website, so head there if you want to see where I'm headed and join the cooking with tea adventure.
Thank you for welcoming this labor of love into your kitchen. Thank you to the booksellers and their cheerful staff for welcoming Steeped onto their bookshelves. Thank you for coming to a book signing and sharing your story with me even as you are about to embark on mine and make it your own. Teatime can be anytime we make room to invite it into our lives, right? Thanks for getting steeped.
photo by Stephanie Shih