It's not often that I give myself over to an ingredient so completely. While my grocery impulse purchases more often than not consist of obscure finds like Aleppo pepper, usually I don't devote myself to finding every conceivable way to include an ingredient into as many dishes as possible.
At one point, not so very long ago, tahini served the main purpose of being that necessary add-in for making hummus. A jar of the thick beige sludge sat on the countertop waiting. Waiting. And waiting for me to find a reason to crank its lid open and spoon some out. As I continued delving deeper into Middle Eastern cooking though, I found its use casually making its way into many ingredient lists. Rather than assert itself boldly, most of these recipes let the sesame seed butter accent the intricate spice combinations, whether that's a recipe for Creamy Chickpea and Yogurt Casserole from the Syrian cookbook I've been testing, or the quinoa, spinach, pear and hazelnut salad from Whole Grains for a New Generation, dressed with, you guessed it, tahini and lemon. My mind is being blown.
As I let my guard down around this ingredient, it continued inferring itself into unexpected places. And isn't that the truth with most new things we encounter? In the beginning we might be reticent to begin experimenting beyond the known, but as we get more comfortable, those boundaries keep extending?
Be a good cookie- what does that mean to you? I eagerly signed up to participate in this year's Great Food Blogger Cookie Swap hosted by Julie of The Little Kitchen and Lindsay of Love and Olive Oil, especially after I learned each swapper had to make a small monetary donation to Cookies for Kids' Cancer created by two employees at OXO to participate. I appreciate companies that think beyond the bottom line to consider how their work and reach can benefit others.
That combination of giving to something bigger than ourselves and gifting mystery cookies to mystery food bloggers clinched my interest from the get-go. I find myself easily pulled into the seedier part of the "holiday spirit" which means to say the part laced with capitalism and consumption, so this helped me adjust my fulcrum from holiday mode back to something challenging cultural mores.
I knew my recipients of the cookies I baked had specific restrictions such as no bacon (ladies after my own heart) so I began conspiring what kind to prepare. Would I go with a chocolate chip or shortbread? Perhaps I might get extra fancy and make different colors of royal icing to deck the stockings with their color and cheer. All the conjectures and brainstorming coalesced into something simple. They needed to be relatively easy since the deadline for sending them out quickly approached and I had just returned from a business trip. No time to frost and decorate, these cookies needed to work overtime just to get the job done. For Amanda of Maroc Mama, Madison of Espresso and Cream & Caitlin of Chopsticks and Measuring Cups, I had just the cookie.
And boy, was this going to be a good cookie.
These cookies found their inspiration from two very specific places. First, my baker friend Amy had spent time in Turkey learning how they bake their breads. She held a soft launch tasting party for her new venture, Marla Bakery. Of all the savory and sweet treats we sampled and provided tasting notes that evening, her Tahinli knocked my socks off. Here, she used tahini in a way that let the subtly sweet flavor notes of sesame come through. I scoured the table at the end of the evening for a bun to take home, but unsurprisingly they had all been scooped up.
So, with this flavor suggestion in my mind, I began ruminating on the simple and classic peanut butter drop cookie… with a twist. How would a substitution of tahini express itself in that cookie? What spices would work best to not overpower but sweetly accent the nuttiness and natural sweetness of the tahini? Had anyone ever made Tahini Cookies before? I consulted Yotam Ottolenghi's new cookbook "Jerusalem" and of course, it featured a recipe for Tahini Cookies. He spoke in the headnotes about the rage of popularity several years ago for these cookies in his home country. As I scanned the recipe, it looked like it would bake up a cookie that could be a fan favorite in the U.S. too, but didn't have that precise drop cookie profile I was looking for. So, I turned to a friend and fellow Food Blogger Bake Sale planner's blog, thinking "the baker next door" would surely have a suggestion and steer me in the right direction. Her recipe lay the foundation for my adaptations.
Things to know about the Tahini Butter Cookies: they can easily be made on a Monday night after work. They will be the first cookies to be eaten up even when a chocolate cookie is also on the plate. Most people after tasting them ask what's inside and are agog at the word Tahini. They make great homemade gifts. While you're at it, toss some into a freezer bag for some holiday spirit in January.
Special thanks to the cookies I received in the swap – to Diana of The Dreamery for her Mexican Hot Cocoa Cookies, to Aaron of The Hungry Hutch for his Brown Sugar Shortbread and to Kari of Kari's Kitchen for her Brown Butter Pecan Sandies. Let's just say we made short work of your offerings.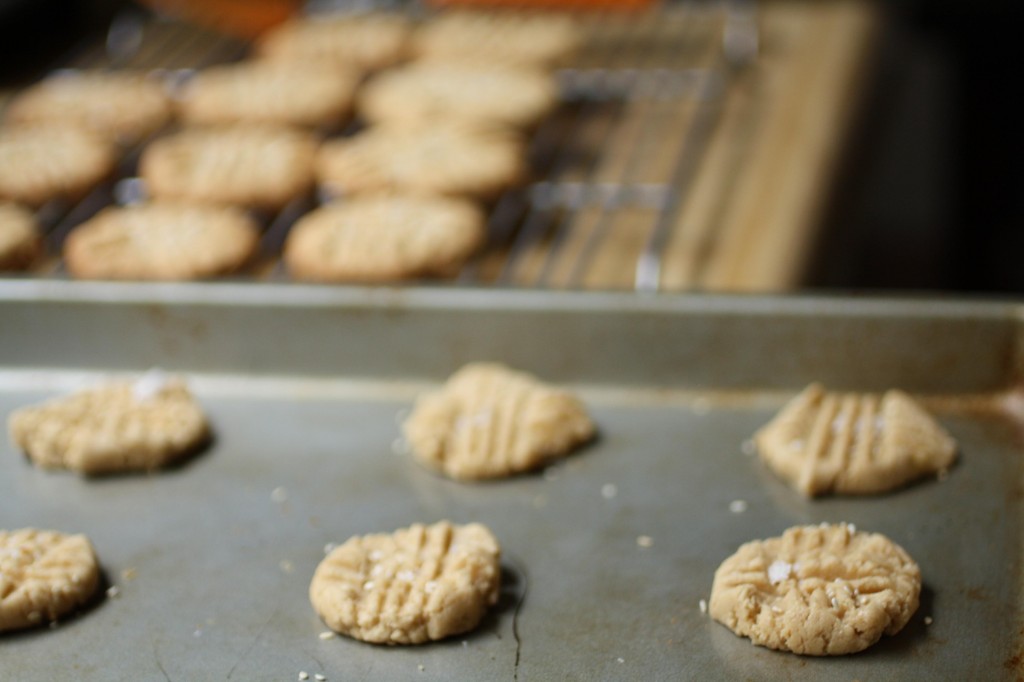 [print_this]
Tahini Butter Cookies

So, I'm going to admit I can be a bit of a revisionist, but then we all give into those tendencies on occasions, right? I think of Goya promptly "borrowing" paintings from their patrons to fix a little something and never giving them back. The Maldon salt below is optional, which is to say mandatory (unless you are watching your sodium). That tiny hit of salt really brings out the deep nuttiness of the sesame seed butter. Also, I have played with adding 1 teaspoon and 1/2 teaspoon. If you like more of a cinnamon flavor, opt for the full teaspoon, but if you want to really go for the sesame gusto, stick with 1/2 teaspoon and that playful fleck of Maldon. You might want to kiss this cook.
Makes about 2 dozen
INGREDIENTS
1 1/4 cup flour
1/2 teaspoon baking soda
1/4 teaspoon ground cardamom or cinnamon (optional)
1/4 teaspoon kosher salt
1 (8 ounce) stick unsalted butter
3/4 cup tahini
1/2 cup packed brown sugar
1/2 cup granulated sugar
1 large egg
1/2 teaspoon vanilla extract
Sesame seeds, optional
Maldon flaky sea salt, optional (garnish)
INSTRUCTIONS
Preheat oven to 350°F and position rack to the middle of the oven.
In a bowl, whisk together flour, baking soda, cardamom or cinnamon (if using), and salt.
Beat butter, tahini and sugars until smooth, about 2 minutes. Mix in egg and vanilla until combined. Dump in dry ingredients. Pulse or mix on low until just combined.
With a tablespoon, scoop out dough. Using fork tines, press each dough ball for a grid pattern. Sprinkle sesame seeds and flaky sea salt on top.
Bake for 11 minutes or until golden brown. Cool for three minutes on the sheetpan. Transfer cookies to a wire rack to cool completely.
[/print_this]