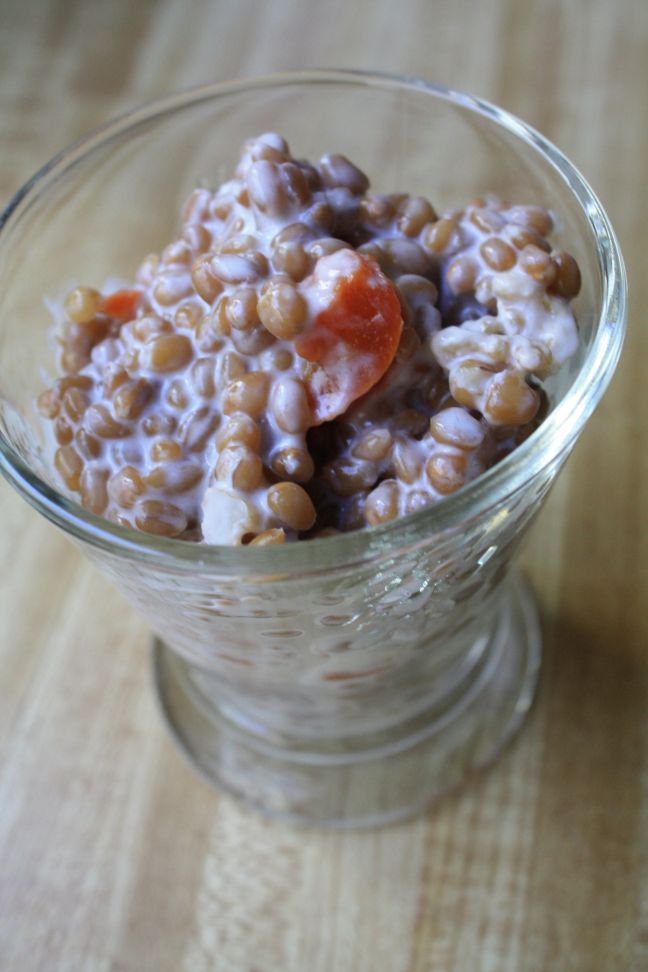 In the fall, I find myself waking up and craving something hot for breakfast. I wish I could say that means I wake up early enough to make steel cut oats every morning, but that would be far too organized for this night owl turned day worker.
You can imagine my delight the other morning when I cooked a ridiculous amount of wheat berries for a work project and found my new favorite oatmeal alternative. Ladies and gentlemen, introducing whole wheat berry porridge. There's nothing new about this. Porridge is a term that might conjure up Goldilocks and some bears, but in essence involves whole grains cooked in water or milk and eaten hot. My version involves silky vanilla yogurt matched with the mildly tart flavor of apricot and accented with walnuts. Served warm, this hits the spot.
My suggestion is to cook the batch size below and it will feed you all week long and then some. The recipe below involves two parts: cooking the wheat berries in advance and then the second part is the process involved for the daily portioning. You can chop up all the apricots and walnuts in advance and keep in glass containers, prepped and ready for the mornings coming up or try different toppings throughout the week.
Any way you cook it up, this is a breakfast for champions in those darkened winter months.
[print_this]
COOKED WHOLE WHEAT BERRIES
YIELD: Makes enough to create 9 Porridge Parfaits
TIME: 1 hour
From Eating Well
7 cups water
1 teaspoon kosher salt
1 cup vanilla yogurt
12 apricots
20 walnuts
Sift through wheat berries for any rocks and then rinse.
Place wheat berries in a heavy pot with the water and salt.
Bring to a boil. Once the water is boiling, reduce heat to simmer and cover.
Steam for an hour.
Then drain in a colander.
Measure out ½ cup warm wheat berries into small bowl. Place remaining cooked wheat berries in a sealed container.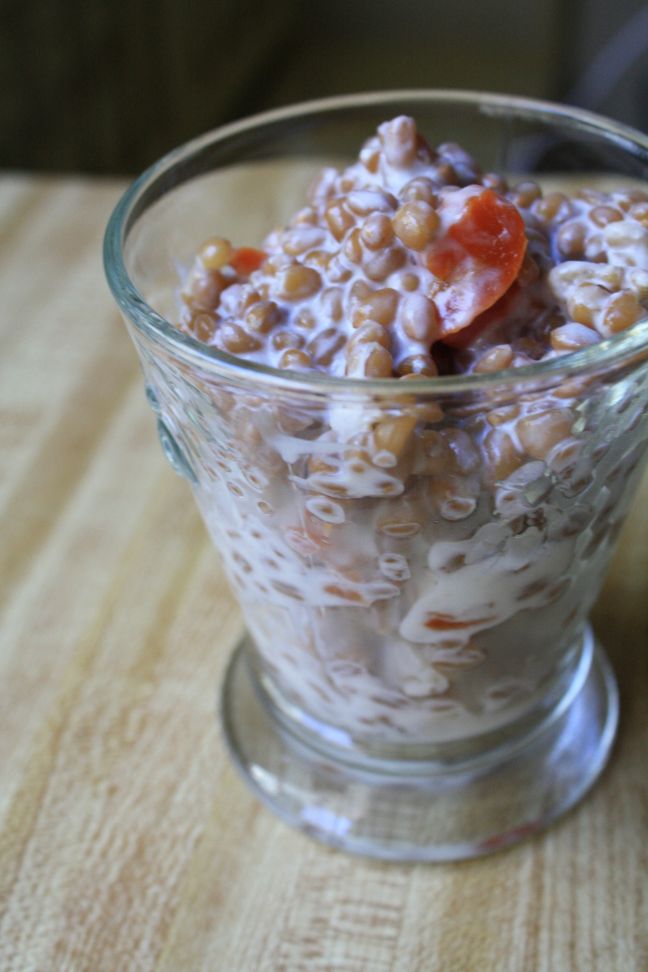 Winter Wheat Berry Porridge
NOTE: If you're not a fan of flavored yogurt and want more of a porridge experience swap in 1/2 cup milk and 1 tsp. raw honey for the vanilla yogurt below and warm the wheat berries in the honeyed milk. Scrumptious.
YIELD: 1 serving
TIME: 5 minutes (10 minutes for the morning disinclined)
3 dried apricots, chopped
5 walnuts, chopped
¼ cup vanilla yogurt
½ cup cooked whole wheat berries
1. Warm up your wheat berries in the microwave if you have one or in a colander with hot water running over them. I'm sure you could also reheat them on the stovetop- the key is to warm them up, however you like best. In our non-microwave house, I opt for the hot water in a colander method. Very scientific.
2. Add wheat berries into bowl and then pour yogurt on top. Mix in chopped apricots and walnuts.
3. Stir and serve.
NOTE: You can always blend the cooked wheat berries, apricots and walnuts in a to-go container to take to work with the yogurt on the side, for you to pour in and stir after you've heated it up at the office.
[/print_this]