It might seem like a given that a non-traditional person may not crave ritual.
I counter the presupposition happily. Each weekend, Saturday evenings to be precise, I pad into the kitchen, already clothed in pajamas to measure our black turtle beans and pour them into a big red bowl. They cascade into the bowl like dominoes clicking against one another when tipped over. The swish of water navigates between the beans until they are covered. I tackle this weekly soak as a ritual reserved right before bed.
This small act readies me for the coming week when the cooked beans will be our sustenance after a long Monday working and later in the week when we are looking for something healthy to eat that's fast. They provide a continuity that sets us on a steadier path of making good choices. When paired with rice, we join the throngs of people around the world for whom rice and beans constitute a major part of their regular repast. These powerful ingredients work well together in forming a complete protein. Some people also turn to  beans for their low cost. Beans have a way of connecting the poor and the rich- their humility belying their strong health benefits.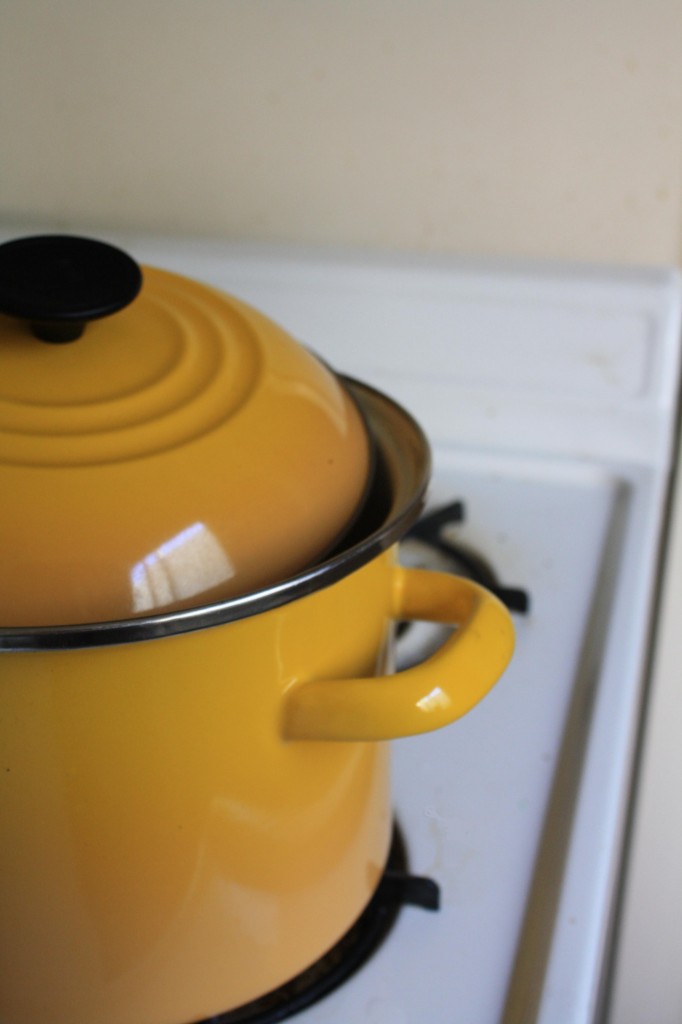 Every two weeks, I know that quart sized jar will be running low and I subsequently plan a visit to the bulk bins. There's something satisfying about watching an almost empty jar become full again. In its way, that emptying and refilling of the jar is reminiscent of life. In its way, it comprises the most basic ritual of all.
You may be vegetarian or vegan. Maybe you're gluten intolerant or a real food purist. Perhaps you're just looking to make healthier changes to your everyday choices. Can I suggest making beans a regular part of your routine? They are food of the soul of this non-traditional person who delights in the morning ritual of finding those hard black buttons hydrated and plumped overnight. They serve as signposts for what counts.

[print_this]
CREAMY BLACK BEANS WITH MELTED ONIONS
I use beef broth in this recipe. If you are vegetarian or vegan, feel free to substitute in vegetable broth. I've tried it that way and it's still tasty though you may need to add a touch of salt as needed. Some pots of beans are kind of soupy with a lot of liquid. I like to cook these low and slow so that the liquid gets reduced down into a creamy consistency and the onions take on a melted quality. The beef broth adds a bit of an umami flavor note and an ever so slight smokiness.
YIELD: 6 side servings
TIME: overnight plus 2 hours
2 cups dry black turtle beans
4 cups organic beef broth (I use Pacific Foods)
1 tablespoon olive oil
1 small onion, chopped
1 teaspoon cumin
4 sprigs of fresh cilantro
1. Allow your beans to soak overnight by covering the dried beans with water, making sure there is an extra inch of water above the beans, as you will find them plumped up the next morning.
2. Drain the soaking water the next day and discard it. Place beans in a heavy pot with beef broth, onion, cumin, olive oil and cilantro. Bring to a boil. Once boiling, turn down the heat and cover the pot partway with the lid, letting the ingredients simmer.
3. Low and slow is the name of the game here. Check and stir the beans occasionally. The beans will be done when they are soft and edible but not mushy with the liquid reduced to an almost gravy-like consistency, around an hour and a half to two hours.
4. Remove the cilantro sprigs and discard. Serve.
SERVING SUGGESTIONS:
These are my go-to beans as they are versatile, so I like to keep them pretty true to form as stated above. I've noted a few ways to consider serving them below. Make them your own and adapt away (and if you do, leave a comment – I'd love to hear how your creativity runs wild).
– Serve with polenta or steamed rice with sautéed greens for an easy meal.
– Add extra broth as you heat up leftover beans and make an easy black bean soup. Serve with a dollop of plain's goat milk yogurt and chopped raw red peppers.
– If you're feeling particularly frisky in the kitchen, use an immersion blender and puree until smooth for a healthier take on refried beans.
– Stir in a spoonful of Oaxacan mole for a bit of chocolatey complexity and with fresh corn tortillas.
[/print_this]