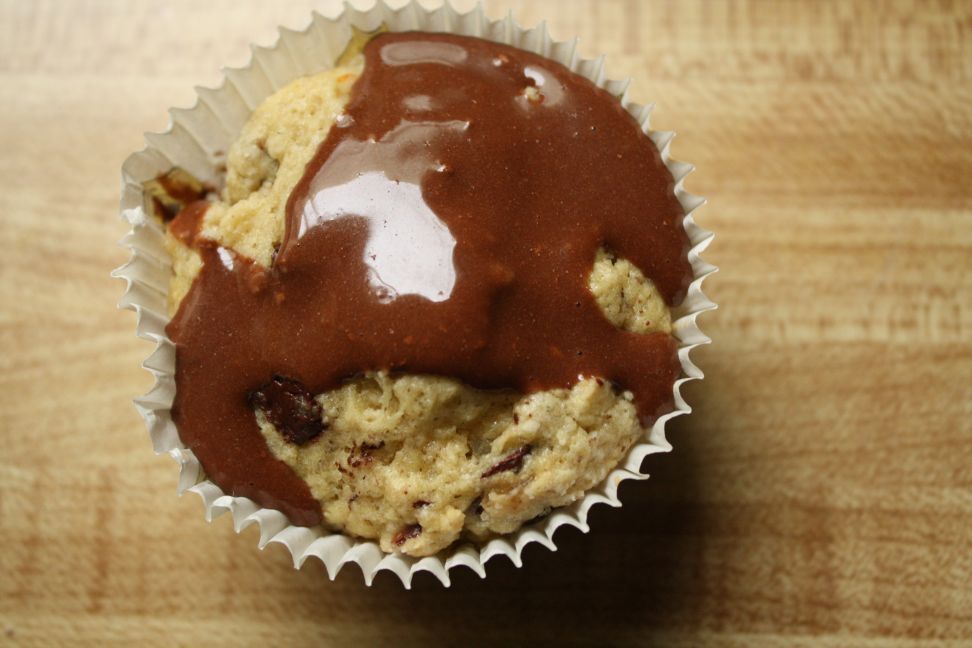 I love a challenge.
Well, let me preface that by saying maybe not the kind that makes a mathlete's head whir and spin or even the kind you might see on Survivor.  The other day on Twitter, Linda (aka SaltySeattle) initiated a baking party of Muffcakes, all to be posted on December 27th. While she may not have been the instigator, she piqued my curiosity. I visited Urban Dictionary and found something that reminded me of the jackalope's elusive thrall in the form of a hybrid baked good.
Muffcake– Not quite a muffin. Not quite a cupcake.
Jackie (aka Jaxies), Mariko (aka TheLittleFoodie), and Angi (aka Riceandwheat) all signed up ala tweet for the challenge. Who was I to not join in?
See this particular Sunday afternoon I had been invited to a holiday party. But this was not just any holiday party. No, this was a bad Christmas sweater party and twist dance-off. Do you see where I'm going with this? Friends shaking their groove things while children jumped from sugar highs. Yes, this was a perfect crowd to introduce to the muffcake.
In fact, Kristen snickered when I told her my contribution to the potluck. Katie commented shortly after I arrived, "Oh, I heard you were bringing them." You can't help but smile at the inanity of a word such as muffcake.
And we all know the truth: muffins really could be called cake.
Maybe not in the world of the pastry chef with specific definitions, but let's face it, muffins probably have more sugar and butter than one really needs on any given morning. Then again this is spoken from someone who delights in a bowl of oatmeal for brekkie.
In church this morning, I considered flavor combinations, rolling them around on my tongue and in my mind. Nothing was quite sticking.
I kept coming back to ginger.
Truth be told, I am a bit of a ginger fiend, so no surprise there. And next came chocolate.
Yes, this was tasting good. I decided to infuse a bit of citrus into my muffcake as it felt both seasonal and getting closer to my beloved orangettes.
Years ago, Olga brought me a hot pink and black box gilded with the word Fauchon on the lid. Tucked inside like sleepy stow-aways were slivers of candied orange peel dipped in dark chocolate: the orangette. This flavor combination might possibly be one of my quintessential impressions of Paris. Last year in my two day stint walking the city streets, I made a point to include la Madeleine and a boutique called Fauchon…
Let's just say they left an indelible mark.
Then it occurred to me to take inspiration from the Orangette herself, Molly as her recipe for Banana Chocolate Chip bread with crystallized ginger baked hearty loaves in my oven just last month. Oh yes, these were going to be muffcakes all-dolled up.
Back to the party.
I toted my muffcakes & my Bittersweet chocolate cake with candied cranberries (for my rather pregnant GF friend Michelle) to the party.
Upon arriving, the revelry had already commenced  and like a good party, every room held a point of intrigue. Travis lounged around in his Christmas onesie which actually suited him more than the Santa outfit he changed into later, his get-up scaring little Soleil and making her cry her way back into her mama's arms. Soleil had decided after that, she was ready to go home and began blowing air kisses at anyone walking by the couch. But later on she got a chance to twist and that set her aright.
After awhile of mingling through rooms and meandering in and out of conversations, Kristen and Katie started the twist-off. We shook our hips down into our knees, grinding our toes into the ground. Fats Domino mandated it, crooning, "Come on Baby, let's do the twist."
Group one stepped aside as groups two and three followed. Lucy, the cat, sometimes poked her head and body out from the kitchen before skedaddling out the back door into the darkened backyard. The final round of the groups' winners found Sarah the proud recipient of the twist-off plaque.
Katie doesn't mess around when she's throwing a shindig. The group thinned out as parents ushered their kids toward bedtime and we finally got a glimpse albeit a brief one of a friend Steve who moved back East.
And the muffcake? Well, let's just say it was spotted in a few different pockets of the room tonight making mischief and spreading cheer.
[print_this]
Gingered Chocolate Orange Muffcakes
adapted from Orangette
6 tablespoons unsalted butter (3 ounces), melted
2 cups A-P flour
3/4 cup sugar
3/4 teaspoon baking soda
1/2 teaspoon salt
1 ginger dark chocolate bar
1/3 cup finely chopped crystallized ginger
1 teaspoon ground ginger
1/2 teaspoon cinnamon
1/2 teaspoon cardamom
2 large eggs
1/4 cup whole-milk plain yogurt
1 teaspoon vanilla extract
1 teaspoon orange zest
ICING
1 1/2 cups confectioners sugar
1 tablespoon light corn syrup
2 tablespoons freshly squeezed orange juice
1/4 cup unsweetened Dutch-process cocoa powder
MUFFCAKES:
Preheat oven to 350. Whisk together the flour, sugar, baking soda, salt, cinnamon, ground ginger and cardamom. Add the chocolate, crystallized ginger and whisk well to combine. Set aside.
In a medium sized bowl, lightly beat eggs. Then add the yogurt, melted butter, vanilla and orange zest and stir to mix well.
Pour the wet ingredients into the dry ingredients and stir gently, scraping down the sides as needed until just combined. Do not overmix.
Fill cupcake holders 3/4 full with batter. Bake for 20 minutes and then set to cool.
ICING
Stir together confectioners sugar, corn syrup, cocoa and orange juice in a small bowl until smooth. The consistency will be thin and will glaze your muffcakes nicely.
[/print_this]