And, suddenly, autumn arrives. Yesterday was the first day of fall and it snuck past me without any sort of fanfare. Actually, each meal yesterday included tomatoes and I've been hoarding what Early Girl and heirlooms I can find with the rapt attention of a dragon guarding its gold. In school and on into the working years, if I needed to get into a particular state of mind quickly, the best way to do that included dressing the part or what you could call dressing for success, and what some of you might call faking it til you make it. I may still be holding onto light lingering into early evening and perhaps also certain summer states of mind (reading early, often). But, then again, I've also cranked up the oven to roast winter squash a handful of times. And, this soup is one such way to fake it till you feel fall-ish. It's too soon for pumpkin, but bring out the bushels of apples aplenty.
What is it about honeycrisp apples that make them a contender for the ultimate apple? Their sweet and tart flesh that snaps when you take a juicy bite. You can find a host of other apples at farmer's markets but this particular varietal seems to be the apple of everyone's eye. Their flavor adds a bright slightly acidic note that balances the sweetness of the squash. Homemade soup to usher in autumn.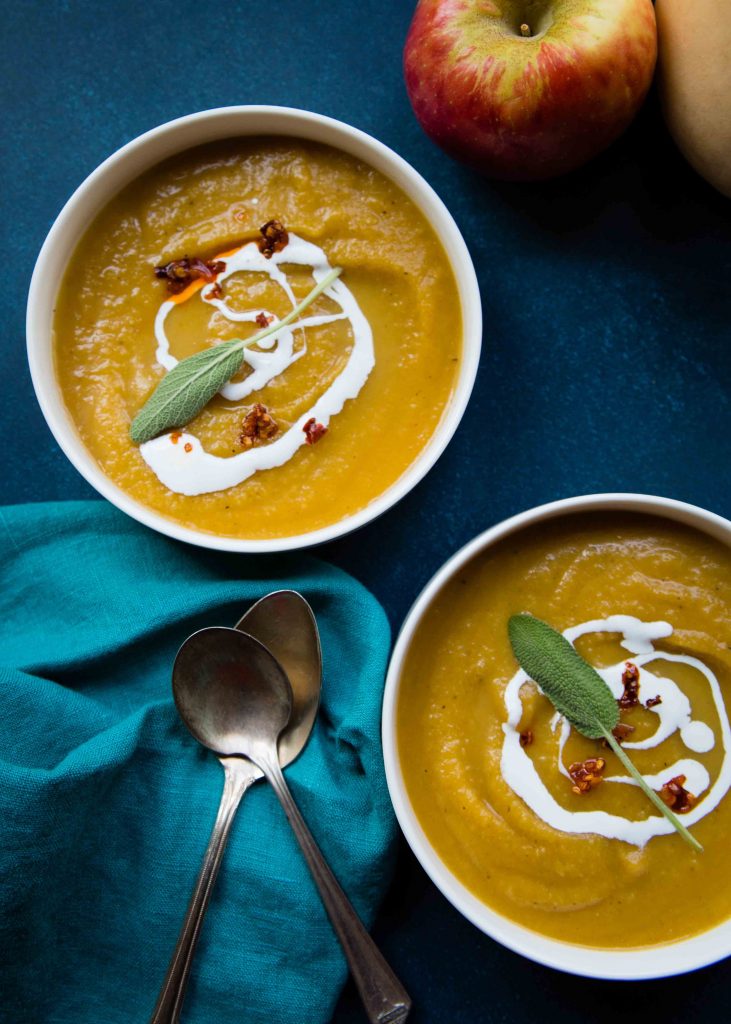 Honeycrisp Apple Butternut Squash Soup
Ingredients
4 cups

( 1-inch)

chopped butternut squash, peeled

2 teaspoons

plus 1 tablespoon

olive oil

½ teaspoon

plus ½ teaspoon

kosher salt

1/2

teaspoon

Aleppo pepper

1

tablespoon

fresh sage leaves, chopped (about 4)

2

cups

white onion, chopped (about 1 medium)

1/2

cup

celery stalks, chopped (about 2)

4

cups

low-sodium chicken stock

Creme fraiche, optional

Extra olive oil, optional

Extra sage leaves, optional

1 1/2

medium

honeycrisp apples, peeled and chopped
Instructions
Preheat the oven to 400 degrees F. Line a baking sheet with foil.

Toss the butternut squash with the 2 teaspoons olive oil, ½ teaspoon salt, and sage and a dusting of Aleppo pepper. Roast the squash for 25 minutes or until fork tender.

Drizzle and swirl the remaining olive oil in a heavy stockpot set over medium heat. Saute the onion, celery, and salt for 8 to 10 minutes or until translucent. Add the squash to the pot, tossing together. Pour in the chicken stock. Cover and simmer for 10 minutes or until the butternut squash is fork tender.

Pour a portion of the soup into the blender with apple slices, removing the cap, and covering the top with a towel. Puree the soup in batches.


Garnish with a swirl of creme fraiche and perhaps a few fried sage leaves, if desired. (To fry them, line a plate with a paper towel. Heat a slick of olive oil in a skillet over medium low heat. Once shimmering, add the extra sage leaves, lightly frying them until they take on a little bit of color. Drain them on the paper towel before placing them atop of the soup as a garnish.