Before heading out to Minneapolis, I lamented to my foodie-loving friend Gin that I was unfamiliar with it and had ill-conceived thoughts of its culinary offerings. A few days later she sent along a few rec's and I also hit the show, talking to neighboring vendors about where to find the yum in town. This is a quick down and dirty:
SPOON RIVER
Sidled up along the Mississippi River, adjacent to the Guthrie is a phenom of a place called Spoon River. Started by Brenda Langton of Cafe Brenda renown (to be visited next time), the restaurant features a small, savvy menu specializing in local, organic cuisine and infectiously innovative cocktails. L and I decided to meander down to SR our first night and were not disappointed.
I began the evening with their "Tequila Mockingbird" partly because of its great name and partly because it blended house-infused pineapple tequila with passion fruit and housemade grenadine with a garnish of drunken cranberries. Yum. We shared the savory wild mushroom, pistachio terrine served with fruit chutney, mustard sauce, croutons and cornichons. This tasted like that perfectly built bite of cranberry and stuffing of Thanksgiving fame. I followed this up with the Minnesota Lamb and Vegetable Stew with Moroccan flavors. When they say "Moroccan" read translucent slivers of preserved lemon resting gingerly on this amazingly tender shank of lamb that fell apart in my mouth. The stew came studded with currants, giving a mildly sweet bite of texture against the divinely whipped mashed potatoes. Less stew, more lovable lamb and sauce. Great taste and textures all around.
I had to try a whisper of a bite of dessert and so ended up selecting the mint chocolate chip gelato served atop a warm chocolate coconut brownie with bon bons. The bon bons intrigued me because when I think or hear bon bons, it calls to mind large chocolate covered confections filled with ice cream or cream. But no. These bon bons had the pleasant crunch of tiny peppermint disks. When paired with the smoothness of the gelato and the chewiness of the brownie, my mouth was at full attention with all of the fabulous texture enticing the tastebuds. All in all, a good meal.
And one I hoped to continue a few nights later when plans fell through. This time, I barely squeezed in past closing. Grateful, I nibbled on the local free range smoked chicken quesadilla with Greek kaseri cheese, mango and cranberry coulis. I washed down dinner with a signature summer cocktail of lemonade, ginger-infused vodka and garnish of basil. Dessert came in the form of their Frangelico chocolate mousse with chocolate cigars and strawberries.
While eating at the bar, the mixologist, a former employee and I chatted about interesting flavors emerging in SF. While the second evening did not outshine the first flavor-wise, I enjoyed the company and culinary connection with my new acquaintances. I would gladly go back again, hopefully in the fall so I could try their "Fall Monk" cocktail (butternut squash martini, benedictine, frangelico, maple syrup and toasted walnut rim). Their drinks dazzle!
HELL'S KITCHEN
Lest you think I visited Gordon Ramsay, when you walk into this dive the morning smells of breakfast fill your nostrils. The setting is outfitted with a ghoulish logo of screaming raven and equally screaming font, the tables are decked in what could be leftover witches skirts from halloween. Quirky, yes. Delicious, absolutely. I met up with J over brunch and we decided to try several items of curiosity on the menu.
Let's start with sausage bread. You can actually purchase a loaf of this specialty or even the baking mix to take home (as you can with several of the accoutrements made on-site). While sausage bread may sound disgusting, the bison sausage hidden in the bread gave it only a slight gaminess to the mapled, moist texture. We had a ball dipping into their housemade peanut butter (hand roasted in small batches on-site), slathering that on our bread. The Mahnomin porridge sounded too good to pass up with its native-harvested wild rice, roasted hazelnuts, dried blueberries, sweetened cranberries, cream and maple syrup. This tasted like an amazing variation on rice pudding- hardly breakfast material- but so delicious I need to perfect this one in a lo-cal version at home! So these two items were our favorites.
Additionally, we had to try the Lemon Ricotta Hotcakes, which were light and fluffy, but did not capture our attention or forks quite in the same way as the porridge, sausage bread and peanut butter (did I mention I bought some PB to bring home…) Lastly, we tried the Huevos Rancheros and found them to be overly complicated from the simple fare my Mom would prepare as a child. The brunch was worth all of the calories and definitely would require a repeat visit.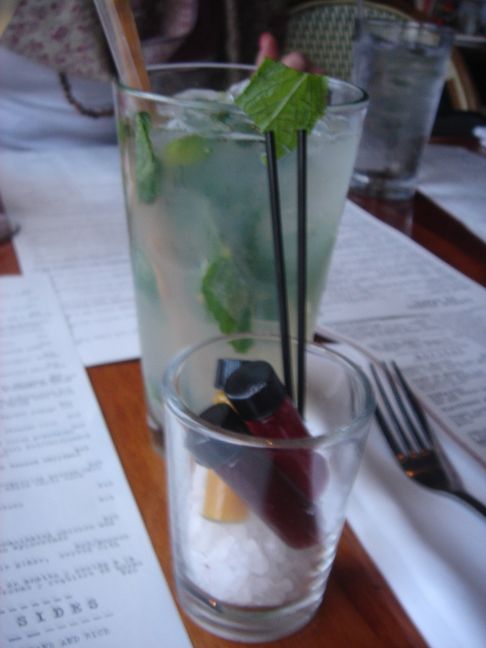 CHINO LATINO
We had heard that the party starts and ends at Chino Latino. Apparently even when Lindsay Lohan was in town, this was her place du vacance. The concept is so wonderfully simple and so provocatively over the top. The menu consists of street food from equator countries in Latin America bound with Asian cuisine on a multi-ethnic menu. For Cinco de Mayo, L wanted a margarita and guacamole. She got that and wow, how we tucked in that night as if we had not eaten the entire time we were in Minneapolis.
C, L and I selected several items to share, so I will mention the notables here. First, I ordered the "Crack Ho Mojito" (read vials of passion fruit, blackberry and raspberry puree over rock salt, accompanying the drink for me to mix together). I laughed and laughed at my drink and its simple but funny presentation. The Baja Beach Shack Fish Taco Platter featured flash-fried herb-dusted cod fillets with crunchy jicama slaw, guacamole, queso fresco, screamin Gringo hot sauce and fresh corn tortillas. This was hands down one of our favorites. The fish was crisp without being greasy and the crunch from the slaw paired well with the warm silkiness of the tortilla. Kids, there is nothing better than a fresh, warm corn tortilla. I could write an ode to them, but that's beside the point right now.
Our other contender for best entree was the Banana Boat Chicken. The flavors of this dish reminded me of an East African dish I've had at Baobab in the Mission. They coated the chicken in plantain crumbs and serve it with a lemony coconut sauce over onions, capsicum and jasmine rice. The chicken was incredible. The crust never became soggy and the banana paired so well with the sauce. You know that even a family sized portion of this by the end of the meal had been well consumed. For dessert, we were drawn into the idea of the Chocolate Flandango (think dulce de leche drizzled over flan on chocolate cake. This dessert is a great idea albeit my version will be smaller and not as dense.
NYE'S BAR
After dinner one evening, I was convinced to go out and see "the best bar in America". The thing to pique my curiosity- karaoke. When we walked in, I felt like I might have stepped back into the 70's. A woman in her 70's sat behind a ledge, playing piano tracks accompanying singers of all ages. She smiled this wide cheerful grin as her hands flew over the keys to John Denver, Neil Diamond and Ella Fitzgerald torch songs. I steadied myself along the bar and sang "Moon River" along with the rest of the karaoke singers ambling up to the ledge. Later I sang "My Funny Valentine" and dedicated to the couple next to us celebrating their 23rd wedding anniversary. This is the place to be for bachelorette parties, a good night out, anniversary celebrations, sweet 21's, clearly any excuse to come to Nye's is a good one.
So Minneapolis, where were we? And when do I get to go back?