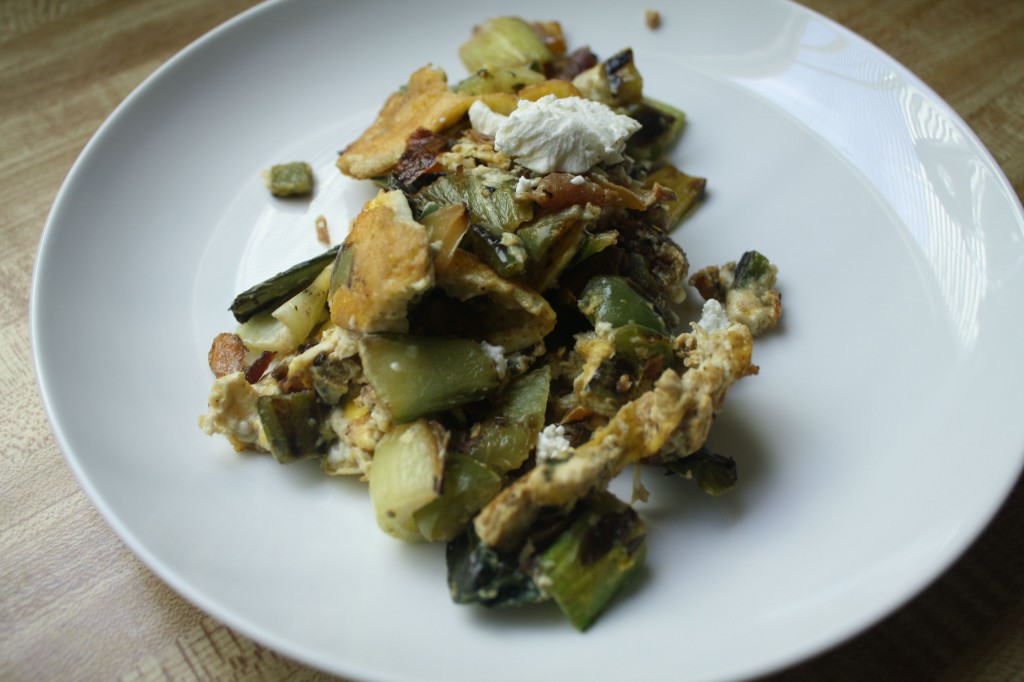 Breakfast is important in these here parts. Did you know it's the most important meal of the day? One of the best things you can do for your husband, wife, girlfriend, boyfriend, boss, deskmate, and most definitely for yourself is not skip this meal of champions. You "break" the "fast" of eight hours sleep with a kickstart of food fuel to get your body and mind primed for the day.
Julia Child still has a thing or two to teach me about making the perfect omelette and perfecting the flip, so until that time, I am crazy about scrambles. Notably, I'm cuckoo about scrambles at posh and oh-so-delicious brunch locale extraordinaire Ella's. They put the most creative combinations together of seasonal ingredients with flair. One of the ways they dress up a plate of eggs is with flavored creams (lime creme with salmon scramble anyone?) Yum.
I played a riff off of what Ella's might make in looking through our cleaned up fridge. This includes new favorites virgin coconut oil and goat's milk yogurt. We are switching to coconut oil in these parts because it can withstand high heat well, is packed with nutrients and good fat and it also kind of gives everything a bit of island flair. Goat's milk yogurt and cheeses are new additions replacing our cow's milk products as easier to digest alternatives. They've gotten me thinking I want goats in the future to join the chickens in the imaginary sprawl of lawn one day. If I had a goat, she'd be named Bessie and he'd be named Hal. But that is neither here nor there, and somewhere it's time for breakfast…
[print_this]
Bok Choy Bell Pepper Scramble
YIELD: Serves 3
1. In a large sauce pan, heat the coconut oil over medium high heat. Add the peppers and bok choy to saute for about five minutes or until slightly charred on edges.
2. Then add in the caramelized onions, za'atar and sea salt. Stir and let meld for about a minute. With a fork, whisk the eggs.
3. Pour eggs over the sauteed veggies and let sit for 2 minutes, taking care to tip the pan as needed to spread the fluid egg out to the outer corners. Begin to chop and scramble the eggs and sauteed veggies and then let it cook until the eggs are cooked to your preference.
4. Sprinkle 1 teaspoon of Purple Haze Chevre on each portion of the scramble. Serve with sliced avocados and a dollop of goat's milk yogurt, which gives it a lovely tang.
[/print_this]