It's a weekend night. It has been a doozy of a week and I crash through the door with the intention of dinner in an hour. The catch is there is not a bone in my body really rendering its services for the task. Do we head out in what is the second storm to move through San Francisco in a week in search of hot food and a quick turn-around? Do we hail the almighty delivery person with their promise of pizza in under an hour that might leave us feeling not so great? I would like to say we never respond with either of the preceding responses, but let's just admit that's not the case. On this particular night, I got a hankering and as I am wont to do went in search of a way to scratch the itch. Pesto in the winter- it sounds now like a movie Nathan introduced "The Lion in Winter." In this case, the lion was our stomachs and the winter was the rain lashing gashes into our windows. I scrounged. I coddled. I conquered.
Ah, pantry and refrigerator, how you spoil me with your conquests!
The key to making easy last minute ridiculously good food that gets you a smile, hug and a kiss is a properly stocked fridge and pantry. They are your allies when the going gets tough. If you're interested, I can go through a pretty rudimentary list of our must-have's, just leave me a comment and I will be sure to plan on covering the fun topic of the LBD in our fridge and pantry.
Tonight's secret weapon: quinoa linguine. To go out of the ordinary from regular semolina linguine, you'll find this gluten free pasta a winner with its combination of organic corn flour and organic quinoa flour. It's a bit of a departure, but looks familiar.
Now for the Pesto in Winter (see how that rolls right off the tongue)? Pesto is comprised of several key ingredients: basil leaves, garlic, pignola, freshly grated parmesan, and olive oil. In the spirit of my kitchen, we work with what we have which this evening did not include the pine nuts, basil and I decided to forego the olive oil in place of grape seed oil. Instead, I began salivating over the idea of mint and pistachios, which are already salad mates, as picking up the ingredient slack. Then there was the addition of kefir. Let me just tell you, you might be seeing a lot of kefir in coming weeks so we will plan a more formal introduction later. The resulting creamy sauce clung to the al dente noodles. With freshly grated parmesan dusting the top of the dish, I found this too good to keep to myself.
Consider it my St. Paddy's Day gift to you: a dinner that takes less than 30 minutes on a night where you need a bit of a boost.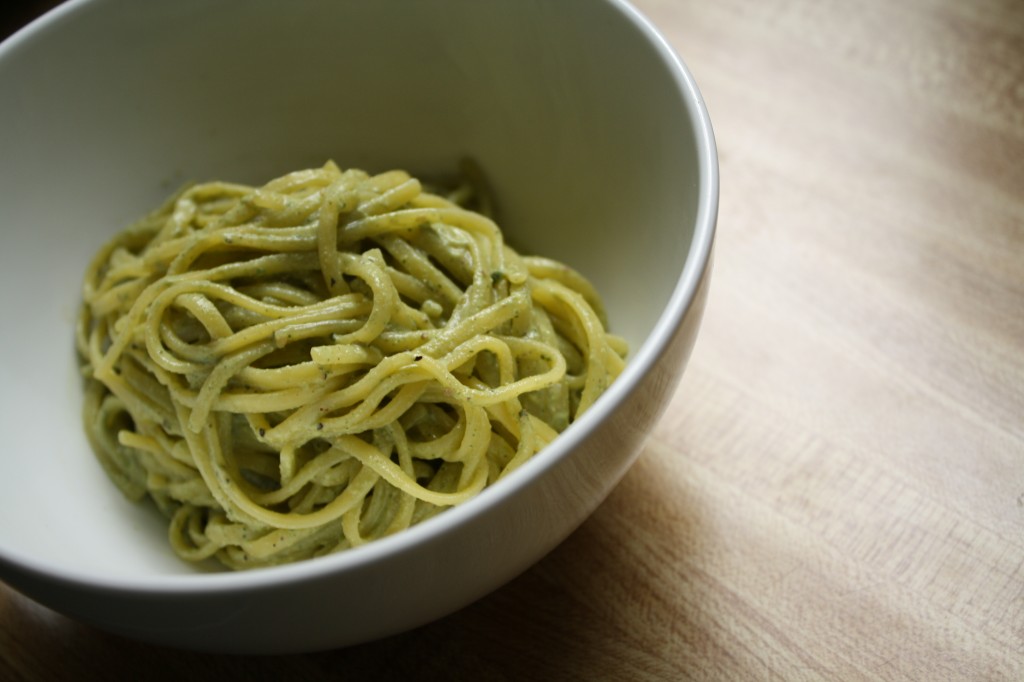 [print_this]
CREAMY MINT PESTO QUINOA NOODLES 
YIELD: 4 servings
1/2 cup plain organic kefir
1 cup mint leaves
1/4  cup unsalted pistachio meat
2 tablespoons grapeseed oil
1 garlic clove
1/4 cup grated Parmesan Reggiano cheese plus more as desired for garnish
1/4 teaspoon freshly ground black pepper
kosher salt, to taste
1.  Remove mint leaves from stalk and rinse.
2. Add mint leaves, pistachios, oil, salt, pepper, Parmesan Reggiano, garlic and 1/4 cup kefir. Puree until smooth. Taste and add the other 1/4 cup kefir plus a bit more salt if you want. Puree until smooth. Set aside.
3. Bring 4 quarts of water to a rolling boil in a large pot. Then add the quinoa linguine noodles, broken in half and added by dropping them into the pot. Cook for 6-9 minutes uncovered and make sure to stir frequently, as you do not want them to clump. I tend to stir with tongs to make sure the noodles are circulated enough. You want them cooked al dente, so around the 8-9 minute mark, you should be good to go.
4. Drain pasta and reserve 1-2 tablespoons of pasta water. Set aside.
5. You will combine the noodles and pesto in three batches, to ensure coverage. Start by adding 1/3 of the hot noodles to a large pan with 1/3 of the Mint Pesto sauce. Add in 1 tablespoon of pasta water and drag them around in the pesto until covered. Add in the next round of noodles and pesto and drag to combine. Do it one last time and add in the other tablespoon of pasta water if it feels too thick.
6. Serve with freshly grated parmesan Reggiano on top to taste.
SERVING SUGGESTION: This would actually go very well with a side salad, and perhaps a nice piece of poached salmon.
[/print_this]