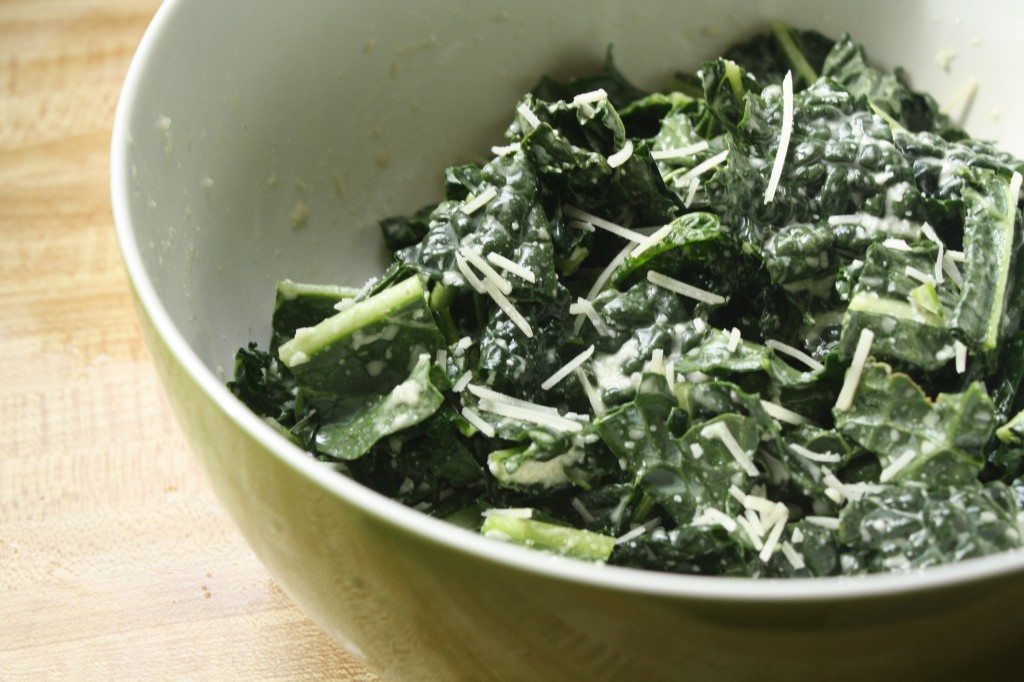 Watching the TV show Modern Family this week, I chuckled as one of the characters told his husband, "You'll never guess what the new Spinach is." To this, the husband chirped "Radicchio" and was trounced with the response, "No, kale!" They proceeded later in the episode of introducing this leafy green vegetable with the initial character not quite convinced that kale is anything more than a garnish.
Like many people come January, I made some healthier living resolutions. I actually like making them at the first of the year or at the beginning of a week, feeling there to be a bit of tabula rasa fairy dust in the air. It's a quirk, yes. Somehow the idea of setting goals forces us to bring to the forefront things we've been casually considering but singing to the chipper tune of "another day, another time." So as I ushered in 2011, one of my goals seemed terribly do-able. The key was to imbue it with flavor.
Eat more vegetables.
When I was a kid, I quickly befriended Cari B. at my Montessori. Like kids do, we became instantly inseparable and took on each other's habits like borrowing sweaters out of each other's closets. Cari lived in the East side of the city so it was a bit of a trek to head to her house and a treat. Upon arriving, her coal black Scottish terrier Dukes would catapult down the stairs, licking the salt from my skin, endowing me with his sloppy kisses and hearty barks. We jumped on her trampoline. We spent hours swimming in her dad's pool. We scavenged the neighborhood for unseen adventures waiting behind the nearby forest.
One day, and for some reason, this one stands out, we congregated in her kitchen for a meal like any other time I visited. This time, though, she pulled out the iceberg lettuce, cutting into it and eating it straight. Without salad dressing, without flair or flourish, she munched on those lettuce leaves with sincere delight. I came home and asked my mom to pick up iceberg lettuce and proceeded on my merry way of being a lettuce eater who detested salad dressings, but preferred my greens straight up.
Cari happened to be the first vegetarian in my life and her mother was ahead of her time introducing tofu at the dinner table and banning white sugar from the house. That knack of raising her kids without sugar in the house was effectively rejected at the movie theaters once her dad dropped us off with its colorful boxes of candy-shell coated chocolates. With her, I tagged along to my first Whole Foods store, which back then in Texas carried a different sensibility than hopping over to a neighborhood Whole Foods now. Her mom, Tina taught me how to enjoy vegetables not as the supporting actor, but as the main star. Unlike other kids at that age, I liked most vegetables and the habit stuck around long after Cari and I had gone our separate ways to different schools.
A disturbing trend I'd found happening in my life the past year or so was the marked absence of vegetables. I attempted to introduce them but had somehow convinced myself that they were too much trouble to prepare. On top of that, several gourmet salad cafes near the office dissuaded me from salad as their exotic, gourmet ingredients were met with paltry dressings.
But this was the year to right this blight. And in came kale. We had cooked several batches in weeks previous but I found myself chewing quickly as if it was something to get through and not something to be enjoyed. One night a few weeks back, I came home tired and hungry. Nathan had had a late lunch so I knew he'd probably refrain from dinner. I opened the refrigerator, surveying its contents. My eyes landed on the kale and I began salivating. The previous times, there was nothing wrong with the kale. Once we'd sautéed it with onions and garlic and a bit of applewood smoked bacon. Another time, we'd baked it. But something wasn't right. This particular evening I figured out my misstep.
With vegetables it's important to figure out how you enjoy them best. This goes for the non-veggie loving eaters out there. Just like people ordering steak at a steakhouse denote what consistency they like their meat, you might find that those mushy peas you hated in childhood are completely different when cooked al dente. The trick is texture and consistency.
So here was my gem of a realization: I like kale best when it's raw.
Like this, it has an opportunity to show off its deep green flavors that are so complex and taste rather washed out when cooked. I craved a Kale Caesar Salad and had seen one on Silvana's blog recently. Upon typing those terms into a search engine, I had the happy fortune of pulling up the recipe below from the Boston Globe. I adapted it, as I am prone to do, out of necessity. I wanted to keep the salad vegetarian and decided against croutons as I wanted the crunchiness to come from the kale itself and thus left the stem intact.
You'll find letting the leaves marinate in the dressing for about 5-10 minutes really does the trick and those stems are thoroughly chewable and not bitter. You'll find the flavors of the dressing augment the flavor of the kale without diminishing or hiding it. The brightness of the lemon and vinegar, the tang and slight creaminess of the parmesan and then of course the piquant notes of garlic blend together for a combination that's mighty tasty. I didn't miss the anchovies or the egg but understand for Caesar salad purists, these might be non-negotiables to which I say make your own variation of the dressing and have fun tweaking it to your tastes.
My dear Nathan saw the salad bowl and tried a bite. This led to him getting up and grabbing a bowl from the pantry, helping himself to two large scoops of salad that went from bowl into belly.
So out of that desire to continue making vegetables a welcome guest at the table and out of appreciation for Cari and her mother so long ago teaching me that vegetables could be something special, I share with you my own find: the Kale Caesar Salad.
[print_this]
Kale Caesar Salad
Adapted from Jill Santopietro's recipe for the Boston Globe
2 cloves garlic, smashed
2 tablespoons lemon juice
1 tablespoon white wine vinegar
3/4 cup olive oil
1 teaspoon black pepper
1/3 cup grated Parmesan
salt, to taste
1 pound (about 2 bunches) laminate kale, rinsed and sliced into 1/4 inch ribbons
With an immersion blender, blend the garlic and add the lemon juice and vinegar. As your immersion blender continues whirring, add 1/2 cup of the oil in a thin steady stream. Add pepper and Parmesan.
Five to 10 minutes before serving, in a salad bowl, combine the kale and enough dressing to coat it.
[/print_this]