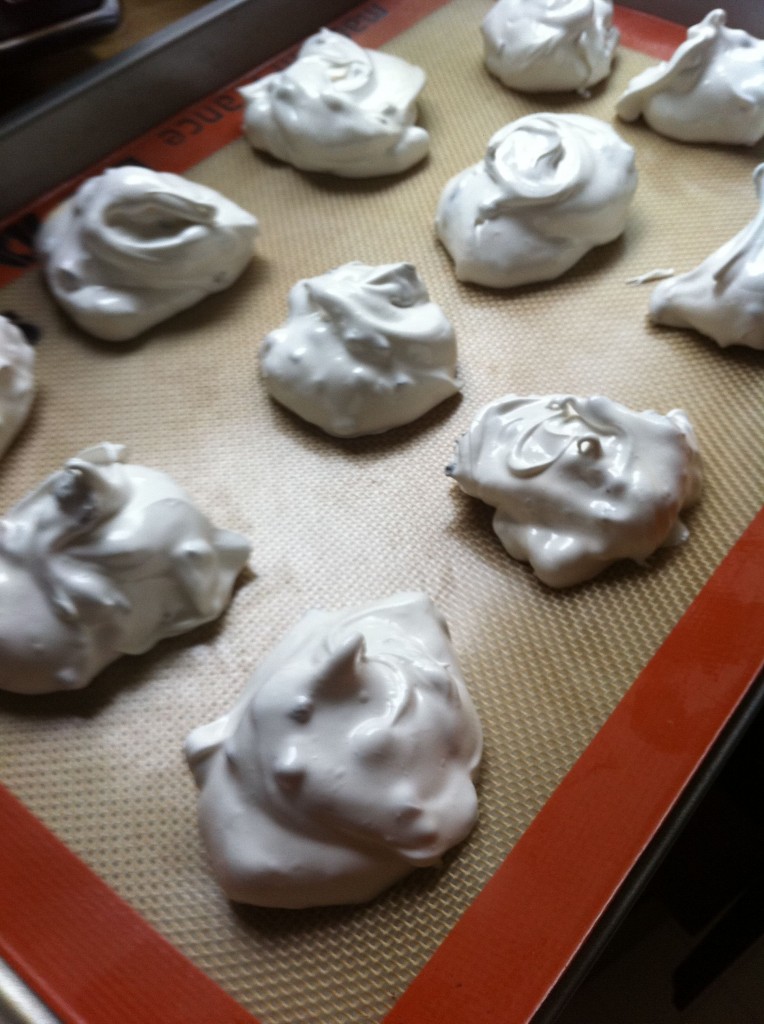 Looking for reasons to bake in December is not difficult. Do you find yourself any other time of year looking for reasons to break out the eggs, sugar, butter and flour with the gusto that the holidays inspires? I didn't think so.
We hosted our second annual Cookie Swap this past weekend with local food blogger friends. Among those RSVP'd, I knew of two food allergies to keep in mind. Two friends I knew for certain are gluten free. One is in the process of eliminating ingredients and is avoiding eggs. I made Buddhettes for my egg-free friend and baked up a batch of these gluten free Peppermint Chocolate Rochers.
Yes, neither of these would "technically" constitute as cookies, but I tend to be a spirit of the law kind of gal. And Anita brought some cupcakes so clearly this could be construed a Baked Good Swap? Her alphabet Linzer cookies became our party entertainment. Mike, Anita's husband suggested a rule early on that you could only eat a cookie if you could spell something with the other cookies.
What started as "happy holidays" became everything from "play shop" and "Als Pho" later to be followed by "Laos."
Faith brought vegan Peppermint Candy Crisps. Susie baked up Drunken Almond Macaroons. Charissa and Patrick arrived with Coconut Peanut Butter Chocolate Gluten Free cookies.
Steph brought Blackberry Rosemary Shortbread Bars. Sabrina made a batch of Lemon Rosemary Cookies with Black Pepper.
Irvin brought two batches of cookies: chocolate raspberry striped cookies and cinnamon bun swirl cookies.
It was a rollicking good time. Somehow baking up a baker's dozen always allows everyone to try the different cookies and leave plenty for the hostess. I've got a plan for those extra cookies and cupcakes and it involves another favored reason for the holidays- gifts that keep on giving.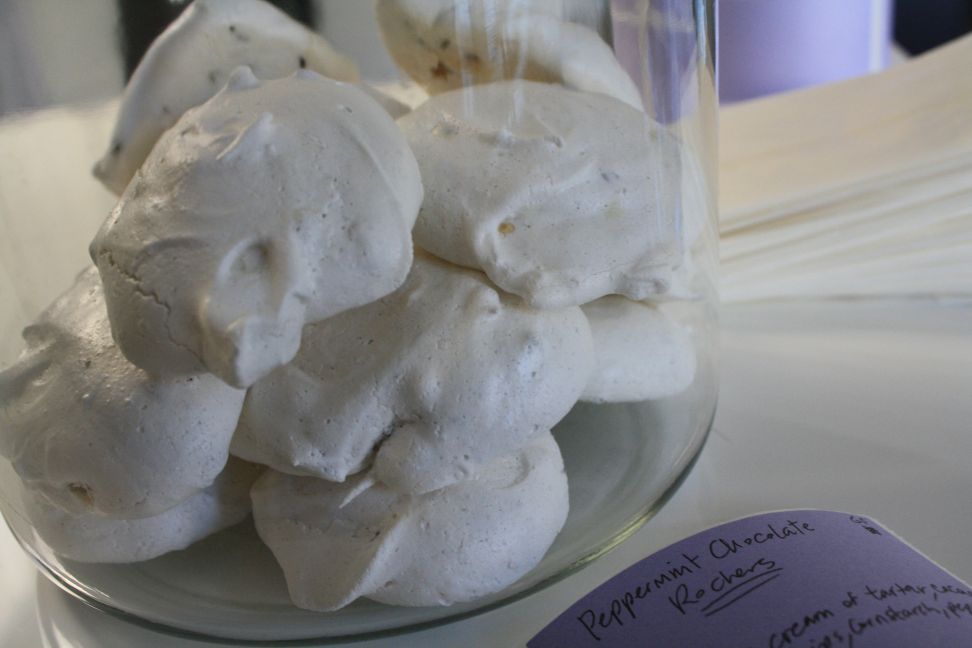 [print_this]
PEPPERMINT CHOCOLATE ROCHERS
I've been a fan of the blog Orangette since 2006 when I originally started la vie en route. I can safely say this is my favorite recipe of hers. She nails dead on the rochers from local bakery Tartine. They make a version with toasted almonds and another one with cacao nibs.  I baked a batch of Rochers for Thanksgiving after finding myself the proud recipient of extra egg whites left over from making a Maple Custard Pie. I played around with the recipe for a Christmas-infused adaptation and it resulted in something special. The chocolate chips melt in your mouth and the peppermint is subtle- think of this as a sophisticated York peppermint pattie.
Adapted from this Cocoa Nib Pavlova recipe from Orangette
4 egg whites, at room temperature
¼ teaspoon cream of tartar
Pinch of salt
1 cup granulated sugar
1 Tbsp. cornstarch
1/4 cup cacao nibs
1/4 cup mini chocolate chips
1 teaspoon peppermint extract
Set oven to 275. Prep two pans with parchment paper or silpat.
Place egg whites, cream of tartar and salt in a heavy duty mixer and mix on low for a few minutes and then increase to medium speed until soft peaks begin to form.
In a small bowl, mix together the sugar and cornstarch.
Set the mixer on medium high and slowly pour in the sugar mixture. Continue mixing for about 5 minutes. Toward the end, add the peppermint oil. The mixture should be very thick.
Mix in the chocolate chips and cacao nibs. Drop spoonfuls of the mixture onto each pan with several inches in between. I like to swirl the spoon on the top to give it a swirled look. Once all the mixture has been doled out onto the pans, place them into the oven on the top rack and lower rack.
Drop the temperature down to 250. Bake for 30 minutes, switching racks halfway through baking period. Once done, the rochers will be firm to the touch. Let cool on a rack.
NOTE: If you notice your rochers are still gummy underneath when you lift them up with your spatula, place them back in the oven for 5 to 10 minutes and that should do the trick.
Makes about a dozen large rochers, best enjoyed up to a few days after baking. Store in a sealed container.
[/print_this]