I must admit my appreciation for arugula quadrupled once I heard that the Brits call it rocket. Who doesn't want to eat a rocket salad? Okay, silliness aside, we have a newfound affection for the great sum of the parts making up this salad.
Roasting beets brings out their natural sweetness and it is my preferred way to enjoy them. This combination of roasted fennel with the beets is something truly special especially when you add in the bright burst of tartness in the pomegranate arils and the slight piquant quality of rocket. The pepitas give a bit of crunch. If you're planning a dinner party and want a flavorful and colorful salad to liven up your winter table, pop into the oven a roasting pan of beets, fennel and celeriac.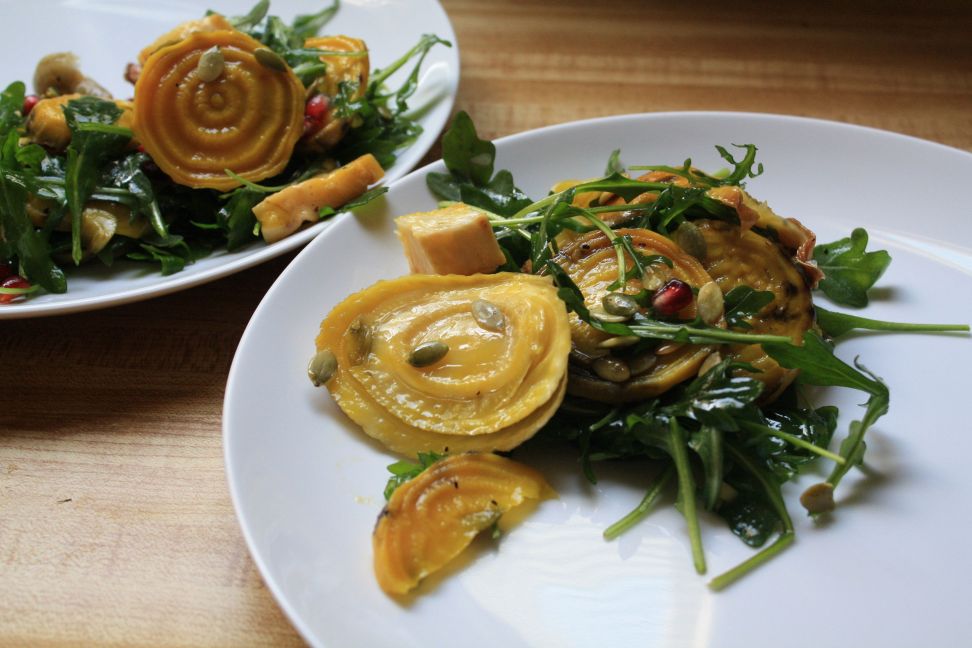 [print_this]
ROASTED BEET & FENNEL ROCKET SALAD WITH POMEGRANATE ARILS
YIELD: 4 side salad portions
SALAD
3 golden beets
1 fennel bulb
½ celeriac
1 tablespoon grapseed oil
2 tablespoon pomegranate seeds (arils)
2 cups rocket (arugula)
2 tablespoon pepitas
DRESSING
½ tablespoon shallots, minced
1 tablespoon champagne vinegar
¼ cup grapeseed oil
pinch of salt
cracked black pepper, to taste
1. Preheat oven to 350.
2. Peel beets and then cut into rounds. Lop off the bulb of the fennel from the limbs and then cut the bulb into rounds. With a paring knife, carefully peel off outer skin of celeriac, lop off the limbs and cut into chunks.
3. Place beets, fennel and celeriac on a roasting pan and sprinkle grapeseed oil over them. Rub the beets, fennel and celeriac in the oil to make sure all sides are coated.
4. Roast veggies for 45 minutes.
5. Let cool.
6. In a bowl, whisk together the grapeseed oil, champagne vinegar, salt and pepper with the mined shallots. Set aside.
7. Place rocket in a large bowl and add the cooled roasted vegetables. Sprinkle the pepitas and pomegranate arils on top. Mix in the dressing and toss to coat.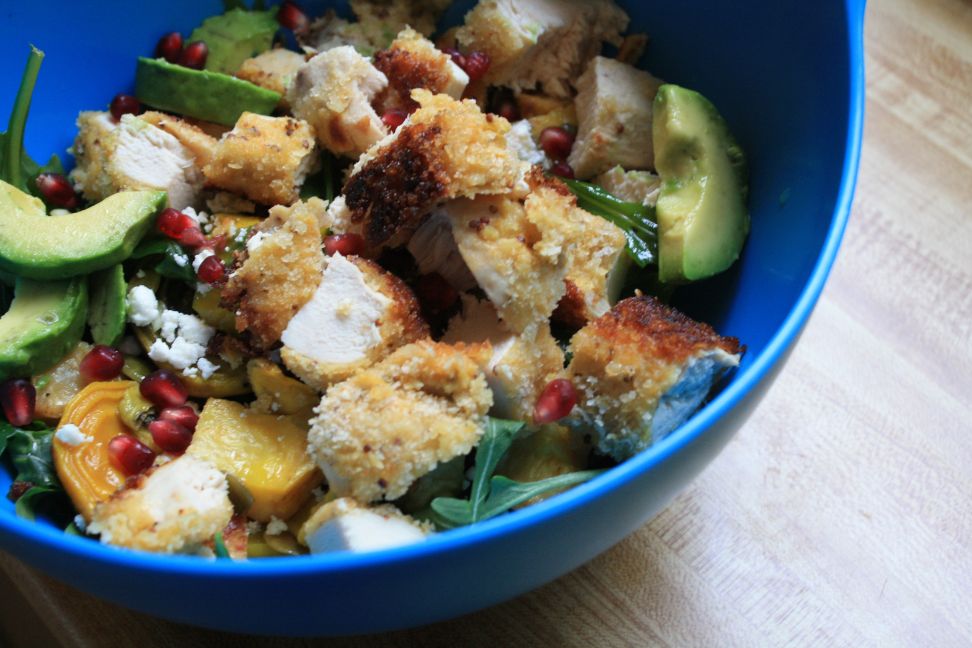 MAKE IT A MEAL WITH
CHICKEN A LA DIABLE
So you want to make your roasted beet salad into more of a full meal? Easy- pair it with chunks of chopped up Chicken a la Diable. These chicken fingers had a good amount of heat that lingered and played off of the sweet roasted beets and fennel. For some added creaminess with the chicken, we tossed in some feta crumbles and sliced avocado. We followed the recipe pretty much by the book, with a few variations.
– STRIP IT: Go with chicken strips and you will exponentially increase the number of portions you can expect to feed. We cut up the chicken breasts into strips.
– GO WHOLE:  Substitute in some whole grain mustard with the dijon to give a textural delight to the dish.
– GLUTEN FREE? If you're gluten free, make gluten free breadcrumbs by grinding up Corn Flakes or Crispy Rice cereal and use gluten free flour instead.
Serving size: 1 1/2 chicken strip chopped up on each salad
[/print_this]