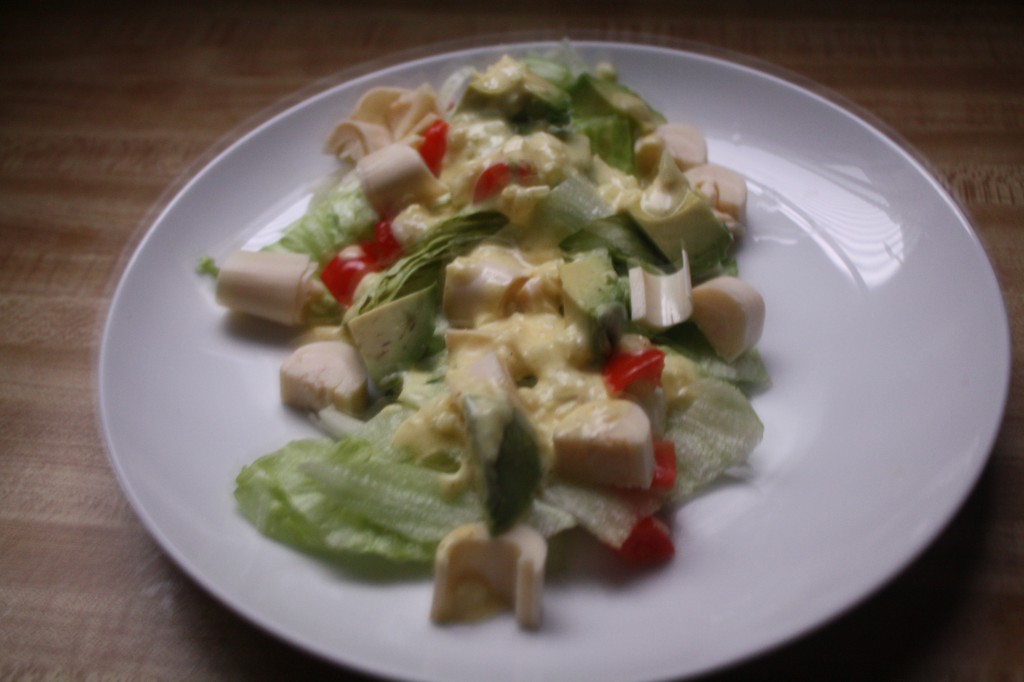 A former roommate of mine, Lisa, first introduced me to hearts of palm years ago. Picking my way through eating all during childhood, I missed a lot. When I first caught sight of the heart of palm in one of her salads (Lisa has the gift of salad-making), I was skeptical. Perhaps downright dubious. I didn't know what the white flecks were and bet I wouldn't like them. But that night, she made me a believer in the beloved palmito. I might even want to name a son after it. Then again, I'm not sure how Nathan might feel about a son named "Heart of Palm" (though it sure sounds cute in Spanish). Palmito. Maybe it could be the name of a bird instead…
While celebrating the arrival of the new year with family at the Lagarta Lodge in Nosara, Costa Rica, I spotted Ensalada de Palmito on the menu. Nathan and I split this salad and wiped the dressing bowl that accompanied it, clean. I have given it my own spin by adding in the avocado, though now I can't imagine the salad without it. Did I mention that all of us who ate heart of palm salad at Lagarta Lodge practically licked the bowl of dressing clean. Think cat to the milk bowl. This dressing is so good, you might find it becomes your new secret sauce.
The recipe makes a lot of dressing and I have a hunch it would be a fantastic twist to any of the typical prepared salads: tuna, chicken, potato or egg salad. Heck, go crazy and combine them.
A word on Palmito, compliments of my scavenging at all places, the Fancy Food show. From a piece of collateral picked up at the La Cima booth:
"In Costa Rica, it was consumed by indigenous people before Columbus even reached the continent… The heart of palm is in itself the new leaf of the palm in its formation."
Already the indigenous people knew what it would take the rest of us so much longer to figure out: palmitos are good for you! The fiber, protein, potassium and calcium are reasons to add palmito to any salad.
One word of caution though, you might find you want to somehow add it to every salad. I would suggest moderation, if not for this reason alone, from La Cima: "The cultivated culture of Hearts of Palm diminished the exploitation of wild Hearts of Palm which year after year has devastated the forests of the tropical lands. This indiscriminate exploitation led to the extinction of some species of palms."
That is no bueno. So as you're shopping for palmito,  perhaps check the source. We are in an age of wanting to know, again, where our food comes from.  And maybe this salad below will have you envisioning yourself frolicking in the tropics.
[print_this]
Lagarta Lodge Ensalada de Palmito
YIELD: 4 servings
DRESSING
½ cup white onion, minced
5 tablespoons mayonnaise
6 tablespoons white vinegar
1 teaspoon curry powder
1 tablespoon fresh parsley, minced
SALAD
1 head iceberg lettuce, shredded
12 grape tomatoes, chopped
4 hearts of palm, halved and then sliced
1 avocado, halved and then sliced
Mix dressing ingredients together. Set aside. Chop the lettuce and put about 1 cup on each salad plate. Add the equivalent of 3 chopped grape tomatoes per plate along with a quarter of avocado per plate. One heart of palm, halved and sliced is sufficient to add onto the salad per plate. Sprinkle about 2 tablespoons of dressing on each salad and serve.
[/print_this]