A few years ago, I decided that what the holidays really needed was another party. I can't remember if this was prompted by the desire to see people congregate under mistletoe or just eat, drink, and be merry, but we will go with the latter response. Happily what started out as a small food blogger cookie swap has continued for several years and looped in friends outside of the blogosphere too. This Christmas cookie exchange lets me try new cookie recipes to discover the right mix of flavors and options for an enticing collection. I have further amended the cookie swap, hosting it at teatime and dubbing it as Tea & Cookies. Who wouldn't enjoy a spot of afternoon tea with their sweets, right? For this year's cookie swap I focused on test driving new 2014 cookbooks and am sharing my findings. Include your favorite cookie and recipe link if you have it, in the comments section.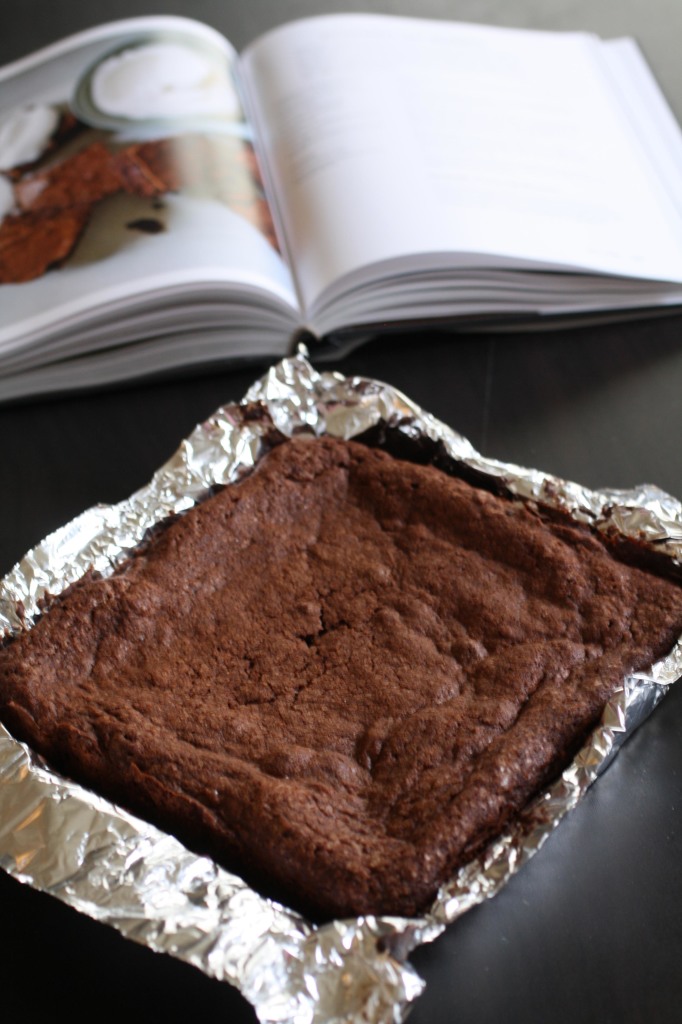 Chocolate Teff Brownies from Flavor Flours
Tea Pairing: Mandarin Rose Petal Black Tea from ML Tea
When I heard Alice Medrich was penning a book on baking with whole grain flours from the perspective of flavor first, I became intrigued. My friend, Irvin and I cemented our friendship years ago on this very topic of thinking of flours as a flavor base upon which to build in baking. Teff works marvelously well with chocolate and is naturally gluten-free. How many people think of teff is griddled into injera flatbread used to scoop up delectable Ethiopian food. Teff flour is darkly hued and works so very well with 70% chocolate. What I liked about Flavor Flours is that each of the flours used also is naturally gluten-free, even if Medrich is leading with flavor first, making the entire book gluten-free. I've gotten to work with her before and she is meticulous about recipe testing. Her brownies are already a favorite of mine and these teff brownies were popular at the cookie swap. Plan on cutting small squares—they are quite rich. Friends with birthdays coming up can expect me to bake Chocolate Chestnut Souffle Cake (p. 206), Yogurt Tart (p. 110), and Buckwheat Cake with Rose Apples (p. 172), though I'm keeping an eye on these Buckwheat Linzer Cookies too. I'm quite convinced that roses and chocolate are meant to be along with other dynamic duos like basil and tomato or strawberry and vanilla. Mandarin Rose consists of a smooth black tea tinged with a floral high note of rose petals.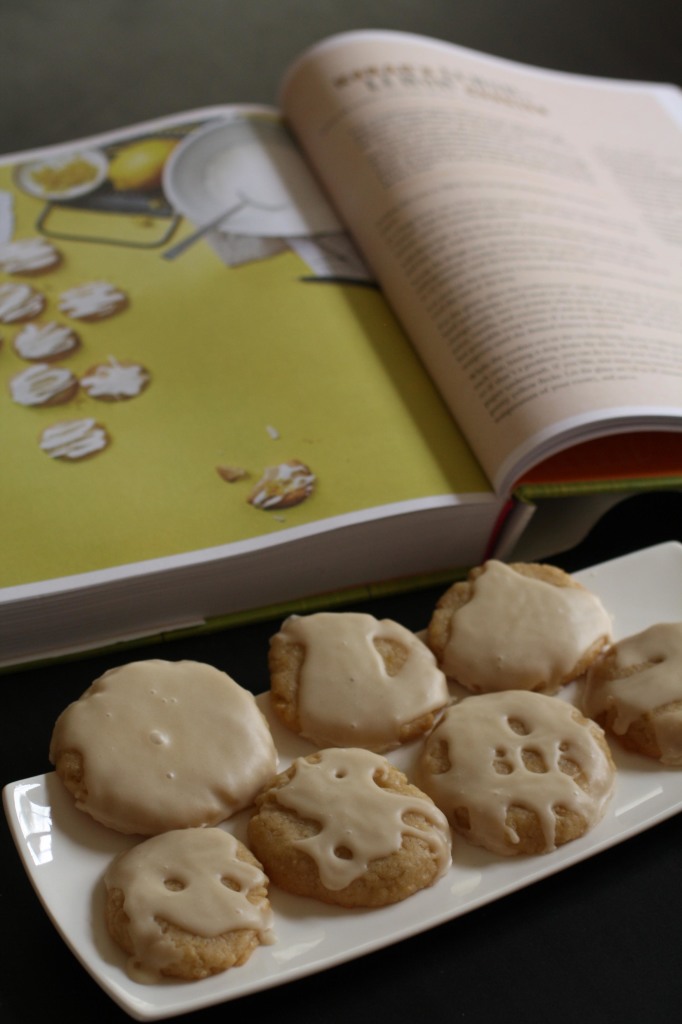 Norah's Lemon Lemon Cookies from Isa Does It
Tea Pairing: Prince Wladimir from Kuzmi Tea 
Winter time in California means citrus in as many shades as you can imagine. I was given Isa Does It as a gift and let me tell you that it paid off in a friendship with a neighbor who saw it in my window and decided she liked the inhabitants of our apartment before meeting us. That is a win. These cookies are vegan and use coconut oil in two very interesting ways: the oil is used in the cookie batter and then again in the lemon glaze. Because I had a pomelo, I substituted it for the lemons called for in the recipe. I also had just picked up some citrus chef's essences from Afterlier and was jonesing to try them out. So, a dash of bergamot oil and two dashes of blood orange oil later, I had morphed Norah's Lemon Lemon Cookies into Citrus Cookies. They are screaming good and offer a chewiness with a bit of crunch in the glaze. Cookbook notables in Isa Does It iclude the Tofu Butchery section which shows the myriad ways to process a cube of tofu into edible bites. Dishes I'm looking forward to cooking up include Sunflower Mac (p.116), Sesame Slaw (p. 58), and Tamale Shepherd's Pie (p. 231). Prince Wladimir tea reminds me a bit of an Earl Grey with sass. It has a bit of a smooth profile with a bit of vanilla playing off the citrus notes. It pairs perfectly with the Citrus cookies.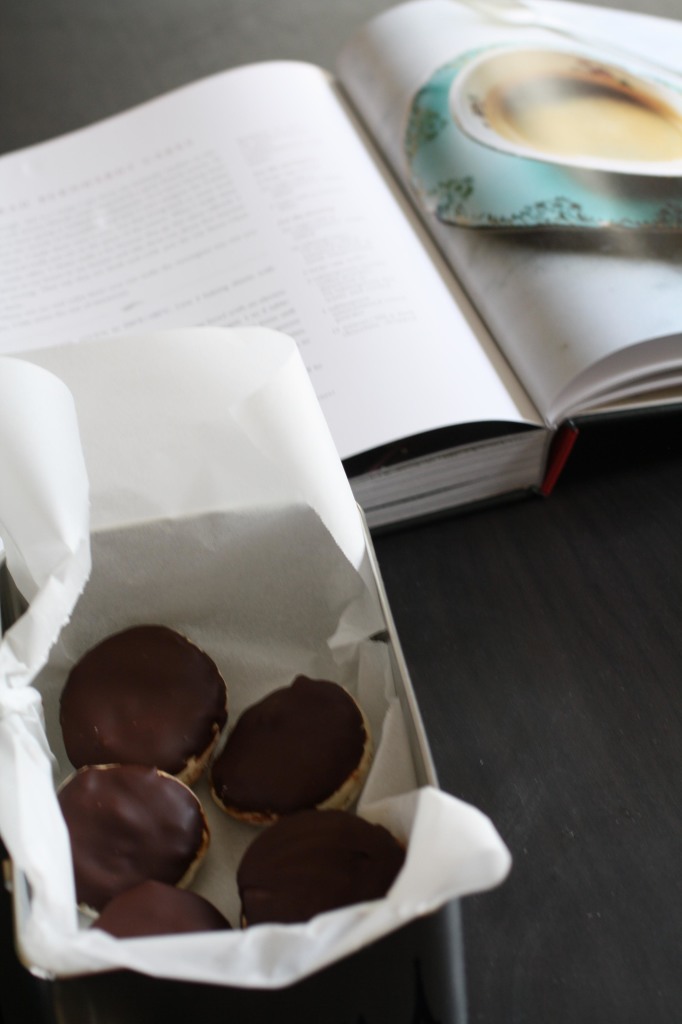 Sarah Bernhardt Cakes from A Kitchen in France
Tea Pairing: Breakfast Blend Tea from Fortnum & Mason
I sped read my way through this gorgeous book one evening after it appeared in my mailbox. A day later and I learned it was a gift—the best possible kind of gift. I had already marked these little Sarah Bernhardt Cakes as being ideal for a cookie swap given how unique they would be in contrast to more expected cookies. Mimi Thorisson writes in A Kitchen in France that she received this recipe from her Icelandic mother-in-law and serves them with coffee. The base of the cake is akin to a macaron cap, mine even developed feet (that little ridge that crops up around the edges of macaron caps). The caps are then frozen while the mocha frosting is made, which is then smeared on the caps. Lastly they are dipped in melted chocolate. Though they have a few steps involved, these cakes are not hard to make but are quite fancy. They are the kind of sweets for which you pull out the good porcelain dishes. A Kitchen in France is smattered with lush photography and seasonal menus. Other recipes I'm itching to make include her Mont Blanc (p. 281), Chestnut Velouté (p. 248), Roast Chicken with Herbs and Crème Fraîche (p.46), and Happy Valley Wonton Soup (p. 291) from a Chinese New Year section in this French cookbook—look for her Tea Eggs recipe (p.293) there too. The multicultural feel of this book won me over. Thorisson grew up in Hong Kong and describes visiting her French grandmother and learning from her too. It reminded me of my own multicultural roots and the ways that each of us brings all that is woven into our cultural DNA onto the table. These rich little mocha cakes pair well with a stout breakfast blend tea to cut some of the sweetness. This tea stands up well to the cookies.
…The One That Got Away
Buttered Popcorn Rice Crispy Treats from Joy the Baker: Homemade Decadence
Tea Pairing: Korean Sejak Green Tea from DAVIDsTEA
Because an entire table lined with chocolate chocked cookies might set my heart aflutter, but perhaps not appeal to those that don't have a card in chocoholics-are-us, I had selected this Buttered Popcorn Rice Crispy Treat recipe for its fun flavorful approach to the well-known sticky, chewy sweet. My copy of Homemade Decadence sat on our kitchen table with such promise, decked out with the ingredients required as indication of how easy it would be to pop, melt and mix. As things go with party-hosting, I ran out of time before the cookie swap started to whip up a batch.  This lapse in time judgment will work well for our next movie night–can you imagine anything better for movie-watching that combines sweet and salty? I'm a regular reader of Joy the Baker partly because Joy Wilson has a way of writing that makes baking fun and approachable, much like Joy herself. So, now the real question is to ask,  what movie we should watch when it's time to turn out these treats.