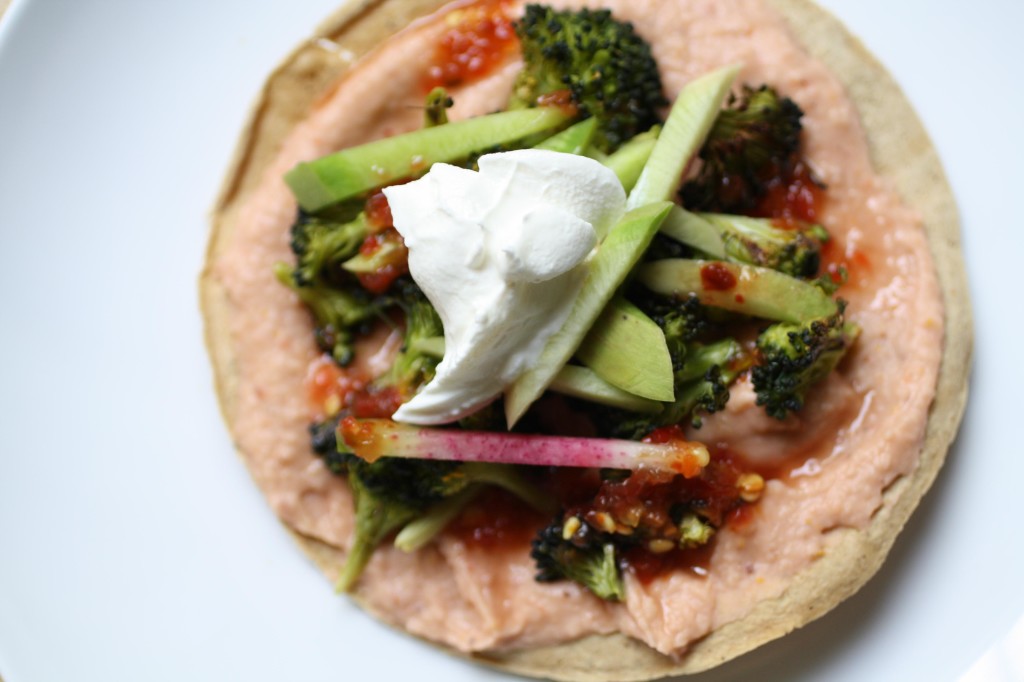 Broccoli gets passed over
so easily, perhaps florets
for breakfast don't appeal.
It's time to reconsider the
crown for the morning meal.
Break it up with a sharp
knife into bite-size bits.
Toss in fresh lemon zest
and garlic-infused olive oil
to convince an ornery guest.
Start with a humble tostada,
It transforms from tortilla
rounding its back with firm
resolve. Next come the beans,
their assembly questions the term
refried. White beans blend with
lemon, browned garlic, and spice.
Aleppo pepper and sumac turn the
pale hue peach and imbue a bit of
tart to play off the smashed garlic.
Now, smear bean spread on
the tostada, scatter its surface
with roasted broccoli bits and
stack julienne radish for crunch.
Pickle your radishes if you can
stand waiting. That tinge of sour pulls
it all together as your tostada takes
shape on an emerging colorful plate.
Protein, veggies, whole grains too,
tostadas might emerge in a spate
of recipes with no lack of application.
Back to our broccoli breakfast tostadas,
dab on spicy sambal oelek for heat.
And if desired, add a dollop of creamy
labneh on top for a mid-morning treat.
Not convinced? Most of it can be done
ahead. The day before: toast tortillas
into tostadas, make the bean spread,
slice radishes (or quick pickle them!)
and you, my friend are one step ahead.
What remains is to roast the broccoli
and assemble the morning of brunch.
You should score points for flavor,
color and comments from guests like,
This is a brunch that I want to savor.
For a traditional recipe write-up, 
 check out this broccoli brunch-off.