When researching poetry MFA programs and poets I wanted to study with during my MFA, Jeff Friedman was on my short list. I found myself taken with his ability to weave together midrash poetry or narrative. He ended up being my second mentor in school and one I stay in touch with often. Our shared love for food became evident early on in our mentoring relationship as he would describe new recipes he had devised and then later he developed a food, dreaming class to help his students break out of their writing ruts. Join me "In the Kitchen with Poets" as Jeff Friedman speaks to the intersection of food, poetry and the writing life.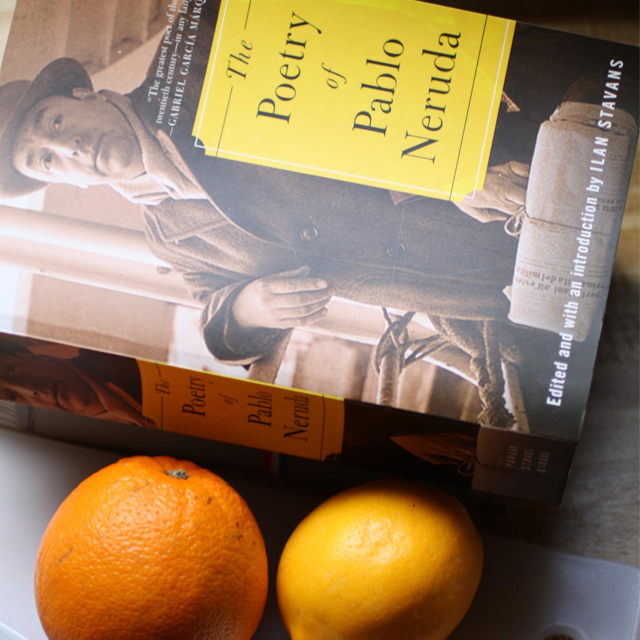 The Food Poet: I know you are a voracious cook. What is your favorite thing to make right now?
Jeff Friedman: My favorite thing to make is this new penne with tomato carrot sauce, my zucchini garam masala soup and my balsamic chicken recipe. These would be my three favorites.
TFP: Mmm. Next time I come to your house, I'd really like to try the Zucchini Garam Masala Soup. Food and poetry have certain commonalities you are teaching in the classroom. How would you describe the poetry of food and your approach to intermingling them in your Eating, Dreaming class?
JF: Food and literature go way back. For example in The Odyssey, almost every place Odysseus goes, there's some kind of feast or wine. In many of the mythic or epic pieces, there's usually some feast involved, showing what we eat, how we fight, how we make love.
Of course in the Bible, in the Tanakh, the Jewish Bible, you can see how wine and food are laced throughout the different stories. Food is mentioned quite a bit in the Bible: what the Jews should eat and how they should eat. Throughout the story of David or Solomon, they will tell you what he eats. It's always been a part of our literatures. I don't think of them as separate.
You look at a great short story like "The Dead" – it shows what they were eating at this dinner they have regularly every year and Gabriel is coming back for the dinner. I'm thinking also of Proust remembering the Madeleines.
People don't think about it as starting with food as the subject matter, food appears in a lot of literature. The Jews of course see the act of eating as a blessed experience. When you're teaching writing, often times, the focus is on working on certain things like how to work with an image or write a line, so the exercises tend to be writing-oriented.
In my class, most of the students think, "Food? What kind of subject for writing is that?" They're kind of put out by it. Giving food as the starting point for the exercises like putting a piece of chocolate in your mouth and thinking of what it reminds you of takes your mind off of writing and leads them directly into the fact that the class is ultimately about the pleasure of the senses and exploring the sensuousness of language and breaking away from an A-Z logic of writing a poem. Concentrating on the food gives an experience to take an unselfconscious approach directly into the language.
TFP: Sounds like a fun class. I wish I could take it.
JF: It was actually really fun. We held different international days, like international salad day, international soup day, etc… I divided everybody into groups and they had to cook. They formed a community very quickly. All the groups tried to come in with something really good and make something everyone would like. They also became better cooks. A poet friend loved the idea and is thinking of teaching something similar.
TFP: How would you describe your cooking style and who has influenced it?
JF: Besides my mother, the person who's been the biggest influence is my closest friend Charna Meyers. She also did the cover of my last book. She's a great photographer. In the late 80's was when I really got into it. I had some health issues in 2001 and took over all the cooking in the house since my wife was so busy. I was still on the clumsy side and started trying things out based on what I liked. I would keep adapting until I liked it, just like with the Balsamic Chicken recipe.
I'm an eccentric cook and like to experiment. A lot of it has to do with my limited diet of avoiding dairy and eating minimal legumes, and my wife is vegetarian. When Ross (Gay) comes over, I cook solely vegetarian. I think I'm a student of it.
To learn to cook Indian food, I went into an Asian store in this little mall and asked how to cook lentils. The female owner cooks a lot and cooks all the time and doesn't go to the Indian restaurants in town because they are too Americanized. She talked about building layers with mustard seeds and cumin seeds until they pop, then adding oil, onions, and turmeric. I went and talked to her, took copious notes and now I make a few Indian dishes. They tasted good the first time and better the next.
With my friend Charna, we have a treadmill recipe club and talk about what recipes we've cooked. She has a bad memory and I tend to remember her recipes and she will call me to get the recipes. I've been getting recipes from her and also from cookbooks. We trade and evaluate all the time. Anything I get from her, I change and anything she gets from me, she changes. There's a woman named Maria in town who worked at a gourmet deli and would also give me advice on cooking. I do a lot of roasting because I like the way vegetables taste roasted.
TFP: If you could have dinner with any chef, who would it be?
JF: I like some of the recipes in Chloe Coscarelli's book but her bakery goods have won awards. I want to know more about them. I've never tasted a good vegan dessert- they're either too dry or just don't have a good taste. Supposedly hers are great. I think it's difficult to limit the ingredients and be able to make cupcakes and brownies that are really tasty. You know I'm a big dessert person… though I'm trying to get a certain amount of sugar out of my diet.
I like Deborah Madison. Her vegetarian cookbook is one I'm using more because I'm trying to cook more vegetarian. Since my wife is vegetarian, I've gone to Madison's book so many times to learn how to cook things so she would be someone I would ask a lot of questions. I would want to sit with Mario Batali and ask him how he makes his amatriciana so good at Lupa. It's hard to choose just one person, but I'll go with Mario Batali because I want to learn about that sauce. There are other people I'd like to talk too, but I really like that dish of his.
TFP: If you could make dinner for any poet dead or alive, who would you invite and what would you make for them?
JF: I think I would want to invite Zbigniew Herbert and I would definitiely make him my Curry Zucchini Soup. Louise Fishman, the artist was documenting the creation of the soup and people always really like it. The sure-fire winners are salmon or actually, I would make my broccoli orecchiete, but I can't make the soup because that's too green. I would then make a salad with my modified dressing with Boston Red Lettuce and then I would serve my sweet potato soup with roasted pumpkin seeds. I would have to see if he has any health issues.
The Broccoli Orrechiete is essentially a broccoli sauce on orecchiete- it's kind of spicy and pretty good. The sauce is pureed and folded in. We discovered it in Rome where Colleen (Friedman's wife) had a grant to go study. When we came back I tried making it- it's not the same but my sweet potato soup has its own stock- I'm not cheating. I'm getting too obsessive about making my own stock. Soup is really time-consuming. A lot of my friends think I'm crazy. Vegetarian stocks tend to have after-taste and it's not difficult to make your own stock. It's got a cleaner taste and holds the flavor nicely.
TFP: You're reading a book of poetry and stumble upon a poem that inspires you to create a dish. What is the poem and what is the dish?
JF: A lot of times in ancient literature, they had roasted meats in them. I haven't been inspired too much by literature to cook something, but I became obsessed with shallots. I used to put them in everything I was cooking and then wrote that poem, "Shallot". A lot of poets have written poems about onions like Naomi Shihab Nye or Szymborska. Wilbur has a famous poem about shallots too. I can't think of anything I've read that's made me want to cook something.
I wrote a poem about Ross – he was at the house eating all these Athena melons and that inspired me to write a poem. Because I became obsessed with shallots, that inspired me to write a poem about them. When I read essays about cooking, it makes me want to cook but not write about it. Being absorbed in the process of cooking has inspired me to write in a certain way, just as walking so much has created a different kind of movement in my poems. I like the idea of improvising as well as having something written down. There's a sense of ritual about it like writing a poem. You go to get a cup of coffee and then go to a certain place. Can't write? So, then you move. Then you settle down. With cooking it's a matter of how do you line things up.
TFP: When you think of food and poetry, do any specific poems come to mind? What are some of the books you require for your class?
JF: I've written a lot of poems about food myself, like those in my book Working in Flour. Neruda has all those wonderful odes- like "Ode to Watermelon," "Ode to Salt," "Ode to an Artichoke" and "Ode to French Fries." "How to Stuff a Pepper" is a good example of a poem that speaks about food and sex. I'm sure if you look in many poems you'll find food.
I think of Sylvia Plath, Louise Glück. I do different things with my class like having them write a poem that unfolds like an onion and then show them a series of onion poems. An orange is at the center of "The Mercy" by Philip Levine where his grandmother eats an orange for the first time and "A Simple Truth" has a potato at the center of it.
The anthology I use for the food part of the course is Sustenance and Desire, a food lover's anthology of sensuality and humor." This anthology also contains Naomi Shihab Nye's "Lunchtime Poem". I like Sherman Alexie's poem "13/16", Szymborska's poem "The Onion", Simic's "Cabbage", and Derek Walcott's "Sunday Lemons," as well as a wonderful poem called "The Creation Story" by Natasha Sajé.
Another book we use is A Literary Feast with a chapter from a A Moveable Feast by Hemingway and talks about being hungry. It also features Peter Mayle, M.F.K. Fisher, and Virginia Woolf. I have a lot of readings that I have compiled on my own. I'm not just teaching poetry, but also teaching short fiction and personal narrative essays.
TFP: Do you ever find yourself influenced by food when writing poetry? Are there any foods or drinks that are part of your writing process?
JF: I write early in the morning so I'll have some oatmeal or warmed up soup and then finish it up with a chocolate chip cookie. If I don't have a chocolate chip cookie or a piece of flourless chocolate cake or brownie in the morning, I can't sit down to write. That's really true. I have to have just a nibble to sit down to write. The poem "Working in Flour" comes from a stint of mine in baking.
TFP: Do you find yourself writing mostly in the mornings, days or evenings?
JF: Mornings. Early morning. Although for a while when I write fictional pieces, I switch to afternoons.
TFP: What are you working on right now?
JF: I'm working on a book of fables and mini tales that are somewhere between prose poems and micro stories. Lately, I've incorporated biblical themes into some of the pieces.
TFP: What books are keeping you turning the pages right now?
JF: I'm rereading and love this book by Augusto Monterroso called The Black Sheep and Other Fables and Rebecca Solnit's Walking as I am getting ready to teach a class on walking and writing. It helps me work out problems when I'm walking and things come to me when I'm walking. I like this idea Walter Benjamin has of getting lost when walking. I'm getting ready to read his book, One Way Street and Other Essays.
There's so much literature on walking – next I intend to read Geoff Nicholson's History of Walking. It goes along with the way my mind works too. I'm still in the thinking stages of the class so I'm reading, making a list and making things up as it comes together. Bruno Schulz involves stories with walks and also James Joyce in The Dubliners of walks in the city. I just finished rereading Lunch Poems by O'Hara. I'm also rereading Fitzgerald's magnificent translation of The Odyssey and a book over and over again by Suniti Namjoshi,The Blue Donkey Fables.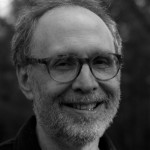 ABOUT JEFF FRIEDMAN
Jeff Friedman is the author of five collections of poetry: Working in Flour (Carnegie Mellon University Press, 2011) Black Threads (Carnegie Mellon University Press, 2007), Taking Down the Angel (Carnegie Mellon University Press, 2003), Scattering the Ashes (Carnegie Mellon University Press, 1998) and The Record-Breaking Heat Wave (BkMk Press-University of Missouri-Kansas City, 1986). His next book, "The Pretenders" will be published by Carnegie Mellon University Press in 2014. His poems and translations have been published widely in national and international literary journals and anthologies, including American Poetry Review, Poetry, The Antioch Review, Maggid, Ars-Interpres, Cardinal Points, New England Review, Margie, 5 AM, Agni Online, Natural Bridge, Ontario Review, Poetry International, Prairie Schooner and The New Republic. He has won two individual artist grants from the New Hampshire State Arts Council, The Carnegie Mellon University Press Open Competition, The Editor's Prize from The Missouri Review and the Milton Dorfman Poetry Prize. He has had residencies at the MacDowell Colony, Virginia Center for the Creative Arts the Vermont Studio Center and Yaddo. Since 1994, he has taught at Keene State College, where he and poet William Doreski cofounded the Keene State Writers' Conference. Jeff Friedman lives in West Lebanon, New Hampshire with artist Colleen Randall and their dog.