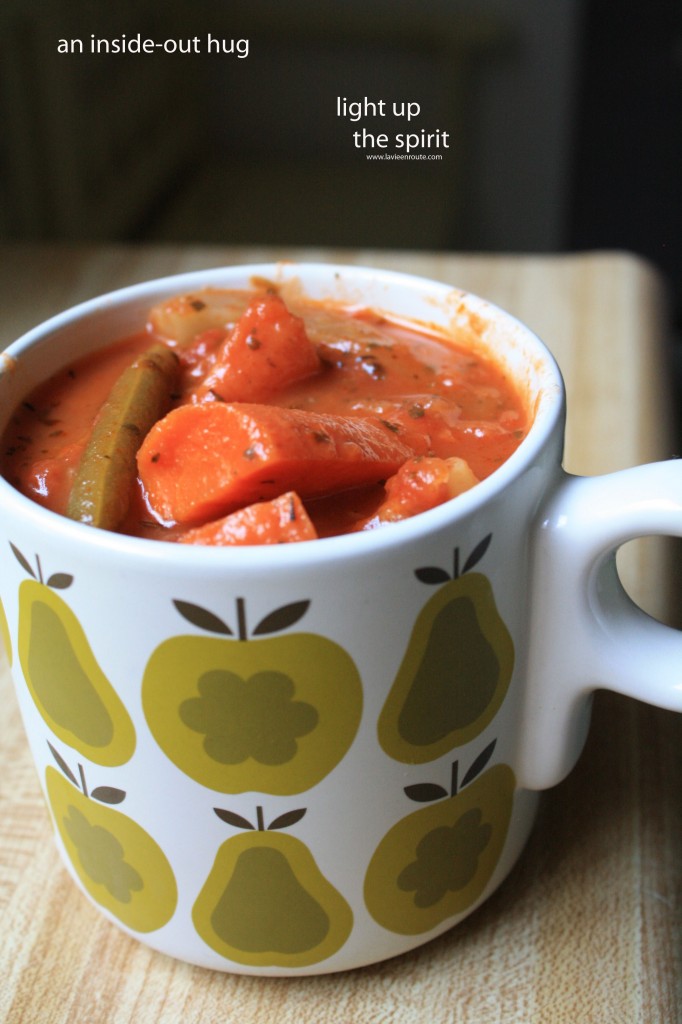 It's not often that I find myself hankering for soup at an Italian restaurant, but a no-name hole in the wall in North Beach gets me hankering for their Minestrone. What I like about it is that it's lemony and bright and the secret to their sauce- fennel! It holds up against the tomato base of the soup adding its lemony brightness. Nathan likes to grate parmesan into his soup and I'm keen on it just like it is. Soup is comfort in a bowl and Minestrone is a great way to get your vegetables. You might think it's anathema to not add cannelini beans to Minestrone, but this cook is not partial to them in this soup.
[print_this]
Minestrone Soup
TIME: 1 hour and 20 minutes
YIELD: 8-10 bowls 
¼ cup olive oil
3 large garlic cloves, chopped
1 large onion, chopped
1 medium fennel bulb, chopped into 1 inch slices
2 cups celery ribs, chopped into 1 inch slices
4 large carrots, halved and chopped
4 yukon gold potatoes, quartered and chopped
2 cups tomato sauce
3 cups chopped tomatoes and any juices
5 cups water
1 T thyme, chopped
2 tsp. parsley, chopped
1 tsp. salt
1 T lemon juice
Pour olive oil in large heavy pot set on medium high heat. Add onion slices and garlic to pot. Saute and stir until almost translucent.
Add celery, carrots, fennel, potatoes and green beans to pot. Cook for 10 minutes and stir occasionally. Add the tomato sauce, chopped tomatoes, water, thyme, salt, pepper and lemon juice to pot. Turn heat down to low, cover pot and simmer for an hour or until potatoes are soft.
[/print_this]