You get used to 60 degree summers. Somehow, the body in all of its intelligence deduces how to survive in any environs. I visited India twice during the monsoon season of sticky long sleeves with sweat and cotton as air conditioner. I grew up in a place that might sound fictitious with its now "normal" climes of 110 degree weather. And at one time, I lived in a slice of the sparkly city by the bay that became blanketed by a dense fog, muting colors and making a hoodie summertime uniform. There was a time when if we got really desperate, we would leave our hovel, climb into our car and just drive in an attempt to chase the sunlight on the rare occasions when the dull gunmetal gray sky sucked all hope that sun would ever visit our neighborhood again. We ate soup in the summer. Threw the extra down blanket over the duvet. I would walk the few blocks from our apartment to my favorite coffeeshop chilled to the marrow and loving every moment of grey-skied summer humor.
We live in Oakland now. I'm getting used to sunshine 24/7 again with the help of cold-brewed coffee and iced tea. Call me a wuss and I will gladly accept the title. Growing up in Texas, heat means pools and ice cream. It means bringing a sweater to slap over the tank top upon going inside any building because that building is a microclimate of cold proportions, aided by air conditioning. You get used to it. My first car, a Peugeot passed down from my Tia to my Tio and then to me didn't have air conditioning and in the summertime I would venture out, windows down, an extra blouse in my bag just in case the current one became slick with sweat. One summer during college, I lived in South Carolina and learned how to drink sweet tea to dull the ache of throbbing heat from the sun. That summer changed my life in meaningful ways: I found my love of teaching and made friendships and memories that have lasted.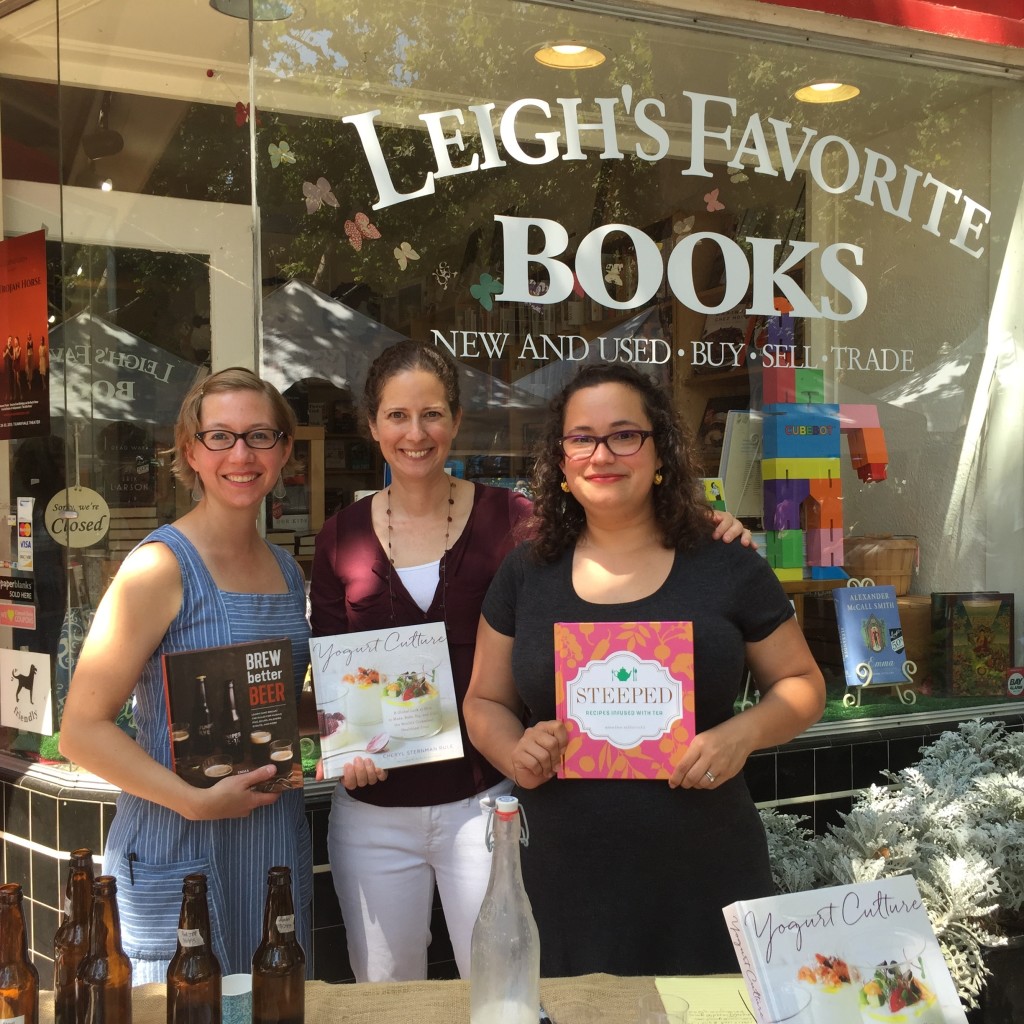 This past weekend landed me in Sunnyvale for a Steeped book event and I learned that the city is aptly named. Two cookbook author-friends and I handed out samples and talked about our books with passersby of the open-air farmer's market that brought Sunnyvalites downtown and strolling past Leigh's Favorite Books. I caught up with Sheri, the brain behind the event. Emma passed out a Chipotle Porter with just enough of a kick in the finish to surprise the dark beer lover, of which I am one. Cheryl poured shots of a vanilla-ginger lassi that made me want to slurp down a whole glass. And I filled a small bowl with strips of fresh levain bread on which to smear either the strawberry jam or sweet tea jelly from Steeped. The sun shone on my table like a spotlight. And during the day, I met so many lovely people. A friend from my Texas youth group even stopped by. After the book signing finished, we chatted in that brief way of catching up without taking a breath in five minutes that can happen when trying to squeeze 10 years into a 30 minute window. You sometimes find how similar your stories are and that as she completes one thought, you're nodding from a known solidarity.
Sometimes you don't have to know the person personally to find solidarity. In the wave of people who tried jam and jelly, one woman visiting from Los Angeles who sampled the sweet tea jelly stood out. An immense joy exists when meeting other people obsessed with food. Conversation starts easily and makes unexpected detours and discoveries. Sweet tea jelly talk led to Roscoe's Chicken and Waffles in Long Beach which then led me to grilled chicken and the idea of creating a sweet tea glaze. Hmm, I thought. I might need to get on that. We had known each other for no longer than 3 minutes and yet experienced camaraderie through ingredient collaboration. The next day, as I sat down and began planning our menu for the week, I flipped to a page in one of my cookbooks that begged to be adapted to a version with tea. And, it's just the right time to make this recipe what with the sunny but breezy days sweeping across Oakland. The glaze has a hint of Texas in smoky chipotles. It includes kernels of sunshine that we would eat for visual cues of summertime when the San Francisco weather looked its most bleak. But, mostly, that slick of sweetness in the guise of sweet tea jelly gives homage to South Carolina where the kudzu grows wild and friendship of youth can be evergreen.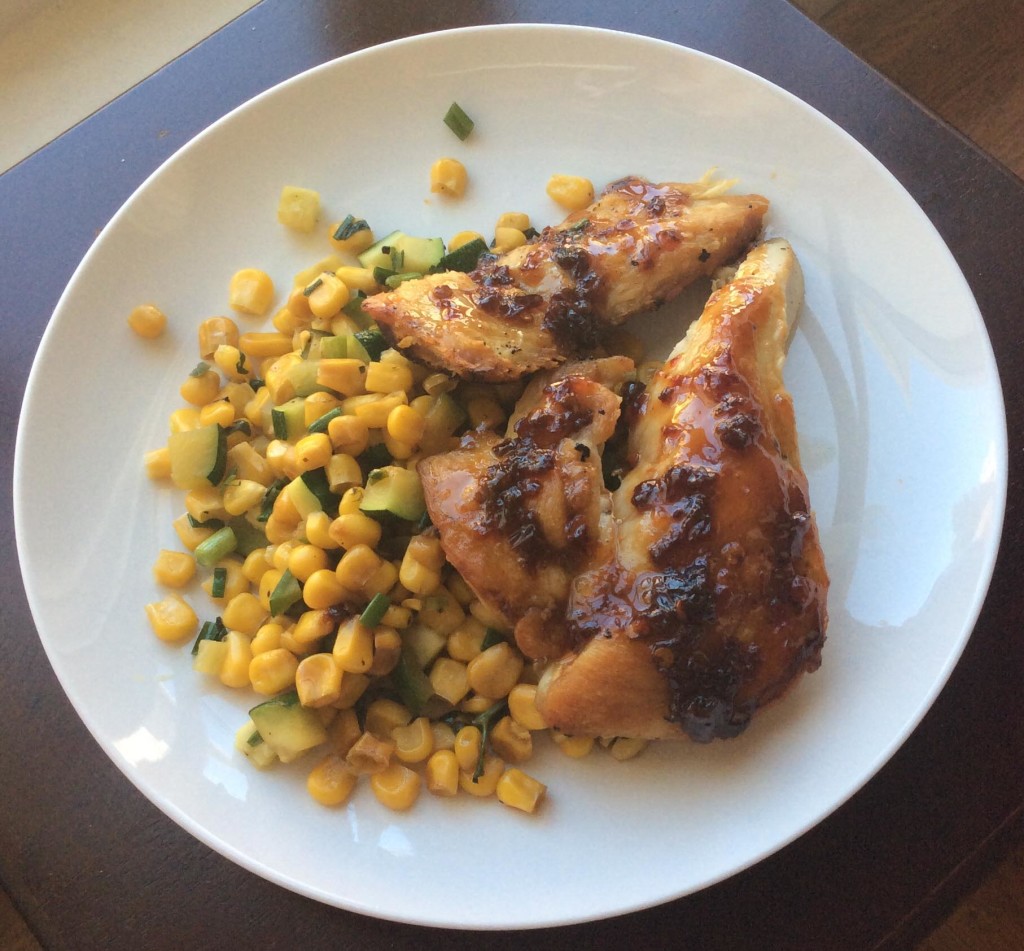 Spicy Sweet Tea Glazed Chicken & Corn Relish
The recipe in the America's Test Kitchen cookbook calls for oranges: orange marmalade, orange zest, and orange juice. I swapped them out for sweet tea jelly from my book Steeped: Recipes Infused with Tea, grapefruit juice and grapefruit zest to counteract the sweetness with a bit of bitterness that I thought would match up well with the spiciness of chipotle. I also added a touch of chicken stock to give it a savory hint that cooks down in the reduced glaze.  With the corn relish, I wanted to add more vegetables, and found that small diced zucchini paired well with the corn, cilantro and scallions. I hadn't planned on sharing it here but liked the leftovers today so much, that I knew it was too good not to share. 
adapted from America's Test Kitchen's The Best Simple Recipes cookbook
Makes 4 servings
Sweet Tea Glaze
1/2 cup Sweet Tea Jelly (page 19, Steeped)
1 1/2 teaspoons minced canned chipotle in adobo sauce
1 teaspoon grated grapefruit zest plus 2 tablespoons juice
1 tablespoon chicken stock
4 (12-ounce) bone-in split chicken breasts, fat trimmed
Salt and pepper
1 tablespoon safflower oil
Corn Relish
1 ( ounce) bag frozen organic corn, thawed
1 small zucchini, small diced
1/4 cup chopped fresh cilantro
3 scallions, chopped
Make the Glaze: whisk together the jelly, chipotle, zest, juice and stock in a bowl. Set aside.
Fold a piece of foil over a plate to create a tent and place near the stovetop. Drizzle the oil into a 12-inch fry pan placed over medium high heat and swirl to coat the bottom of the pan. Pat the chicken dry with a paper towel. Sprinkle salt and pepper on the chicken and add to the pan to cook for five minutes until golden brown. Turn the chicken with tongs. Cover and lower the heat to medium. Cook the chicken for about 15 minutes or until it reaches 160F. Move the chicken to the plate and pull down the foil to keep the chicken warm.
Drain all but 1 tablespoon of the fat in the pan. Add the corn and zucchini to the pan and cook for five minutes, browning it. Scoop out the corn and zucchini into a bowl. Stir in the cilantro and scallions along with a pinch of salt and pepper.
Finish off the glaze: pour the whisked jelly into the pan, still set over medium heat. Scrape the fond off the bottom of the pan and cook down the sauce by half, about 4 minutes. It will thicken upon cooling. Serve the chicken over the corn relish. Drizzle the glaze over the chicken and serve.