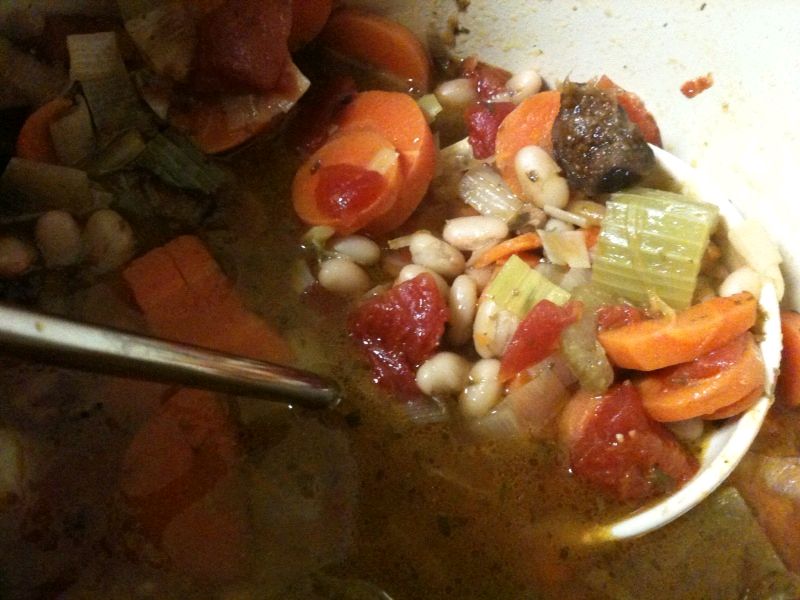 Fresh back from the honeymoon, I would love to say we filled the kitchen with cinnamon and butter and sugar emanating from a hot oven. Our lives were as they had been a la honeymoon equal parts tense and excited at the possibilities ahead. No, I'm not referring to the early days of marriage but instead whether or not our San Francisco Giants would win the National League pennant. We meandered into neighborhood pubs and pizza joints yukking it up with other fans. On a particular rainy Saturday evening, we shared a booth facing a flat screen TV, watching pitchers get swapped out and batters foul. Over tapas and organic beer, we cheered and cowered, the digestive juices roiling in a perpetual state of uncertainty. But it was made less bitter and more sweet with slivers of flatbread festooned with shaved jamon Serrano and black mission figs with manchego cheese. That night, victory tasted sweet.
So our first "official" dinner looks something like this. I enter the apartment with its cheery smells of caramelized onions and a big smile spread wide across Nathan's face. He's begun chopping celery and carrots for a cassoulet I've been jonesing to make except it's not the cassoulet and so no big surprise, it takes on a life of its own. We chop on different counters yet somehow at one point, all of his knives are on my cutting board as I'm paring the garlic. Hmm. The stew that resulted from our kitchen antics cut the chill of this October San Francisco evening. Think of it as South meets North or France meets a bit of Spain. Thus, this tasty concoction is a bit of a hot mess, but a tasty one nonetheless.
[print_this]
Cassoulet
YIELD: 4-6 servings
3 celery ribs, halved & then cut into 1 inch pieces
3 leeks, halved & then cut into 1 inch pieces
4 carrots, halved & then cut into 1 inch pieces
1/3 cup olive oil
1 T fines herbes
1 bay leaf
a good grinding of black pepper
1 8 oz. can diced tomatoes, drained
2 8 oz. can white beans, drained and rinsed
3 cups chicken stock
2 pieces smoked bacon, split down the middle & then cut into 1 inch pieces
4 dried Black Mission figs, quartered
toasted bread crumbs of Country Levain* (see below)
Pour oil, veggies and spices in a heavy stockpot over medium high heat for 12 minutes. Stir occasionally. Heat up the bacon on the stovetop while the veggies are cooking also for about 10-12 minutes. Add the bacon and a little bit of the bacon grease to your veggies along with the diced tomatoes, white beans and chicken stock. Also add the figs. Let simmer covered for 30 minutes. While the stew is simmering, cut up two hefty slices of Country Levain bread into large chunks. Place the bread in a food processor and pulse until the bread is decimated into crumbs. Toss the breadcrumbs in a large pan over medium-low heat and make sure to turn them or stir them frequently until they are toasted. (You could also put them in the oven, but we did it on the stovetop). Et voila. You have made yourself a bowl of a hot mess- garnish it with the breadcrumbs before serving. Enjoy with a cabernet sauvignon. If you're Nathan, you might also be inclined to sneak in some shaved white cheese like a manchego. Nathan can never get enough of his cheese, but I digress.
[/print_this]