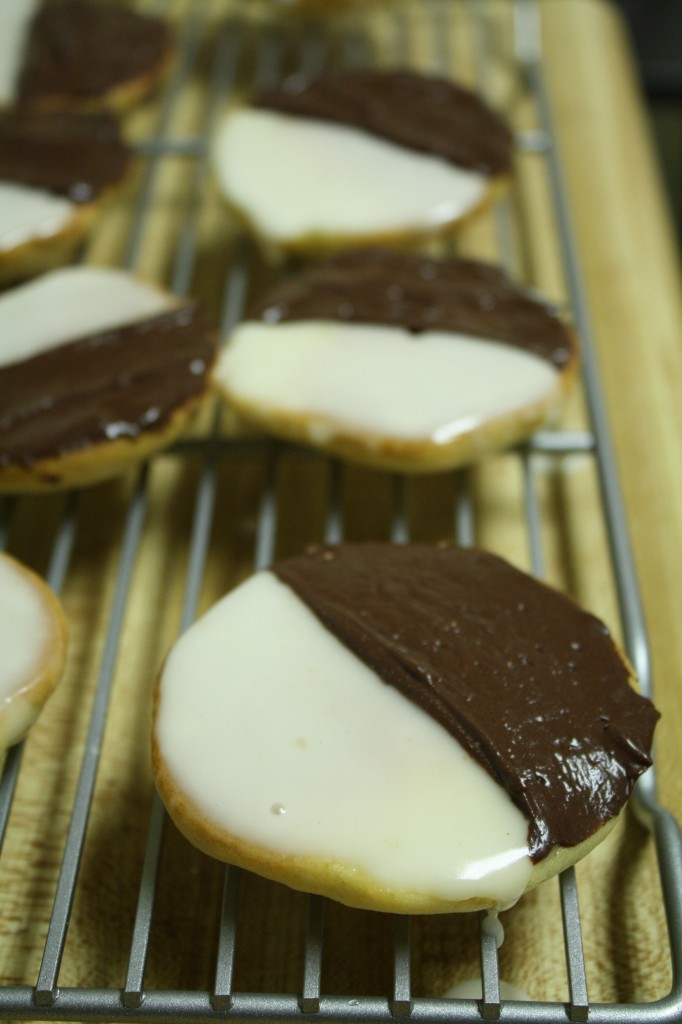 2010 has been a bit of a doozy as years go. You take the sweet and the bitter.
It was the year Holland almost clinched the World Cup in South Africa. For several weeks on pre-set days, I take on a resemblance of a character from Halloween in a non-October timeframe. An ardent fan of watching the orange and black jerseys scuttle on the field, I took the early bus on several occasions to work, just so I could sit at my self-designated World Cup pub and watch the matches with others excited about the possible outcomes on the field. The rag tag crew that gathered at the pub seemed to play on the same soccer team or that's the impression I got. Over steaming cups of coffee, we would yell at the screen, along with the bartender, sidled up to the bar. Most of them quietly eschewed my female presence among their male gathering except the bartender. He called me the Dutch team's "lucky charm" and said when I walked in wearing my Holland jersey, they made their goals.
The final match conveniently fell on my best friend Olga's birthday. I happened to be house-sitting at a sprawling home with a tv and plenty of space to accommodate our two rooms full of friends to a birthday cum world cup viewing party. While guests sat on the plush red couches, I sat perched on the edge of a red ottoman close to the tv, willing the orange and blacks, the Dutch to win. They played dirty football that I described as "pirate soccer," tripping and pulling their way toward an inconceivable number of yellow cards. Even still, they were my team, part of my ancestry and in the back of my mind, I played that foolish game of thinking if they could just win, somehow it might ease the pain of my Dad's recent death.
He loved soccer and even was responsible several years in a row for bringing a young Bolivian soccer team to my hometown to play in the Dallas cup. He would hoot and holler from the stands. He brought noisemakers. He was that guy. After the game, he took the team out to dinner with other friends where they celebrated their heritage and the camaraderie of teamwork. My spoken Dutch equates to counting one to seven and a children's song about a dog that barks "woof wof woof wof;" whereas his fluency seldom came out but when it did, his face came alive as he chattered excitedly. It was part of the fabric of self. It was always the part of him he kept most tucked away in Texas. The part of him, I had hoped to one day understand better by traveling with him to the Netherlands.
You can imagine my chagrin when the Spanish made that final goal and with it, amid the cheers in the room, the hopefulness of the party diminished as I fought to control my tears. It was irrational, but still his absence was so new. In the early days especially, so much life feels transcribed by their voice and touch… But I collected myself and off we went to sing happy birthday to a beaming Olga.
Two weeks ago, I got married.
Nathan's passion for baseball and the Giants puts my love of World Cup soccer to shame. His knowledge of statistics, player's batting averages, names and detailed information on radio announcers gives serious pause. The guy could easily bleed orange and black. For his birthday a few years ago, we rounded up several of his friends and family to celebrate at a game at AT&T park. In between the sixth and seventh innings, the message "Happy Birthday Nathan" lighted the jumbo-tron as we unpeeled the paper linings of mini carrot cupcakes I'd made for the occasion. Oh yeah, he's an avid Giants fan.
So it should really come as no surprise that on our honeymoon, we found ourselves wandering to a local pub in the town where we were staying to nosh on bar food, drink Oktoberfest off the draft and revel in the Phillies – Giants playoffs, though sometimes we left with more of a knot in our stomachs than a good feeling. The bartender began memorizing our drinks and recognizing us as we came in later in the week. He said he felt more invested in who won because of our dedication.
Nathan's enthusiasm was contagious. Where I might have been a bit of a fan when we first met, I was now invested and took pride in yukking it up with the guys about how the team was playing. By game six of the playoffs, I drove us through the rain to the ballpark, trying to eke out a place for us at the Public House bar. No luck there, we found ourselves at a tapas microbrewery called the Thirsty Bear. I know personally how much better a game is when you're surrounded by people intent on the outcome you too desire. My date night to Nathan, I wanted him to be thronged by orange and black. When they won, he pumped his fist up and down, then mechanically clapped his palms together exultant.
For two weeks, I've worn orange and black through the mostly black clad streets downtown, a nod to my dedication to see the Giants go all the way in the World Series. This has been a mite strange since normally the Rangers would be my other go-to baseball team. I am Texan after all and my first ball game was watching the Rangers. Friends have teasingly scorned me for not rooting for the Rangers, but I'm a bit of a misfit like those Giants and found myself lured into their success or defeat. Tonight, they did it. They won the World Series! If you were here in San Francisco, you might hear horns honking, people yelling and whooping it up. Fireworks crackling in the night sky. People excited to be a part of the winning team.
One rainy day during the honeymoon a few weeks back, we trolled a used bookstore. He wandered down to fantasy / sci fi as I perused the poetry section, then meandered over to food. I stumbled upon David Lebovitz's "Ready for Dessert" and while thumbing through the pages came across the recipe for one of my favorite cookies. So in honor, of the Giants I've adapted a similar recipe from Gourmet magazine: celebrating the Giants' victory, the Dutch legacy that keeps me clad in orange and black every four years and the passage of a baseball team from New York to San Francisco. I give you the Orange & Black.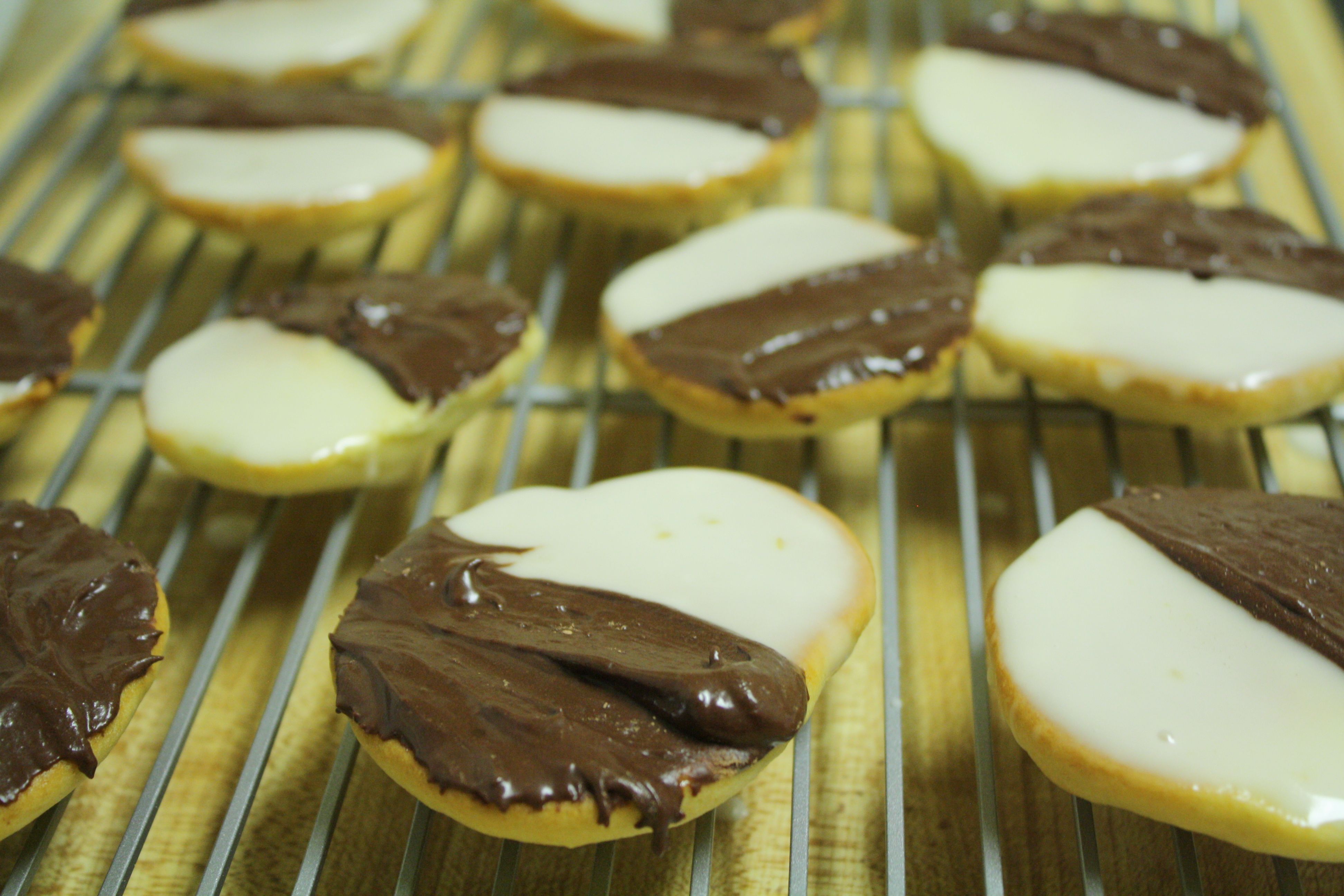 [print_this]
ORANGE & BLACKS
adapted from Gourmet Magazine

Think of them as Black & White cookies, just better. They take my love of chocolate and pair it with a subtle orange. It's the new little black dress of cakey cookies. Trust me, they're a home run. Hah! Eat while weaing a giants ballcap or perhaps if you're lucky, a holland jersey or perhaps in New York…
COOKIES
1 1/4 cups all-purpose flour
1/2 teaspoon baking soda
1/2 teaspoon salt
1/3 cup well-shaken buttermilk
1/2 teaspoons vanilla
1/3 cup (5 1/3 tablespoons) unsalted butter, softened
1/2 cup granulated sugar
1 large egg
ICINGS
1 1/2 cups confectioners sugar
1 tablespoon light corn syrup
2 teaspoons freshly squeezed orange juice
1/4 teaspoon vanilla
1 to 2 tablespoons water
1/4 cup unsweetened Dutch-process cocoa powder
Make cookies:
Preheat oven to 350°F.
Whisk together flour, baking soda, and salt in a bowl. Stir together buttermilk and vanilla in a cup.
Beat together butter and sugar in a large bowl with an electric mixer until pale and fluffy, about 3 minutes, then add egg, beating until combined well. Mix in flour mixture and buttermilk mixture alternately in batches at low speed (scraping down side of bowl occasionally), beginning and ending with flour mixture. Mix until smooth.
Spoon 1/4 cups of batter about 2 inches apart onto a buttered large baking sheet. Bake in middle of oven until tops are puffed and pale golden, and cookies spring back when touched, 15 to 17 minutes. Transfer with a metal spatula to a rack and chill (to cool quickly), about 5 minutes.
Make icings while cookies chill:
Stir together confectioners sugar, corn syrup, orange juice, vanilla, and 1 tablespoon water in a small bowl until smooth. Transfer half of icing to another bowl and stir in cocoa, adding more water, 1/2 teaspoon at a time, to thin to same consistency as white icing.
Ice cookies:
Turn cookies flat sides up, then spread white icing over half of each and chocolate over other half.
Note: If you can stand the wait, cookies taste better if cooled without being chilled.
[/print_this]